It's been interesting reading others reports on how they have fared throughout the lockdown so I thought I'd offer a quick report on my experience.
Although interested in most types of natural history my main interest is the study of the regions freshwater fish, a passion which has consumed me for over sixty years but as I can hardly get to the waterside at present I thought I'd just have to make do with hours spent watching from the back garden.
I've lived at Matfen near a wood for nearly 40 years now and have had lots of interesting birds and animals in the garden over the years, but perhaps never gave my patch a severe study until I was grounded.
And this year we got off to a great start as migrants returned and the breeding season got underway.
My little pond got attention from bathers including blackcaps whilst goldfinches plucked the spent reed mace tops for nesting material.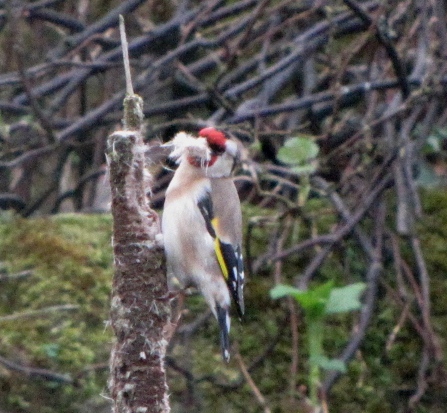 Song Thrushes won the singing contest, with two local pairs singing loudly each evening. One family bred successfully in the garden too, and in May I had blue tits, dunnocks, wrens, collared doves and wood pigeons all breeding in my little garden plus a very appealing pair of robins.
At the end of June a pair of Spotted Flycatchers arrived and found a different site to nest to the one which had been chosen by the Flycatcher I nicknamed "Spotted Dick", who had nested in the same nest box for the last three years.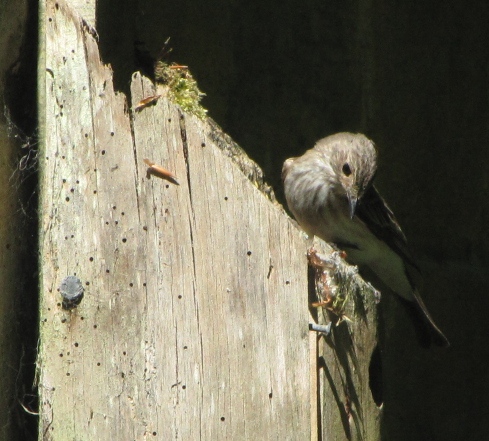 I was encouraged at how many birds were nesting in my garden and grew especially fond of two of the young robins when they hatched quickly learned how to pose on the bird table whilst being fed by their parents. All was well with the world in my garden. It was full of song and optimism during some pretty crazy times in the outside world.
Then life changed.
First of all, a Magpie robbed the Flycatchers nest ripping the nest out in a viscous raid.
Then, not long afterwards a huge carrion crow swallowed a young robin whole and I never saw the other baby robin again.
Another sad thing that I noted was the absence of bats in the garden this year, something I hadn't realised until I was in lockdown
There was a  plus side though.
One evening I saw a Barn Owl fly through the garden my first ever there, and silently fly into the wood. Bullfinches were frequent visitors, indeed one flew into the conservatory two or three times to visit when I left the door open, as were Blackcaps. A lone Tree Creeper visited each day too, from the wood next door.
If I had not been in lockdown I do not think I would have noticed the increase in Bank Voles and Wood Mice in the garden, indeed one day a Kestrel dropped onto my little lawn and snaffled one.
Other mammals were a solitary fox and a pair of stoats hunting along the stone wall.
So all in all its been an interesting three months. If I hadn't spent hours on duty I would not have thought a Barn Owl in the garden was possible, and I also found that the stars of this summer, the Song Thrushes had an evening ritual to engage in a game of chasey every night in the last hour or so before the sun went down.
I'm still upset at the loss of the Flycatchers though.
By David Hall
About the author
David has been a member of NHSN since 1960 after asking his parents to buy him a junior membership on his 11th birthday. At 71, he has now been a member for some time.
Although interested in most wildlife, David's main interest is in the Freshwater Fish of our region. Tony Tynan was most helpful in encouraging him in this field and they made several local television programmes such as North Country and Looks Natural with Peter Davies
David has served on the local Fisheries Advisory Committees of Northumbrian Water and The National Rivers Association (now the Environment Agency) and has written many columns on fish and coarse angling in newspapers, local radio, angling press etc.