This weekend past, young people from the WEYES group experienced a wildlife extravaganza as, supported by the NHSN Lantern Fund Appeal, they descended upon the Farne Islands to enjoy a smorgasbord of seabirds and seals. 
Funded by the NHSN Lantern Fund Appeal 2018 and organised in partnership with Children North-East, this visit allowed young people to enjoy the very best of our regions wildlife in a spectacular natural setting.  Despite the murky weather, spirits were far from dampened as guests enjoyed puffins, terns and grey seals amid the mist – including an up-close and personal encounter with the latter as they departed the islands for dry land. Based on the feedback from the intrepid young people in attendance, it is clear that they had a whale of the time, with one young naturalist remarking "cant believe I was in touching distance of a seal, incredible" and another citing the "Fantastic experience" of visiting the islands. 
The Lantern Fund Appeal aims to continue the great work of past NHSN members who, in the 1890's, delivered candlelight lectures to hundreds of children in the Great North Museum: Hancock – all with the aim of reconnecting them with the natural world. Given the many barriers preventing young people engaging and enjoying nature in the present day, NHSN are keen to continue the great work of past naturalists and help young people grow their confidence in the outdoors. Something we hope to achieve by increasing their knowledge of wildlife and allowing them to experience fascinating wild spaces.
Already, since the launch of the appeal, we have raised £2500 of our £4000 target, thanks to a £2000 donation by NHSN trustees and £500 in donations by our members and supporters – all of which we are truly grateful for. We cannot thank enough our members for their generosity, and are incredibly grateful to NatureTrek who kindly pledged £250 in support of the scheme.
Barney Jones of NatureTrek writes:
We would be delighted to make a contribution to the Lantern Fund 2018. It sounds like a very worthy course and we are all for encouraging the next generation to take a healthy interest in natural history – I think the world needs this!

Ultimately, the Lantern Fund aims to pay for young people to visit and experience wild places in North-East England, including many children who have never before visited a forest, listened to the dawn chorus or enjoyed a boat trip on the sea. We very much hope to repeat the success of this recent trip with as many children as possible in the future, but can only do so with your help. As such, if you would like to find out more about the Lantern Fund, or pledge in support of the scheme, you can visit this webpage.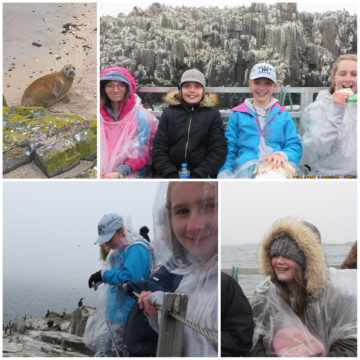 Images: WEYES Group