It's hard not to admire bumblebees: they're colourful, perform a vital function in the ecosystem and are sufficiently diverse to keep entomologists, expert and enthusiast alike, on their toes. To some, they are the harbingers of Spring, to others, they are the gardener's friend; while more still view them as honourary mammals – cute, at least by insect standards. Whatever the reason for your own love of bumblebees, you may have noticed that we have been buzzing about bees ourselves following the publication of Bumblebees of North East England.
The first publication of its kind in the North East, bumblebees brings together the work of experts and enthusiasts to produce a highly visual overview of bumblebees and their ecology across the region. Featuring detailed distribution maps courtesy of the Environmental Records Information Centre North East (ERIC), comprehensive species accounts cover everything from habitat and ecology to history and, of course, distribution – providing a detailed summary of the 22 bumblebee species recorded in the North East. It is a must-have for anyone interested in bees, entomology or general natural history in the North East and we offer huge thanks to our sensational 'bee group' for making this publication possible!
Speaking of the NHSN bee group, some of you may have attended our recent talk on bumblebees. With intriguing contributions by five members of the bee group covering everything from the ecology of the elusive Broken-belted Bumblebee, to an overview of bees in the nest, a great evening was had by all who attended. If you missed the talk, don't worry. NHSN members can delve deeper into the world of bumblebees at a time of their choosing in the members' area of our website.
Over 200 people attended last weeks talk, making bees our most popular subject of the programme so far. Many arrived earlier and were treated to an excellent 1829 Talk by Shannon Goldberg on the subject of pollinator flower choice. This too is available to enjoy in the member's area.
Broaden your knowledge of bumblebees this summer
Keen to broaden your knowledge and understanding of bumblebees in 2020? If so, we've got you covered. Looking ahead, there will be little rest for our bee group with a host of informative events set to take place this Summer. What can you expect? Well, we are excited to host a 'Bumblebees for Beginners' identification workshop in the Great North Museum: Hancock, designed to provide you with the skills necessary to identify bumblebees in the field. For those looking to get out and about in search of bees, there will be opportunities to seek out Mountain Bumblebees, with Northumberland National Park Ranger, Shaun Hackett, and a number of walks close to home at Prudhoe, and in Newcastle. Each designed to help you identify the species more often encountered in the urban realm. Look out too for opportunities to enjoy invertebrates, including bees, at Gosforth Nature Reserve.
In your Summer edition of North East Nature, you will find out how you can contribute to bumblebee conservation at home through a few simple changes to your gardens, while an article on the relationship between foreign flowers and native pollinators should give you a flavour of the best species to plant in 2020. You will also find out more about bumblebee recording, and how you too can get involved; while we hope to also introduce readers to solitary bees – an often forgotten yet no less interesting group of pollinators.
You can also lookout for an upcoming article on bumblebees, and those who study them, in Tony Henderson's excellent Chronicle environment column.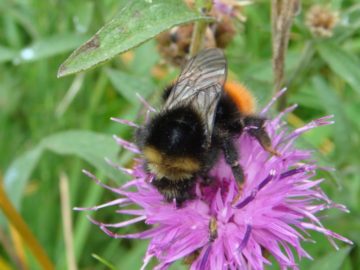 Don't forget to share your sightings
As queen bumblebees emerge early to sup nectar from early-flowering plants, don't forget to share your sightings with us on Twitter and Facebook. Better still, we would love to see your bee photography. Email james.common@newcastle.ac.uk to contribute to our regional image library, Instagram feed and potentially, our next magazine.
Please also submit your bee sightings to ERIC using their handy online portal. Your records help track the fortunes of our wildlife and contribute greatly to our understanding of flora and fauna in the North East.