For botanist and gardener, Jane Wrigley, lockdown provided an opportunity to more closely inspect the wild plantlife of her Fallowfield garden.
Am I a gardener or a botanist?  Maybe I just dabble in both ….
Just before lockdown, NHSN Course Tutor, Janet Simkin suggested to her Northumbrian Botany students that we try listing the wild plants in a garden or local hedgerow, recording when they came into flower and classifying them to families.
We live 200 metres up between Hexham and Hadrian's Wall; our garden has a vegetable patch, mature trees, fairly undisturbed grass and flowerbeds, and we aim to encourage wildlife.
At the time of writing in late June, I've identified 66 species as they come into flower.  Some of them are no surprise, as we have most of the common "weeds", but the study has made me look more closely at every plant in the garden.  Who knew that we have shepherd's purse and wavy bittercress as well as hairy bittercress, or hoary willowherb as well as American?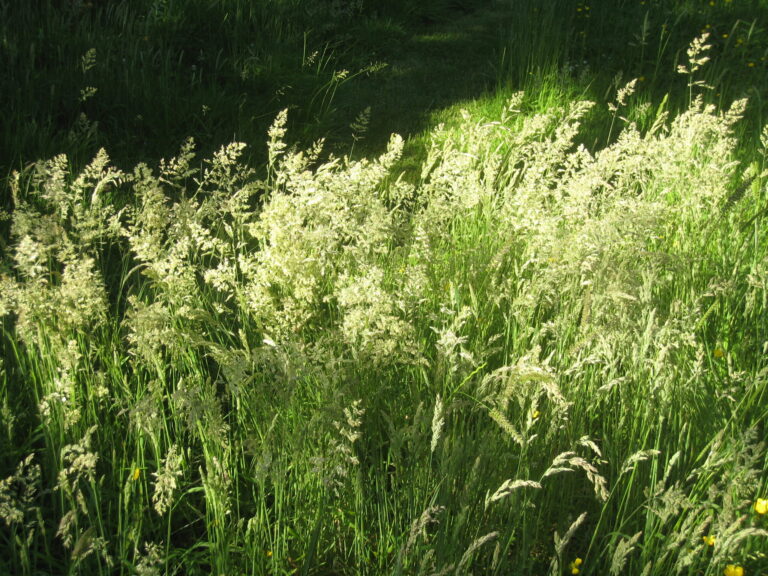 It made me look at flower buds, willing them to open, and rejoicing when the common nettle and broad-leaved dock both flowered for the first time on May 26th!  It also raised questions:  why do our foxgloves come out earlier than in the surrounding countryside, while other species, particularly daisies and tree flowers such as elder and wild cherry, flower later?
But the gardener in me has expressed concerns and frets about leaving the bindweed in the vegetable patch until it flowers, to allow the botanist to identify it.  The couch grass doesn't seem to need to flower; its rhizomes do an excellent job.  The compromise will be to leave at least one plant of each species, which isn't a problem.
As we haven't cut most our grass this year, I am beginning to understand why some of my fellow botanists enthuse about the beauty of flowering grasses.  And I've found flowers I didn't know were there, including wood anemones and a single dog violet.
You don't need to be in lockdown, or an expert, to do this exercise, and I hope to repeat it next year. So far, I haven't found any rarities, but this doesn't seem to matter.  I've found it a really good way of looking at plants and appreciating their beauty, not just the flashy ones like foxgloves, but also the humble chickweed.  Thank you, Janet, for suggesting a very interesting and satisfying project.  The summer isn't over yet!
By Jane Wrigley, Hexham
About the author
Jane is a keen but very amateur botanist, who knows she still has a lot to learn.
She lives with her butterfly enthusiast husband just outside Hexham.
Share your Notes from a Lockdown Naturalist
How has Coronavirus affected your thoughts, actions, or appreciation of nature, the place you live, or the wider environment?
To capture this moment in time for future generations, you can now share your thoughts and reflections of your time spent in nature. Whether you would like to submit a short article, artwork, video or poem, we'd love to hear from you. For more information, see here. To contribute, please email nhsn.director@newcastle.ac.uk.