Newcastle University, MSc student, Kearti Mondair, recalls some of the amazing flora of Upper Teesdale
A group photo of happy botanists
It's 10:30am, the sun is radiating across a utopian blue sky, you are on your hands and knees eye-level with one of Teesdale's rarities, and you haven't even made it out of the car park: a promising start to a day of botanising. A fortuitous landslip at Allen Banks relocated the 200 Plants and Counting group's scheduled outing to Cow Green Reservoir and along the Tees riverbank on Saturday 13 May. With the weather on our side for a day spent with eyes transfixed to the ground, not one of us could have hoped for a better floral display than that delivered by the fusion of geology in the mesmerising Teesdale.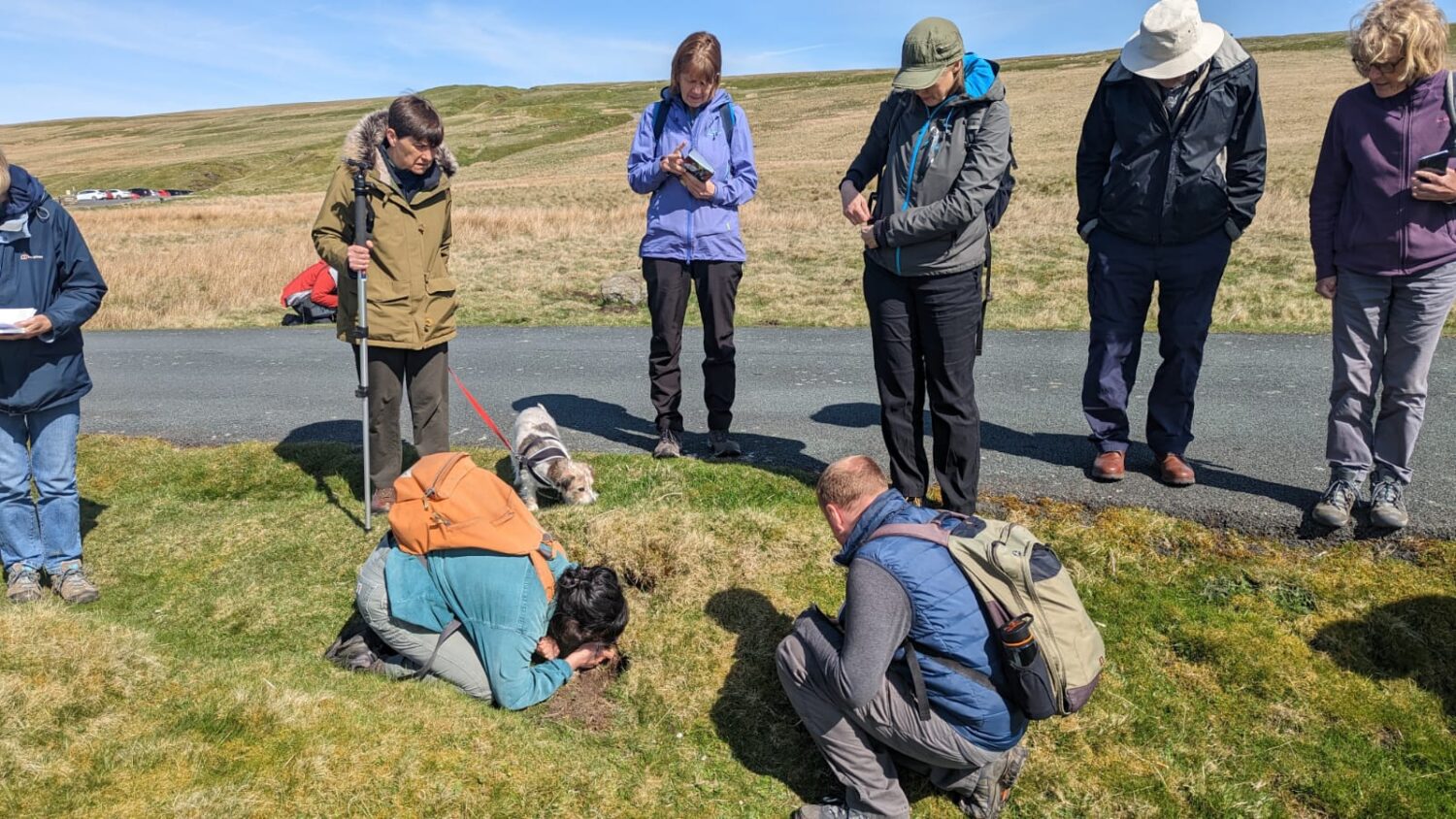 For most amongst us in the group, the most eagerly anticipated species in this botanical hotspot was the spring gentian, a diminutive five-petalled flower that announces its presence to the pollinating bees and butterflies of Teesdale in a deep hyperreal shade of blue. We laid eyes on our first less than a minute into our walk. The second was close by, the third beside the second, and so on and so forth. As Teesdale is home to some of the rarest plants in Britain, I had expected spotting the assemblage to be a case of needle-in-the-haystack. How wrong I was. The beauty of Teesdale is that it provides those with eyes open to shades of green with its delights in abundance. This is especially encouraging for the budding botanist whose Francis Rose field guide is not yet dogeared and stuffed full of plant samples pressed between its pages. Teesdale will reward all who tread across its sugary limestone deposits with a magnificent botanical spectacle without the need to stray from the paths.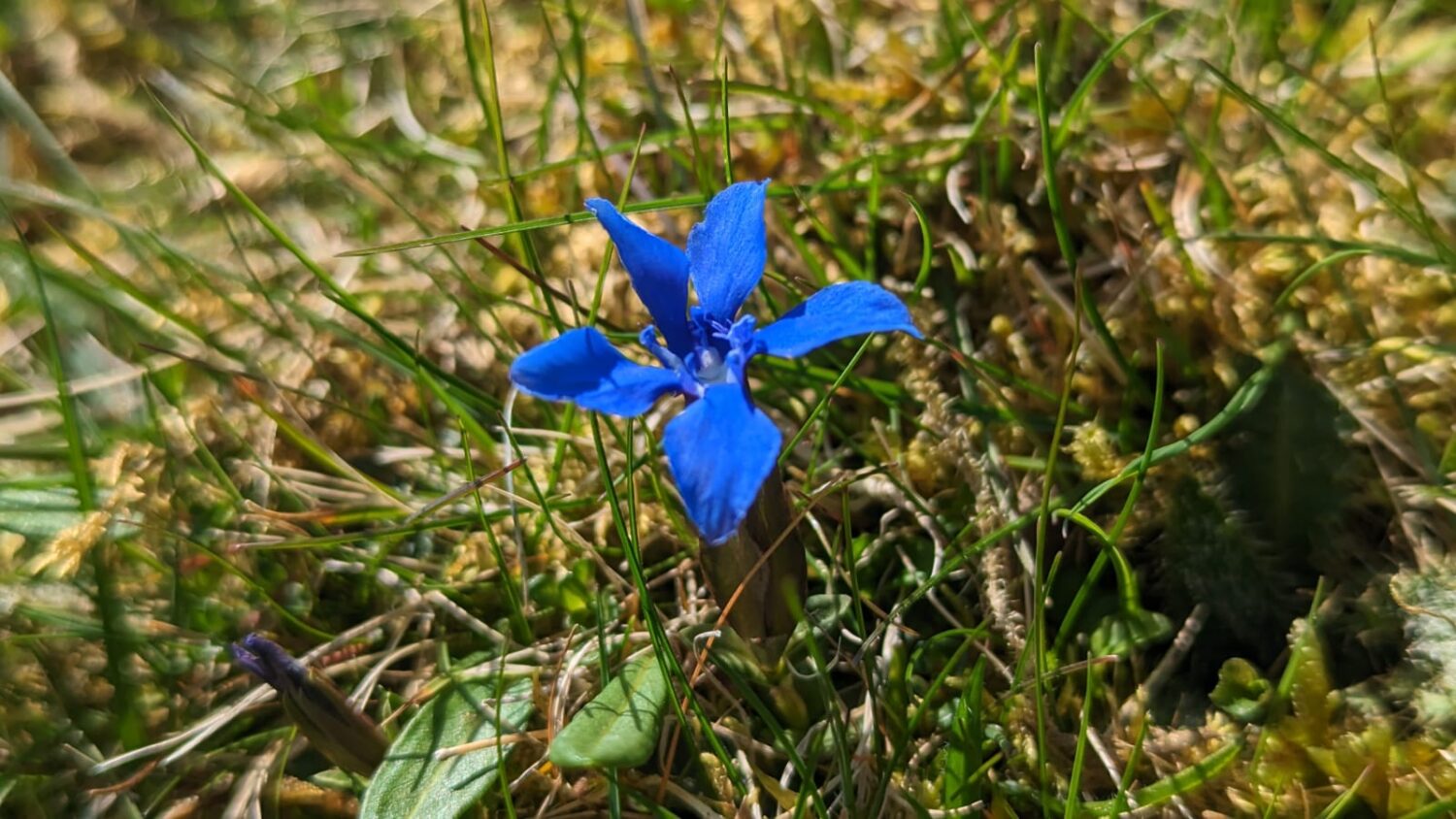 Of course, green is not the only hue on the Teesdale colour wheel. Spring gentian was joined by Bird's-eye primrose, a stunning lilac-pink cousin of the well-known primrose that crops up in hedgerows, woodlands, and gardens across the country come springtime. Mountain pansy, meanwhile, presented itself in a myriad of violet-lemon colour combinations. The size of the flora at Cow Green Reservoir is a reminder to return to earth from the lofty heights of cloud nine. At no more than 5-10cm tall, the plants look as if they've been fed with the 'Drink Me' potion from Lewis Carroll's Alice in Wonderland causing them to shrink in size. Their height reflects the harsh conditions in the exposed upland site, but this only makes their presence there even more of a wonder. Other special finds included Spring sandwort and Knotted pearlwort, both scarce plants which grow in the spoil heaps from mines, as well as Variegated horsetail, the charming dainty fern Green spleenwort, and Blue moor grass.
After a luncheon picnic at Bowlees Visitor Centre which had its own botanical treasures (ancient woodland indicator Sanicle unassumingly growing beneath the bench I was dining upon), we continued our day with a gentle stroll along the Tees riverbank. We were greeted by Good King Henry as we made our way to the River Tees where the banks were lined with beautiful bouquets of butter-yellow Globeflower, leaning towers of Shady horsetail, dusky pink nodding heads of Water avens, and the fleshy green pinnatifid leaves of Great Burnet – I shall definitely be returning in the summer for the accompanying crimson-red flowers. Teesdale truly is a special place, and I would like to thank James Common and the NHSN for sharing its delights with a new generation of botanists.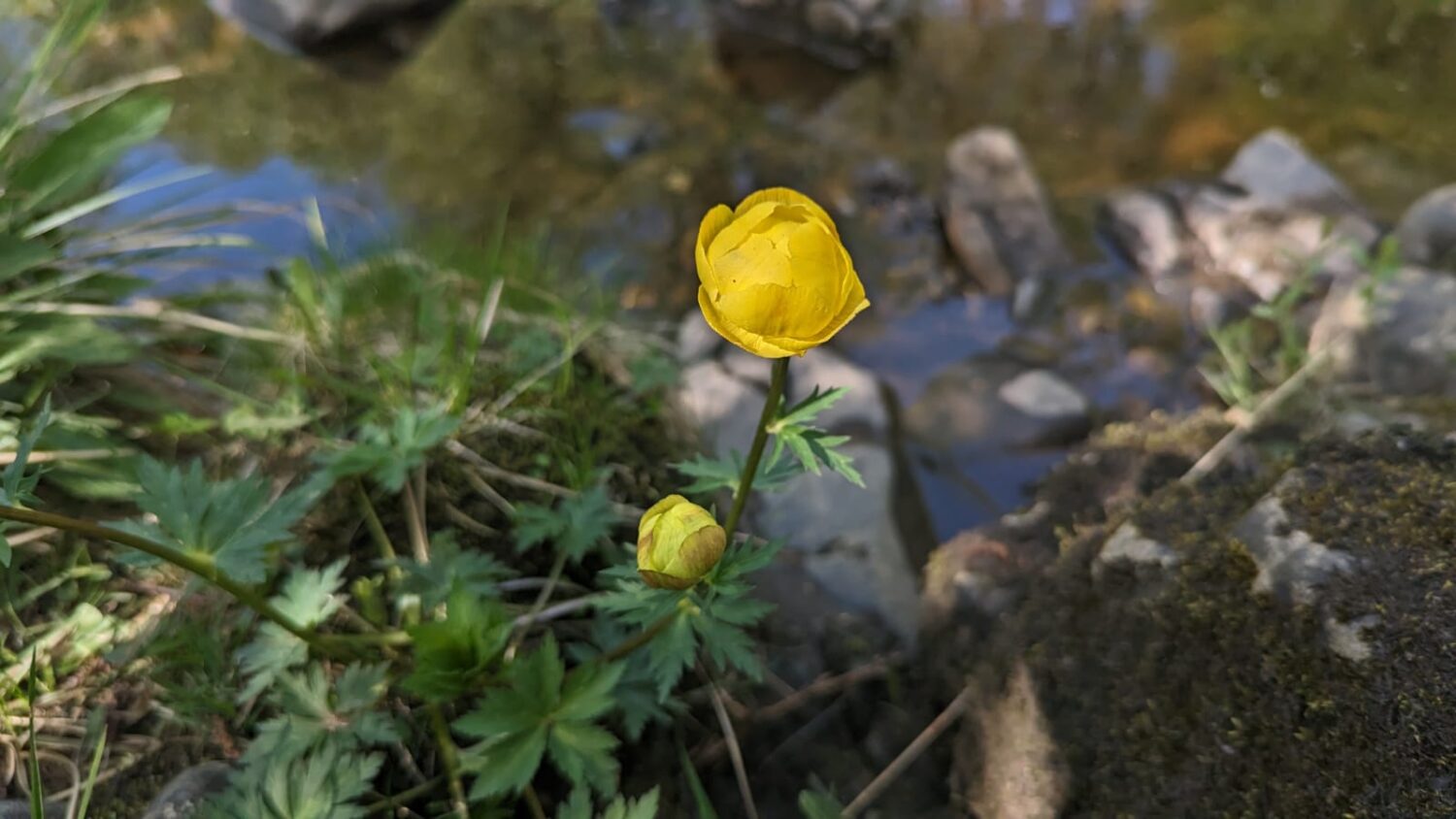 Due to the unique flora and its geology, Teesdale is designated as a national nature reserve, managed by Natural England. It is important for visitors to stay on the paths, to avoid disturbance to the plants. Find out more about this important habitat here.
Explore Upper Teesdale's flora with NHSN Senior Naturalist, James Common, in this new video below.