North East ornithologist, Phil Hanmer, shares a new update summarising bird ringing across Northumberland throughout January, including sighting some beautiful Redpoll.
Replacing Owl Boxes
With the weather relenting, we have been able to get out and about to replace some damaged bird boxes and put up a few new ones. Near Lesbury, we were aware that a particularly large barn owl box that's been up for a number of years was starting to come apart. It was also on a tree that had lost most of its upper trunk and branches to Storm Arwen last year. First, we put a brand new box up on a near-by tree. We then cautiously approached the original box and quickly discovered that there was a roosting owl in residence.
We captured it and discovered it was new female, less than a year old, weighing 340g. This is not breeding weight but OK for this time of year. We carefully transferred this owl to the new box, letting her settle in and go to sleep on clean wood shavings, then we left her in peace. What about the old box? Well, I just had to push it with my hand, and I didn't need to use any tools – it fell off the tree in several pieces. The owl had had a lucky escape from possible injury in the next gale.
We also put up a commercial type A frame box in a new very open barn near Brinkburn. We took off the very large landing stage that had been attached to the front of the box. These tea-tray sized extrusions are in fashion but are a danger to young owls who clamber out onto them before they can fly. Adults definitely don't need them! We also went to the moorland south of Longhorsley were we found another box on a tree that was damaged by Storm Arwen. This was more stable, but we will have to replace it sometime. Again, there was an owl in residence. A retrap female number GY37116 weighing 380g that's at least three years old. This is the female that nested in the same box last year and appears to have a mate roosting close by. We concluded this as there was a 'vole larder' in the box and we saw an owl close-by hunting on leaving the site.
Quite close by there was another box to check which just needed to have some pruning carried out around it. To our surprise there was yet another owl in residence. This was also a retrap of at least three years old from just a mile or two away. These two females could stay to breed in their respective nests if there is sufficient small mammal prey around in May. Unlike Tawny Owls they are not very territorially aggressive. We have since gone onto to put a new box up at a local equestrian center and a couple of others.
Garden Ringing
Meanwhile, my C Ringer, Hilary, has had a second Fieldfare take up semi residence in her garden. As reported last month she was able to capture and ring one of these visitors from Norway, a juvenile female, by providing it with free apples! This second bird succumbed to the same bait and proved to be another juvenile but this time a male with some black feathers in its crown. Both birds are still visiting the garden.
I have just managed to keep up to date with the BTO's Winter Ringing Initiative by operating a short morning ringing session, with just a couple of nets at home once per fortnight. To date I have managed this with 21 birds captured on New Years Day with 14 new and seven retraps. One of the retraps was a Coal Tit first ringed in 2018 when it was already an adult. Ringing again on 15 January I captured 26 birds, 15 new and 11 retraps, including four Long-tailed Tits.
Finally, I managed another session on 28 January when I captured 29 birds, 15 new and 14 retraps. These include a pair of Redpoll, a new juvenile female and Control adult male which was ringed by someone else, as an adult in 2020. Since then, outside the scope of the Winter Ringing Initiative, I have trapped three adult Siskin and a Goldfinch, all coming to eat Niger seed.
One of my next tasks is to make some prototype Swift boxes using a grant kindly given by Alnwick Wildlife Group. My intention to make some practical boxes for swifts that are not so expensive or complicated as some of the versions you can find online; then make a set of plans available to anyone wanting to do this themselves.
Ringing Redpoll
Ringing at East Linden with Hilary and two other ringers on a cold but not actually frosty morning proved interesting as we caught one of my favourite birds. These were Redpoll, which are intrepid wanderers, rather than regular migrants. They search out fine seeds from birches but will settle for Niger seed. The males are particularly beautiful. We also captured a new Willow Tit and an adult retrap.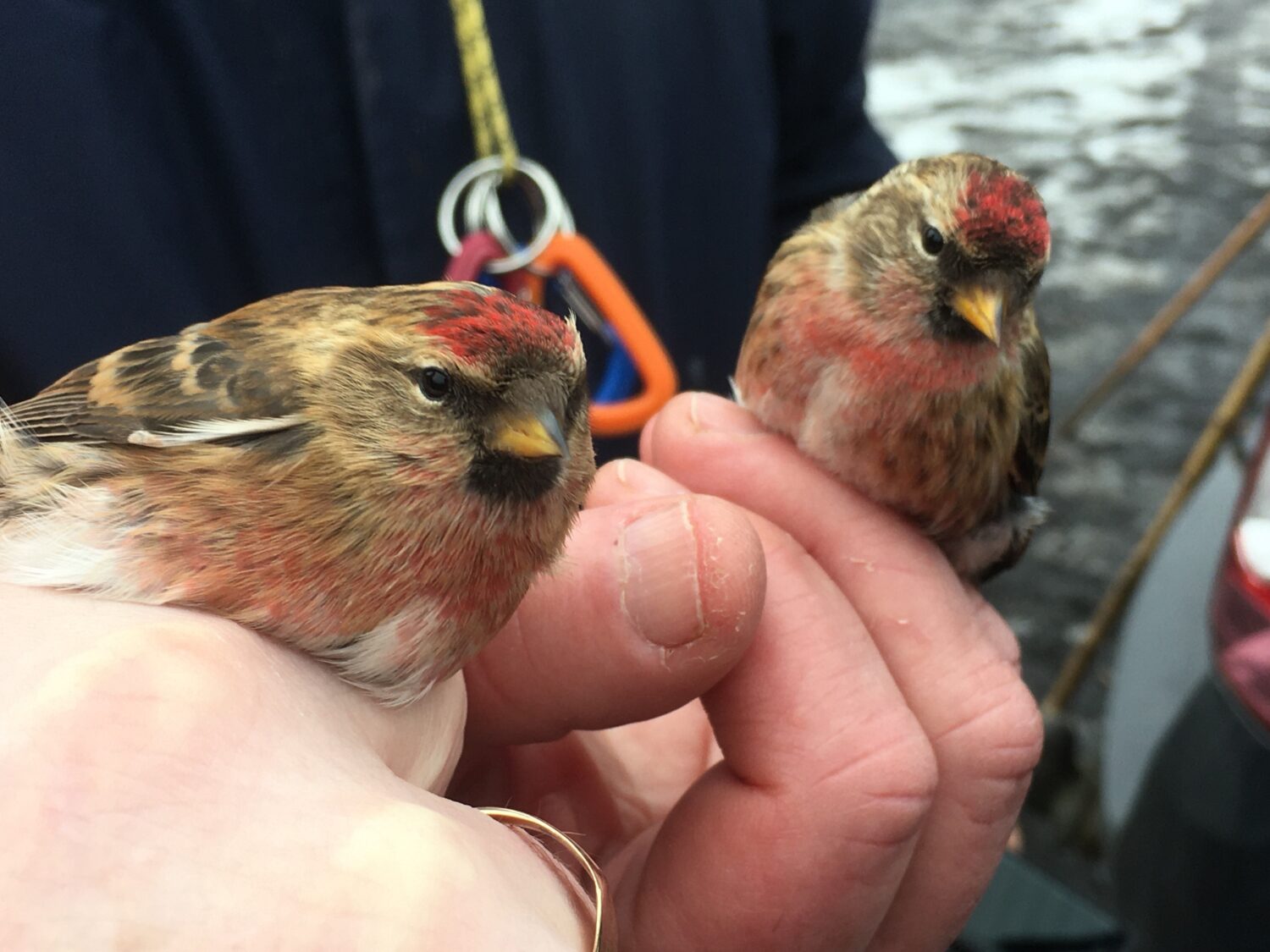 If you'd like to find out more from Phil on the birds of Northumberland, you can watch his recent talk on breeding Goldeneye here.