North East ornithologist, Phil Hanmer, shares a new update summarising bird ringing across Northumberland throughout March, including a Siskin from the Scottish borders!
Reed Bunting © Phil Hanmer
With the weather having turned more wintery it's going to be interesting to see how this affects the bird nesting season which is quickly approaching.  Meanwhile we now have some owl boxes around Linden Hall Golf Course; it would perhaps be over optimistic to think they will be used this year, but we do expect them to be used in a few years time.  With the weather preventing the use of Mist Nets recently my colleague Hilary tried using some 'Potter' traps in her Longframlington Garden and captured two birds that only occasionally visit garden feeders.  These were two male Reed Buntings (see photo. attached).  Determining the age of reed buntings can be difficult but in the case of one of these birds an examination of its wing coverts reveals several pale retained juvenile Greater Coverts, indicating that this bird was a juvenile hatched in 2022 (see wing photo attached).  Another bird captured was the common resident garden bird the Dunnock; a member of the Accentor family (and definitely not a sparrow).  This particular Dunnock is living (apparently successfully) with a badly deformed bill (see photo).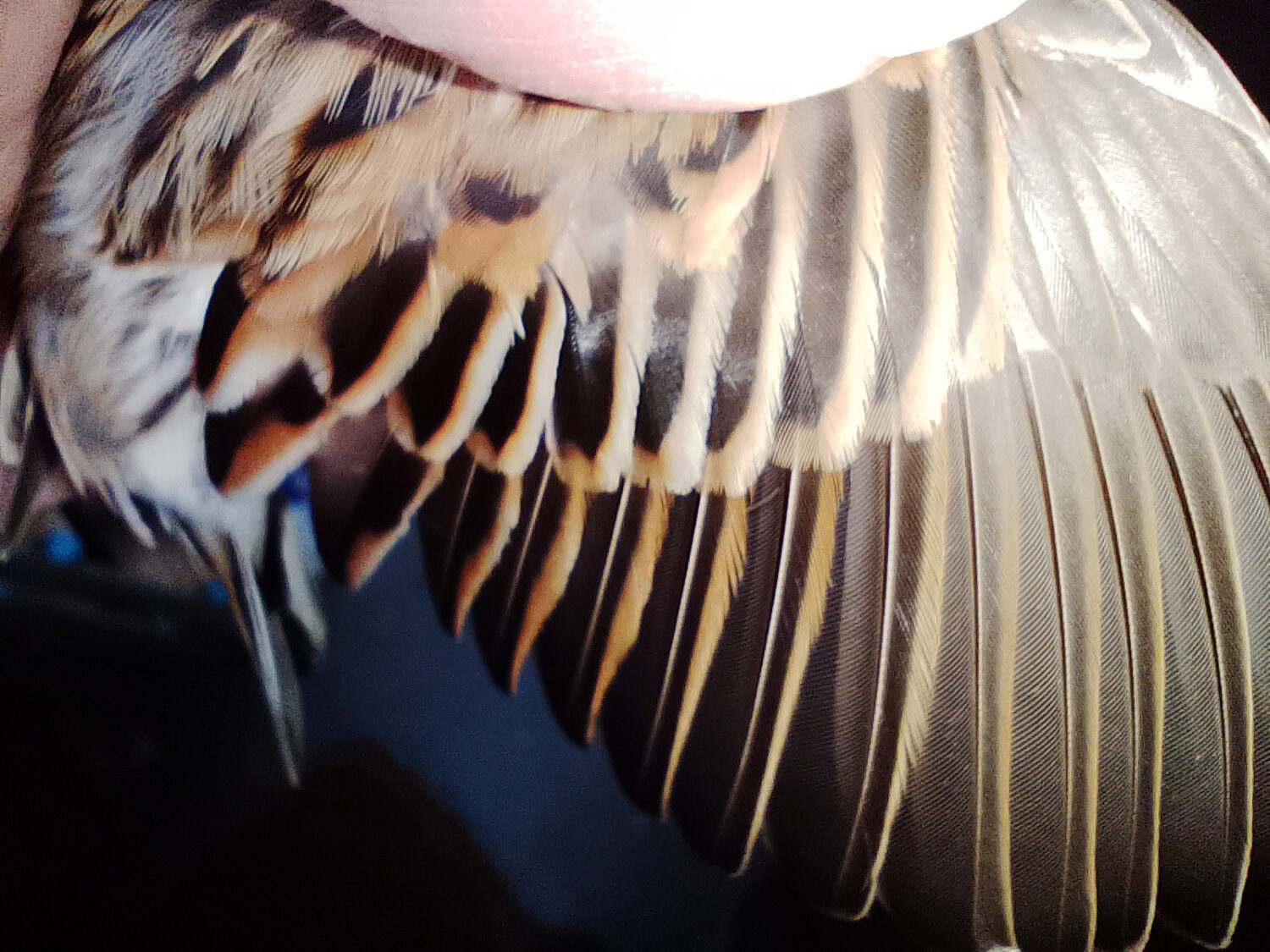 This month we did our annual check of all the 'tawny-duck boxes' in the Breamish Valley.  We do this ahead of the goldeneye duck breeding season to check that all the boxes have survived the winter (trees not blown down or ended up in the river).  Sometimes we have to add a fresh deep layer of wood shavings (which the ducks particularly like).  We did find some woodland that was still suffering from damage following Storm Arwen; and in a damaged box we located a very sleepy less than 12 month old female Barn Owl (see photo.).  These boxes are probably too small for a Barn Owl to 'nest in' but as a roost site they are probably very snug.  In another box we also found the first female Tawny Owl having claimed a nest site for this year.   Traditionally in a group of three boxes its not unusual for a tawny to occupy the box it wants and for the other two near-by boxes to be occupied by Goldeneye; this does serve to protect the ducks from predatory Stoats!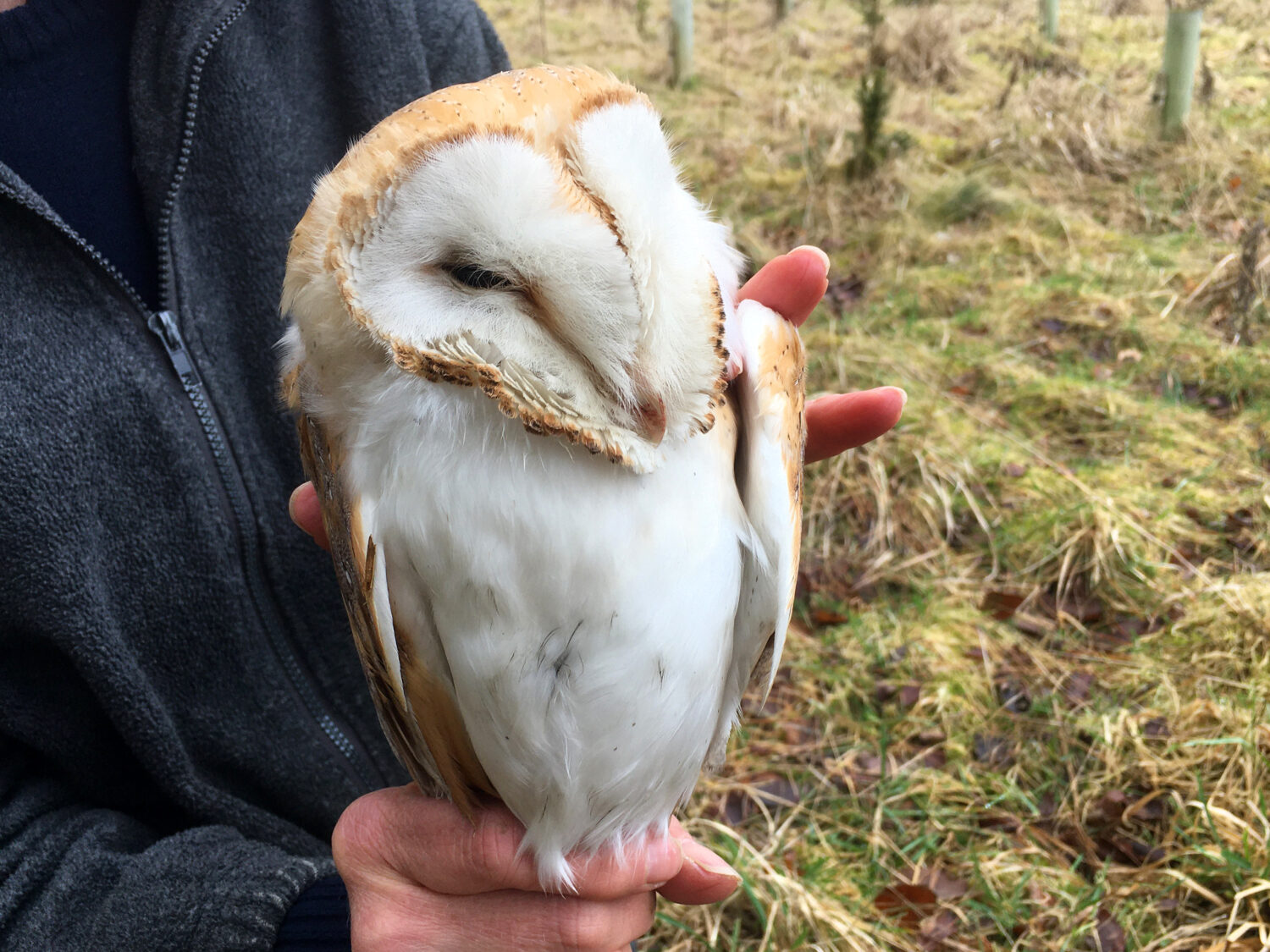 Despite having only captured a handful of Siskins near home this year; a female bird I controlled on the 9th March turned out to be three years old and originally ringed at Peebles in the Scottish Borders. A few years ago I regularly captured birds travelling either to or from this part of the borders (these days it's a rare occurrence).
Ringing at home on the 17th I recaptured a pair of Blackbirds. The male was six years old while the female was only hatched last year. Later that day we visited a possible Dipper site near Rothbury and found a nice new (not quite finished) nest of damp green moss under a small bridge over a burn; built on a wooden shelf I installed a few years ago. Nearby there is an open fronted nest box that Grey Wagtails regularly use as a nest site. The pair of dippers had also stuffed some wet moss in this box; it may put the Grey Wagtails off using it but we left it to the birds to sort out themselves! Meanwhile I can report that a project has been launched in Longhorsley to try and restore some Swift nesting places that have been lost in recent years to building renovations. The idea is to make and/or purchase swift boxes and erect these on suitable buildings in and around the village and monitor the results. Recently the Coquetdale Group of the Northumberland Wildlife Trust has agreed to adopt this project to give it the formal support it needs to apply for some grant funding.