Murton Gap is the name give to the area of arable farmland separating Monkseaton, Shiremoor and Murton in North Tyneside. In fact, Murton Gap is a bit more than just arable farmland; it is a mosaic of cropped fields, paddock, rough grassland, hedgerow, ditches, mature copse and scrub, offering a wide range of habitats for wildlife.
The fact that much of the land has been intensively farmed for years, along with its open aspect, means you could be forgiven for thinking Murton Gap couldn't possibly harbour that much wildlife. And compared to some habitats, perhaps it doesn't. But that is not to say this is an unimportant site for local wildlife. Look past its imperfections and Murton Gap holds enough to capture the attention of any wildlife enthusiast.
Farmed for at least a thousand years, Murton Gap fields are what remain of a much larger area of farmland and moor that has gradually been eroded by encroaching development on all sides. Around the small village of Murton, which lies at the heart of the site, evidence of ridge and furrow ploughing is still clearly visible in the horse paddocks, testament to a long history of farming. Before that it is hard to know what the land might have looked like but remnants of Gorse in the hedgerows and silvery sand deposits over the clay soil in some spots suggest this area was once lowland heath.
Now the fields and hedgerows support the typical assemblage of farmland birds. Skylarks nest in the large open fields and in areas of rough grassland, thrilling anyone who cares to watch and listen to their uplifting song flight. Reed Bunting are plentiful across the site, dispersing to breed in spring but coming together in larger groups in winter time. Yellowhammer can also be found on the site, more numerous in winter, though once a prolific breeder in the Hawthorn hedgerows. The field margins harbour Grey Partridge, often startled but sometimes affording satisfying views as they forage, crouched low amongst the crops. A walk along any of the tracks which crisscross Murton Gap is regularly punctuated by the cheerful calls of Meadow Pipits as they dance overhead and a glance to the horizon is usually rewarded by the sight of a Kestrel hovering somewhere in the distance.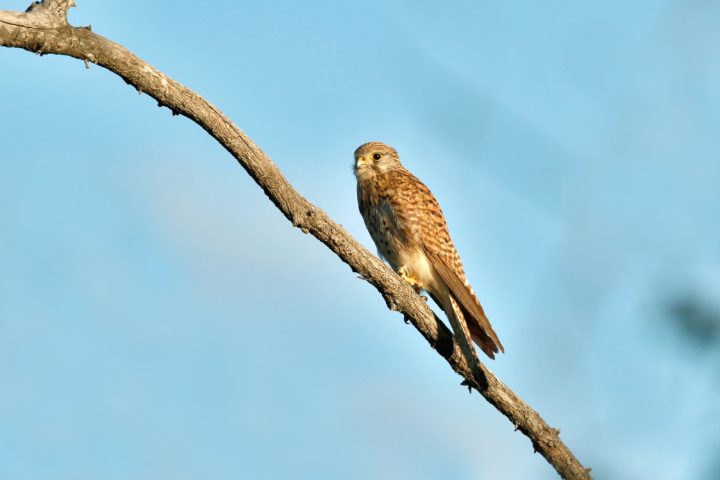 In autumn and early winter hordes of corvids, Starlings and gulls descend to feed in the freshly tilled fields and Murton Gap is often an important winter roost for Lapwing and Golden Plover, whose plaintive calls can occasionally be heard long after dark. Curlew are another common sight in the fields at this time of year, usually foraging in small groups but sometimes in greater numbers, often when the weather is at its worst.
So far, so common you might say. Perhaps, but this group of birds is actually no longer so common on the suburban fringes of North Tyneside; the farmland birds we have are subject to ever-increasing pressure as housing development eats further and further into the area's remaining farmland. Where else in the borough can Skylarks be heard in full song so close to human habitation? How many spots in North Tyneside still boast Grey Partridge, Yellowhammer and Reed Bunting? Not many.
But it's not all about farmland birds. To the east of the site lay the remains of one of Monkseaton's many old farms; known as Dickie's Holm, its eleven acre footprint has succeeded to Elder and Hawthorn scrub, becoming a fantastic resource for migrant passerines and the more common garden bird species associated with scrub and young woodland habitat.
On a warm spring morning this patch of land reverberates with warbler song; Blackcap, Chiffchaff, Whitethroat, Lesser Whitethroat and Willow Warbler can all be heard, not to mention Song Thrush, Blackbird, Robin and Wren. As a birder it was at first hard to believe how many bird species such a small scrap of unloved habitat could support. Dozens of Linnet breed throughout Dickie's Holm, as well as Bullfinch, Greenfinch and Tree Sparrow and in late autumn the jewel-like Hawthorn berries are a magnet to incoming Redwing and Fieldfare as they make their first major pit-stop after crossing the North Sea.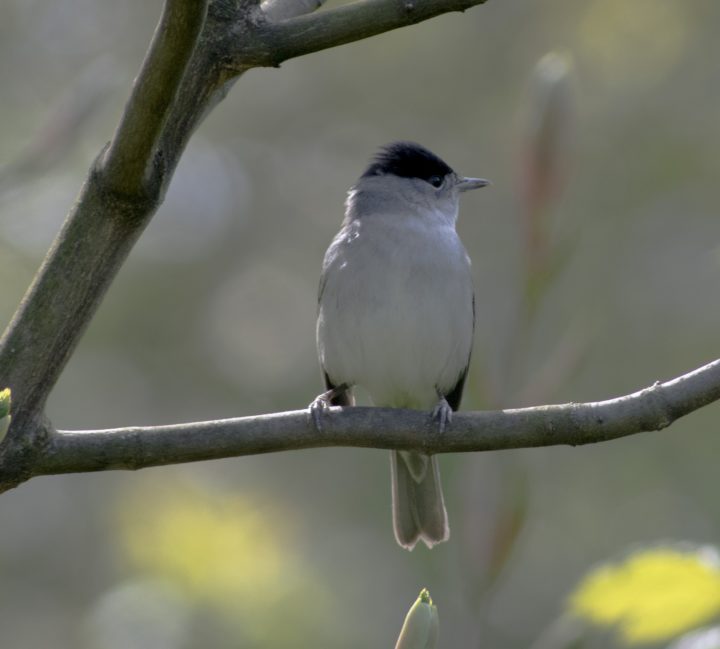 They are not the only travellers making the most of the scrub. In early winter Woodcock appear on and around the site, dropping in as if by magic after their own exhausting flight across the sea. Some birds move further in land but one or two may stay, wintering secreted amongst the scrub.
And this is just the birdlife of Murton Gap. Whilst intensive farming limits the biodiversity value of most of the site, with invertebrate species particularly impacted, Murton Gap fields are noteworthy for one particular group of insects. In spring 2015, a volunteer walking a butterfly transect across Murton Gap fields recorded such a high number of Small Tortoiseshell butterflies that her records were rejected by Butterfly Conservation North East branch. That morning she recorded 64 Small Tortoiseshell butterflies, the highest individual count for its first flight period in North East England (an area stretching from the river Tweed in the north down to the river Tees in the south). The following spring she was accompanied by a more experienced Butterfly Conservation volunteer and together they recorded 51 Small Tortoiseshells on the same transect; another very high count. At his request, her records for 2015 were reinstated and Murton Gap fields remain a great spot for the Small Tortoiseshell butterfly.
Despite the regular application of pesticides across many of the fields, there are still enough areas of rough grassland and field margin to support many of the generalist butterfly species and good numbers of Orange Tip, Ringlet and Meadow Brown can be seen at the right time of year, as well as Small Skipper and Large Skipper if you know where to look. In the scrubby spaces, Dickie's Holm in particular, a wider array of common butterflies make there home where the land has escaped the scourge of regular and widespread pesticide use, and it is likely this area would be of interest to any insect enthusiast, harbouring moths, grasshoppers, bees and other flies.
Perhaps the least conspicuous group of animals that call Murton Gap home are its mammals. Look at the right time and in the right places however and you will find them. Easiest to see are the area's rabbits, out foraging in the early mornings and at dusk. Though abundant only a few years ago, the area's population of rabbits has dwindled lately, possibly impacted by myxomatosis and other viruses. Luckily, it seems there are still enough to feed foxes which slink across the fields after dark. They are not always easy to see but the signs of their presence are clearly visible by daylight in the piles of discarded Woodpigeon feathers and rabbit fur. Rats, mice and voles also play their role in the local food chain; more often glimpsed scurrying in the undergrowth than seen out in the open, or sometimes in the talons of a Kestrel.
The hedgerows and field margins provide good hunting for arguably the fiercest predator in the area: the weasel. However, only good fortune is likely to afford a sighting of this silky assassin, as it stalks its prey amongst the long grass. Hedgehogs and bats also use the hedgerows in their own way, navigating the site along these shrubby corridors or making the most of the invertebrate prey they attract. But perhaps the most mythical mammal species, rarely spotted in these fields, is the roe deer. It is hard to imagine how any deer could find their way into Murton Gap, almost surrounded as it is by housing and bisected by the metro line, but people have seen them here nonetheless, and their hoof prints can sometimes be found anywhere the soft mud remains relatively untrodden. One of the obvious deficiencies of Murton Gap as a wildlife site is the lack of standing water. However, three recently constructed dry storage basins have added some sizeable areas of new damp habitat. Completed in spring 2017, the three large depressions are designed to collect run-off after heavy rainfall, preventing it from cascading off the fields and into nearby homes. The basins have been seeded with a mix of wildlife friendly planting and have also re-vegetated naturally, becoming an excellent resource for insects and birds alike. What standing water they contain provides excellent conditions for wading birds and the basins have already welcomed passage Redshank and Dunlin, and local passerine species can be seen drinking and bathing, especially during warm, dry spells.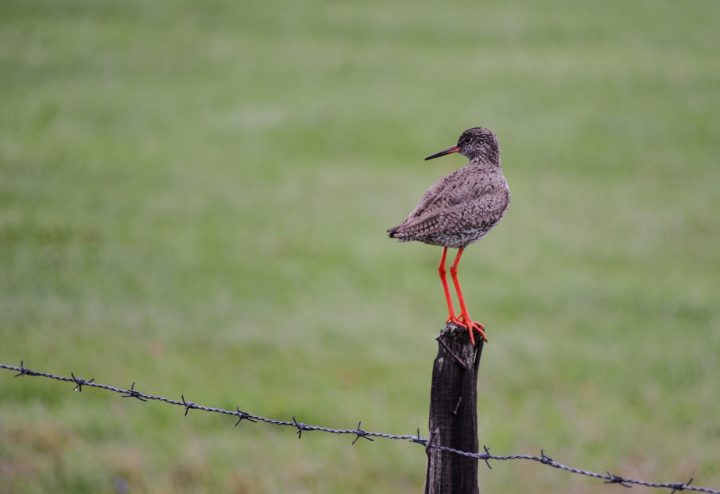 No doubt the basins and associated ditches and culverts will welcome more amphibian species such as frogs and toads as time goes by, as well as offering breeding habitat for insects such as hoverflies and dragonflies. Whilst the storage basins are not large, deep areas of open water they are nonetheless an excellent addition to the patchwork of habitats on Murton Gap.
It may not be a nature reserve teeming with rare creatures but Murton Gap is a home for wildlife. It is a local patch on the suburban fringe, overlooked by many but remarkable nonetheless and representative of so many of our treasured green spaces. Just like anywhere, it guards its natural secrets, ready to divulge them to the curious or the lucky, and capable of captivating anyone who cares to take a closer look.
By Sam Fisher, local naturalist