Phil Hanmer explores the wilds of Abruzzo, Italy, sharing interesting discoveries made on a recent NHSN members tour with NatureTrek.
NHSN had booked a guided tour of the Abruzzo National Park in September 2020 and perhaps surprisingly the tour was able to go ahead. You may remember that Italy suffered severely during the early stage of the pandemic but by September it had some-what recovered, and the Abruzzo region was considered particularly safe for nature study by Nature Trek and their excellent guide Jessica Turner. Only four of us went on the trip so it felt something like a 'private-tour'.
After negotiating a rather confused Rome ring road we travelled North East of the city to the heart of the central Apennine Mountains. This area has an altitude from 900 and 2,200 metres and consists of valleys with meadows, slopes partly clothed in beech and mixed forests; giving way to pine and eventually flower-rich mountain pastures. It is still the haunt of Wild Boar, Wolves and the Marsican Brown Bear. However, it must be said that the bears are very elusive and only a very limited glimpse was had by some members of the party; the wolves are also elusive but at times very noisy! We made our way to the town of Pescasseroli in the River Sangro valley to stay in a small family hotel managed by Marco and his wife Geraldine (who hailed from Glasgow – so no language problems here).
The first morning found us exploring the local area before breakfast and spotting Chiffchaff, Italian Sparrows, Tree Sparrows, Black Redstart, Northern Wheatear, Hooded Crows and two young Red-backed Shrikes.  We travelled to the Valley Fondillo and noted first the evidence of foraging Wild Boar who had been digging up the car park – clearly up and about much earlier than both tourists and locals alike – but it was the beautiful butterflies that attracted our real attention.  I think it's the variety and sometimes 'clouds' of Butterflies that are now drawing me back to the Mediterranean annually.  There were Adonis Blue, Lang's Short-tailed Blue. Chalk-hill Blue, Southern White Admirals, Silver Washed Fritillaries, Berger's Clouded Yellow, Queen of Spain Fritillary and Woodland Grayling and Hermit.  Not the best time of year for flowers we did saw Grass-of-Parnassus, Fringed Gentian and Autumn Crocuses.  There were also Marsh Tits – a bird I study back home.  Later we visited the mountain village of Opi; with its incredibly steep streets.  We did our first Bear Watch at the hamlet of Gioia Vecchio that evening an hour before dusk but spotted only Deer.
The next day started with another watch for Bears but had to settle for Black Redstarts, Blackcaps and noisy Jays. Later we set off to visit the ruins of the Roman town of Alba Fucens (from 304BC). It had a magnificent Amphitheatre and the remains of streets, shops and large roman columns. Clearly, it was still being excavated with lots more to be unearthed. During our explorations, we encountered several Praying Mantises (always the strangest of insects) and more butterflies including Silver-studded Blue, Brown Argus, Clouded Yellow and Tree Grayling. Botanical study found Yellow Odontites, Red Bartsia, Blue Eryngo, Pale Bugloss and the umbellifer Honewort. We were also entertained by a family of Black Redstart hunting for insects in the ruins and Italian Wall Lizards. Later in the day, we drove to Capistrello where a steep-sided valley revealed a colony of Griffon Vultures, counting fourteen as a sign of a successful re-introduction project.
The next morning found us travelling only a short distance from the hotel to the Forest of the small La Difesa Valley. We were only here for the morning although I would have happily stayed all-day to explore this ancient Beech dominated forest. Here we found the strange woodland-floor plant Herb-Paris, also Sweet Woodruff, Round-leaved Saxifrage, Daphne mezereum and lots of ferns. Nuthatch and woodpeckers were heard (including Lesser Spotted and Lilford's White-backed) along with Bee-eaters seen overhead. We encountered huge water-troughs in an open area further up the valley which were a relic of the days when vast flocks of sheep pillaged the local flora. There still are some sheep in Abruzzo but in much smaller less-destructive numbers. I have always thought how sad it is that despite the fact that we in Britain invented National Parks we actually fail to regulate them properly unlike much of the rest of the world…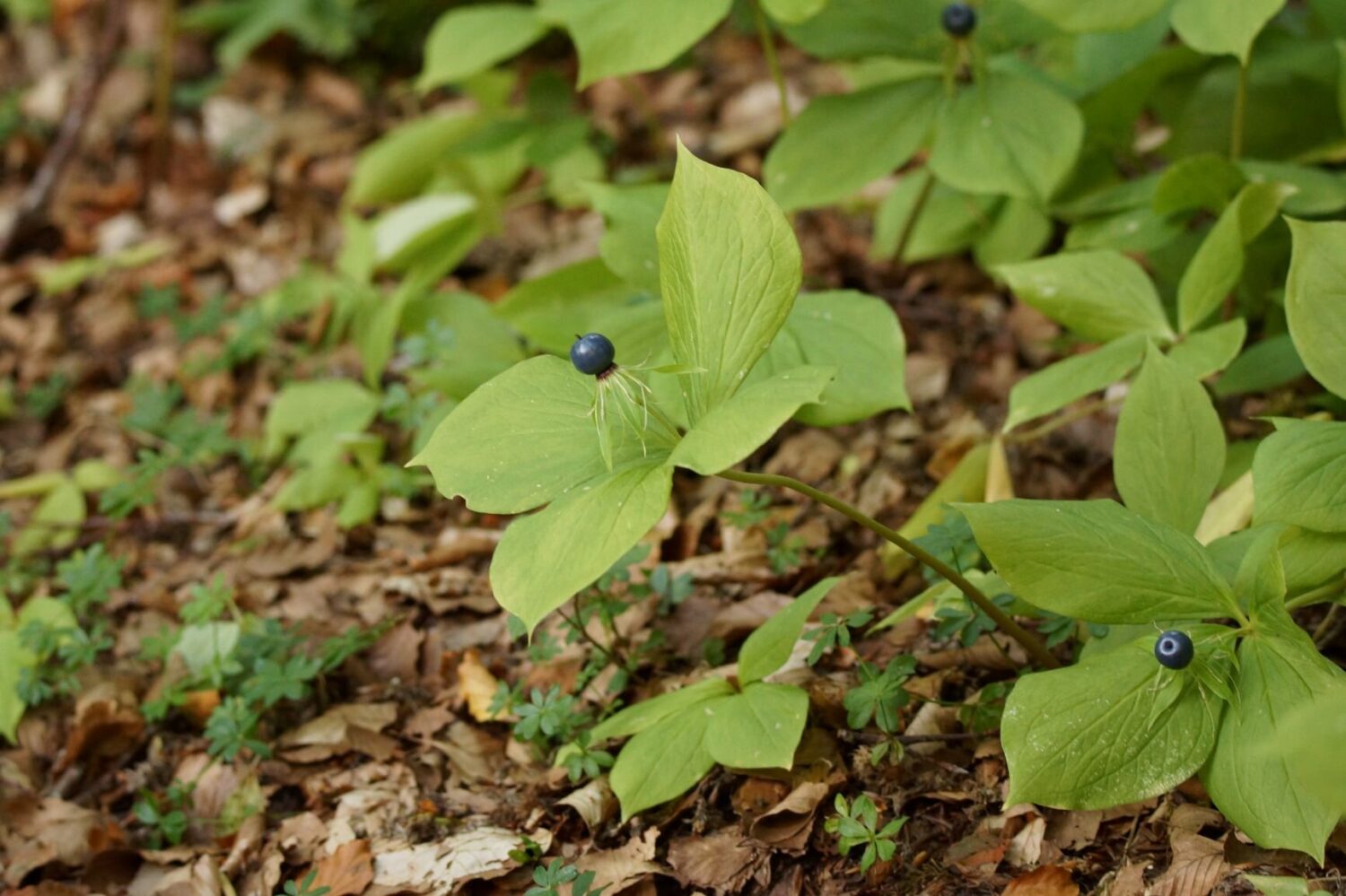 We returned to the hotel for a brief lunch and then went into the town of Pescasseroli. Here we met a local guide who was to lead us on a walk into the 'sanctuary area' of the Passo del Diavolo to reach the refuge La Cicerana. On this walk of a few miles, we saw more butterflies, lots of Red & Black Shiel Bugs, also Crocus, Cyclamen; Marsh Tits and Kestrels. We were also shown were a Bear had decided to break-in-to a sheepfold a few nights before, but the Shepherd and his dogs had driven it off! At the refuge, we had a good meal (the first time I have genuinely enjoyed some vegetarian food) and watched Woodlarks and Yellowhammers. The idea was to return on-foot in the dark to listen to the natural sounds of this sanctuary area. This did not disappoint as we were treated to the sound of Nightjar churring, then Wolves – remarkably close – and Red Deer roaring. We also did a bit of stargazing including Jupiter and his Moons.
The next day was the only one that I would have happily missed out of the itinerary. Most mountain walks have steep bits, plateau sections, changes in gradients etc. etc. Not the Val di Rose; this just goes straight-up and keeps going up and up all day on a very stony path. There is no respite and neither does the vegetation offer many interesting compensations because much was cleared after the last war and replanted with rather less-than interesting trees. The idea was to find the Abruzzo Chamois – a sub-species of the Alpine Chamois – of which we saw at some distance a solitary individual. Personally, I was rather more fascinated to find an impressively large insect, which we later identified as Chabrier's Marbled Bush-cricket. Our guide and one intrepid member of the party got to 1.942 metres but the rest of us gave that a miss to return down the horrible path on loose stones just before an impressive thunderstorm kicked-in! Our Guide drove very safely back to the hotel through floods of water.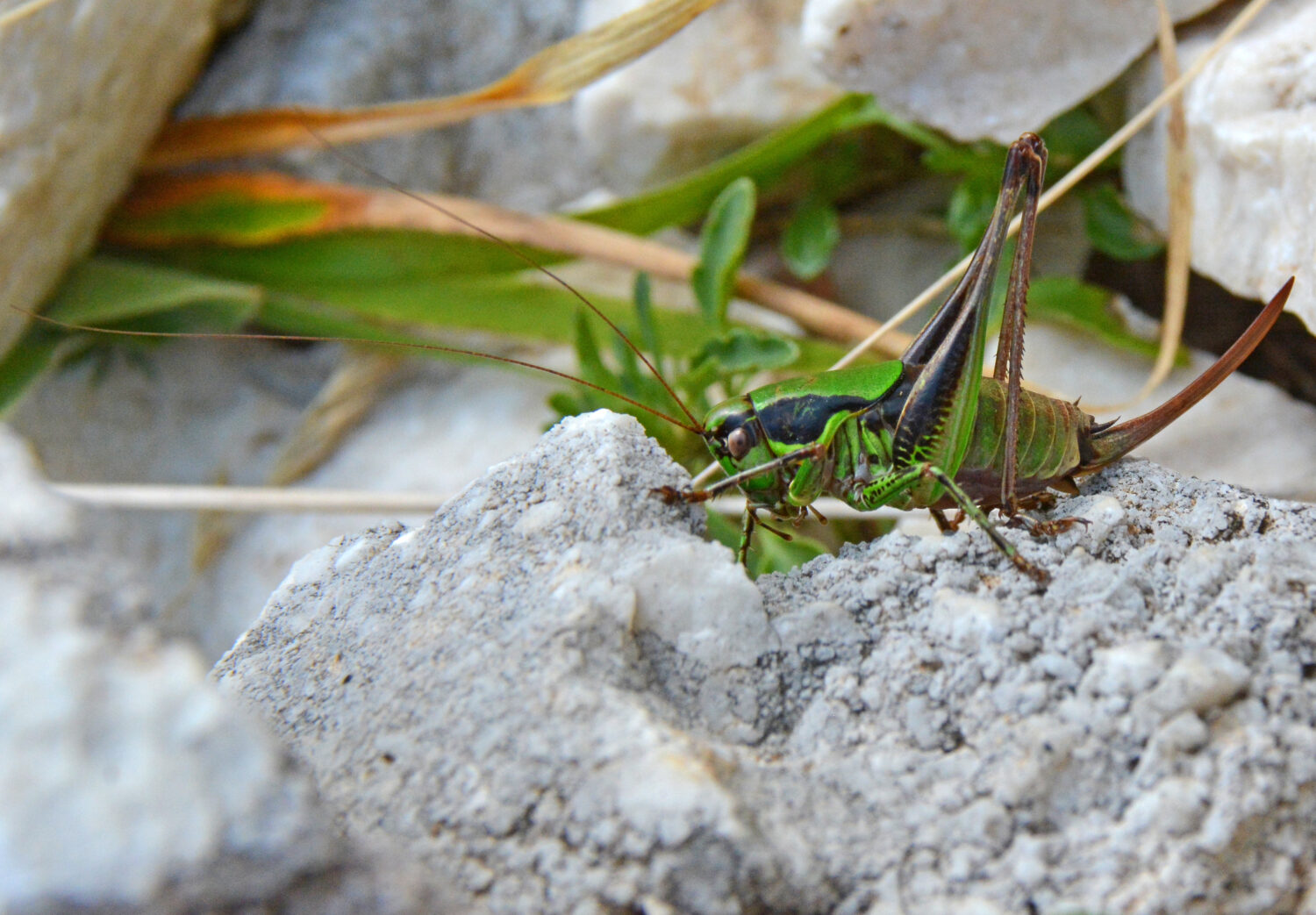 The next day started with another watch for Bears and an incredibly brief view was had. Both Deer and Wild Boar performed rather better. The morning was free for us to explore the local area and Alison & I went up the local valley to the meadows by the hotel Here we found more Butterflies, Long Tailed Tits Marsh Tits, and thrushes. After this we returned to the Passo del Diavolo, this time being driven up into the sanctuary in one of the few vehicles allowed into this specially protected area.
The guide took us on a walk into the ancient forest of Selva Moricento to show us this rare ecosystem. Many of the trees have coverings of lichens; others are full of the borings of beetles not to mention woodpecker holes. The ground flora included Maiden Pink, Brown Foxglove and Alpine Stork's-bill. We eventually had a fly-by from the rare Lilford's White-backed Woodpecker and also had a surprising encounter with a Smooth Snake. After this, we tried another Bear watch at Gioia Vecchio but most interesting was seeing a party of Long-tailed Tits start to roost up together for the night.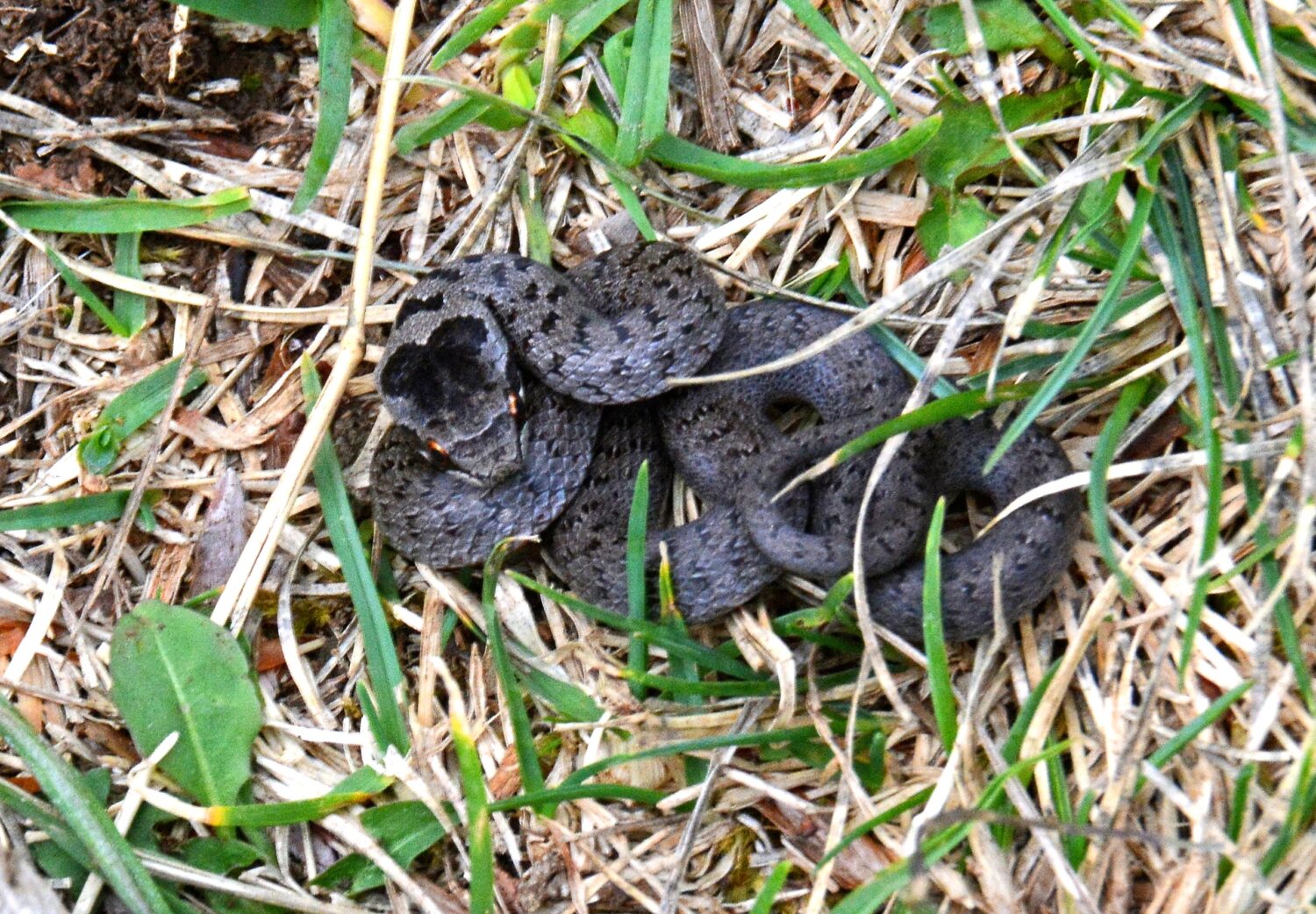 Day 7 saw a final Bear watch but in fact the report back I heard was of the entertaining Wild Boars! After breakfast we drove down the Sangro Valley and then turning north towards the Passo Godi we climbed to 1.630 metres and a small ski-resort. We walked only a short distance but were quickly surrounded by beautiful butterflies including Scarce Copper, Adonis and Common Blues and Burnet Moths. There were Grasshoppers everywhere and Kestrels and Buzzards above. We were overflown by Hobby and Short-toed Eagle and watched Yellowhammers, Spotted Flycatchers and Eastern Subalpine Warbler on the return to our mini-bus. An all-too brief visit to the old town of Scanno found a maze of little streets and alleyways surrounded by steep slopes before we continued into Sagittario Gorge.
In the gorge, the road runs between steep limestone cliffs before encountering the artificial lake of Lago di San Domenico. Here we picnicked near a church. We continued later to find a path down into the wilder more natural reaches of the River Sagittario. Here we walked down finding Ivy-leaved Cyclamen, Flowering Ash, Montpellier Maple and Terebinth Tree.
Finally, we finished the day and effectively the trip with some genuinely Italian 'gelati'. The next day we returned to Rome and all endured the wearing of Face Masks via the airports and plane back to Newcastle Airport.
I believe an excellent trip was enjoyed by all and I look forward to the next such Natural History holiday but without masks…