As we continue to enjoy nature close to home, we've asked NHSN members to tell us about their favourite field guides for the garden or on nearby walks. In this post, local naturalist Neil Pont recommends guides for identifying birds.
Field Guides for Bird Watchers
I came to more serious bird watching quite late in life and my enthusiasm was really ignited when I was introduced, by a friend, to Gosforth Nature Reserve and, by default, NHSN. I think this was about 15 years ago. This friend also managed to get me enrolled on to David Noble-Rollins' ever-popular 'Birds of the North East' class. So now my Tuesdays were spoken for.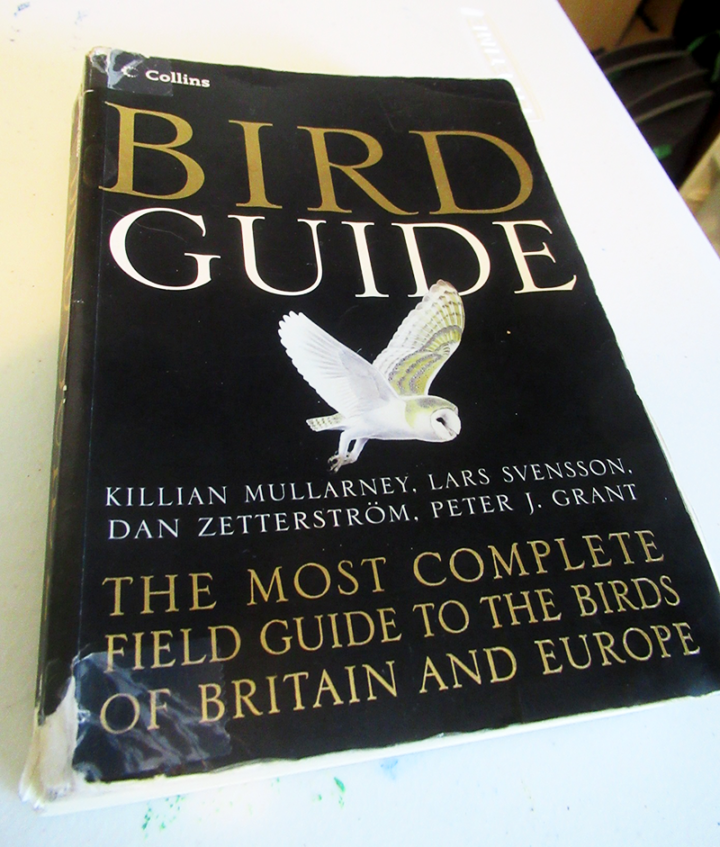 Collins Bird Guide: The Most Complete Guide to the Birds of Britain and Europe
By Lars Svensson. Illustrated by Killian Mullarney and Dan Zetterström. 2nd ed. HarperCollins, 2010.
392 pp. 4000+ colour illustrations and 700 colour distribution maps.
The bible for David's class is 'The Collins' – that's all you need to say and bird-watchers know what you mean. It is, of course, the Collins Bird Guide. It is the standard guide, rich and comprehensive. It is made more accessible through being available for your phone and your iPad. The digital versions give you access to bird songs and calls and short videos clips. My copy is pictured – and shows it to be well-used. However – it may be a bit too comprehensive for someone starting out on their own. It is a guide for the birds of Europe and it is unlikely that someone meandering along the coast of Northumberland will need to be able to tell the difference between a Steppe Eagle and a Tawny Eagle; between a Black Wheatear and a Persian Wheatear.
And, size wise, it is a bit bulky for many pockets – but probably manageable. The digital version on your phone will certainly fit into your pocket – but it would be very difficult to find your way onscreen if you are very unsure of what you are looking at. But – the problem with many simpler guides is that they often show male birds in full breeding plumage – all very splendid; but an eclipse duck or winter plumage wader may be more tricky. So – a comprehensive guide is probably called for.
Learn more about this guide at HarperCollins.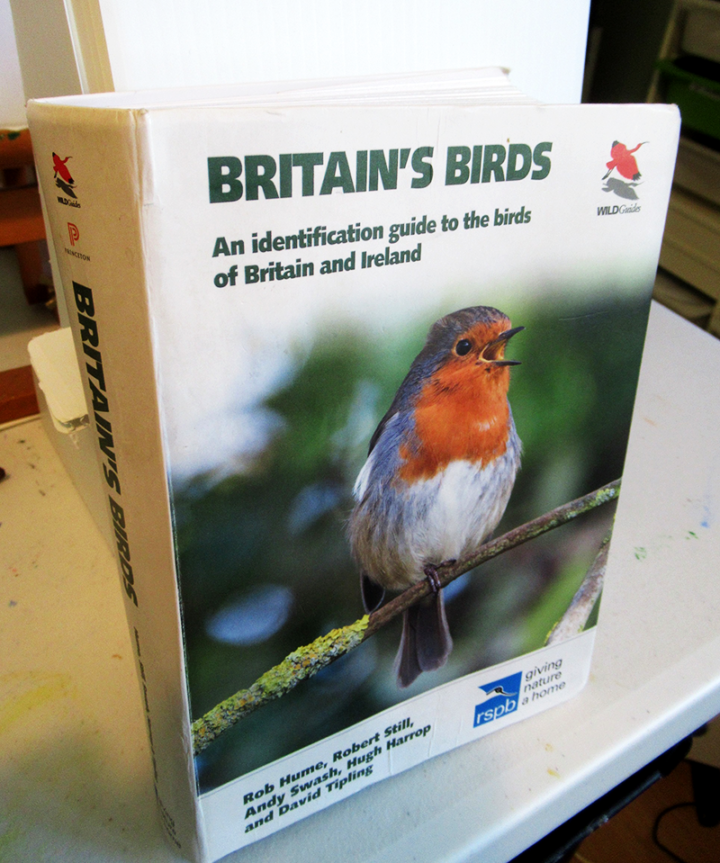 Britain's Birds: An Identification Guide to the Birds of Britain and Ireland
By Rob Hume et al. 2nd ed. WILDGuides, 2020.
576 pp. 3200+ colour photos and distribution maps.
My personal favourite now – even above 'The Collins'- is Britain's Birds. The illustrations are all photographs – and photographs of birds in all stages of their development and plumage. To me the photographs are so much more enlightening than drawings – however excellent. There is just enough information on each bird – in relation to such things as location and habitat; as well as colours and call – to help you avoid mistakes. Birds are arranged in order to allow you to make close comparisons – as opposed to strict taxonomic order. It is a wonderful work of dedication that has come up with something new in a flooded field of guides for bird-watchers. Small it is not: Britain's Birds is slightly bulkier than the Collins Bird Guide. But do not despair; you can leave it in the car to ponder over with your cup of coffee because the publishers have now produced British Birds: A Pocket Guide.
The same authors; basically the same material – and it concentrates on the 248 species you are most likely to see. So, that's easy, isn't it? And, just for fun, I've had a count of the number of species described in 'The Collins' – well over 700 I'm afraid. So, for me, if you want to buy just one guide to get you going then British Birds: A Pocket Guide is £10 well spent.
British Birds: A Pocket Guide
By Rob Hume et al. 2nd ed. WILDGuides, 2019.
272 pp. 1600 colour photos and 248 colour distribution maps.
Learn more about this guide and others in the WILDGuides series.
 More field guides to inspire you
This post is an extended version of "Field Guides to Inspire You," featured in our Summer 2020 Special Edition of North East Nature. This special digital-only issue is available to everyone.
See our full series of Field Guides blog posts for more recommendations.