David Lindo, Princeton University Press 2018, 232 pages
Jamie Oliver commends this attractively produced and very accessible softback publication, now in the Natural History Society of Northumbria's (NHSN) Library, as "…a great guide for anyone". Whether or not Jamie Oliver is your cup of tea is irrelevant here! However, I would commend this book warmly, too.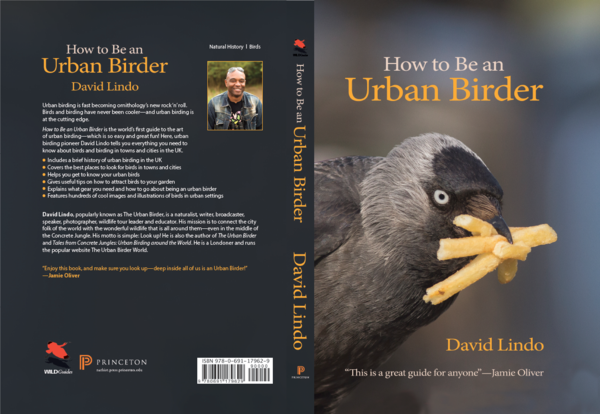 I started like many birdwatchers, I suspect, by looking out of my boyhood bedroom window. I vividly recall my first sightings of bramblings in our small front garden in a Midlands conurbation during the hard winter of 1962/3. One summer I monitored the progress of blue tits breeding in a nest box in our back garden. As a young member of the West Midlands Bird Club I visited various sites frequented by birders but most of my birding experience was, and still is, fairly urban, remembering to look up often!
If this book had been published some decades ago I would have loved it then and certainly benefitted greatly. It is well illustrated with lots of photographs, contains useful guidance on the basics of watching birds and shows how to go about identifying them. It is peppered with personal anecdotes of the author's own experiences, from his early years up to the present. It was a pleasure to read it today.
Minor quibbles might be how London-centric it is with only passing references to our region, notably to "our" kittiwakes in Newcastle. Also, ring-necked parakeets are not confined to the south east as time spent listening and looking up in parts of Newcastle bears witness! Fortunately, the occasional misprint in the text doesn't spoil the overall impact of this friendly and informative book.
This is an easy to read refresher for those returning to birdwatching or an ideal gift for the potential aspiring urban birder. Why not have a look at a copy of this popular author's useful book by visiting NHSN's Library in the Great North Museum Hancock? You may well find other recent acquisitions to your liking, too. All you need is your NHSN membership card to borrow books. Reviews of other recent acquisitions will appear in due course, hopefully: something for you to look up?
A Library Volunteer