The history of a hidden gem in the middle of Darras Hall has been captured in a community project celebrating the protected site. Known locally as Grasslands, the four-hectare Site of Special Scientific Interest (SSSI) is well hidden by the surrounding houses on Middle Drive, Eastern Way and Woodlands and known only to the local residents.
Grasslands is one of over 4,100 SSSI sites in England deemed to be internationally important for wildlife. The main botanical interest centres on the gently undulating species-rich grassland which has developed on clay soils and which grades into wetter areas. The formal conservation designation is given in a form of citation given by Natural England which describes an area that is of particular interest to science due to the rare species of fauna or flora and important habitats such as grasslands and rare plants of high conservation value.
Ponteland Community Partnership (PCP) was keen to celebrate this local asset by creating an educational pedestal showing information on its history, what rare plants can be seen and how it is cared for. The private landowner, Darras Hall Estate Committee, supported the idea and it wasn't long before this was turned into a project by the Community Partnership last autumn.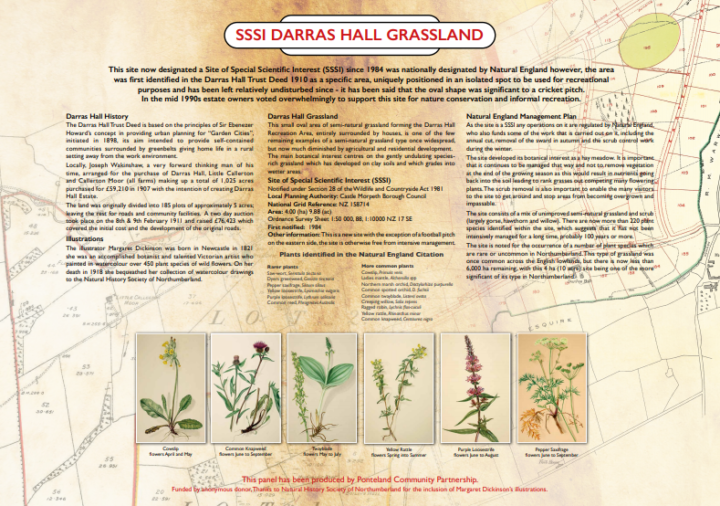 An anonymous former Darras Hall resident kindly supported the volunteers and funded the manufacture of the educational information pedestal for Grasslands at the Middle Drive entrance. The display shows an extract from the original map of Darras Hall, relevant historical documents and examples of the wildflowers from the citation. Care was taken when selecting the illustrations by Margaret Rebecca Dickinson. Born in Newcastle in 1821, she was an accomplished botanist and a talented Victorian artist who painted in watercolour over 450 plant species of wildflowers. On her death in 1918 she bequeathed her collection of watercolour drawings to NHSN.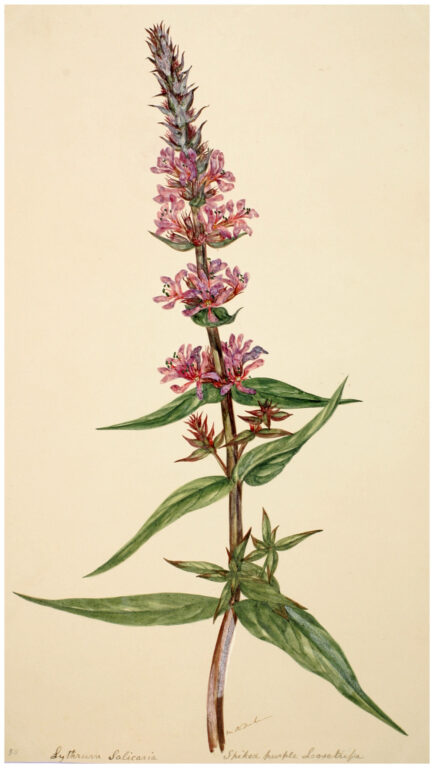 The research, development design and co-ordination were undertaken by PCP with the installation managed by Darras Hall Estates Committee and Natural England.
Darras Hall Grasslands was first identified in the Darras Hall Trust Deed 1910 as a specific area uniquely positioned in an isolated spot to be used for recreational purposes and has been left relatively undisturbed since. It has been said that the oval shape was to replicate a cricket pitch. In the mid-1990s estate owners voted overwhelmingly to support the site for nature conservation and informal recreation.
By Alma Dunigan, Ponteland Community Partnership