Explore the note book pages of local naturalist David Green in this latest archive blog by Project Archivist Kris McKie.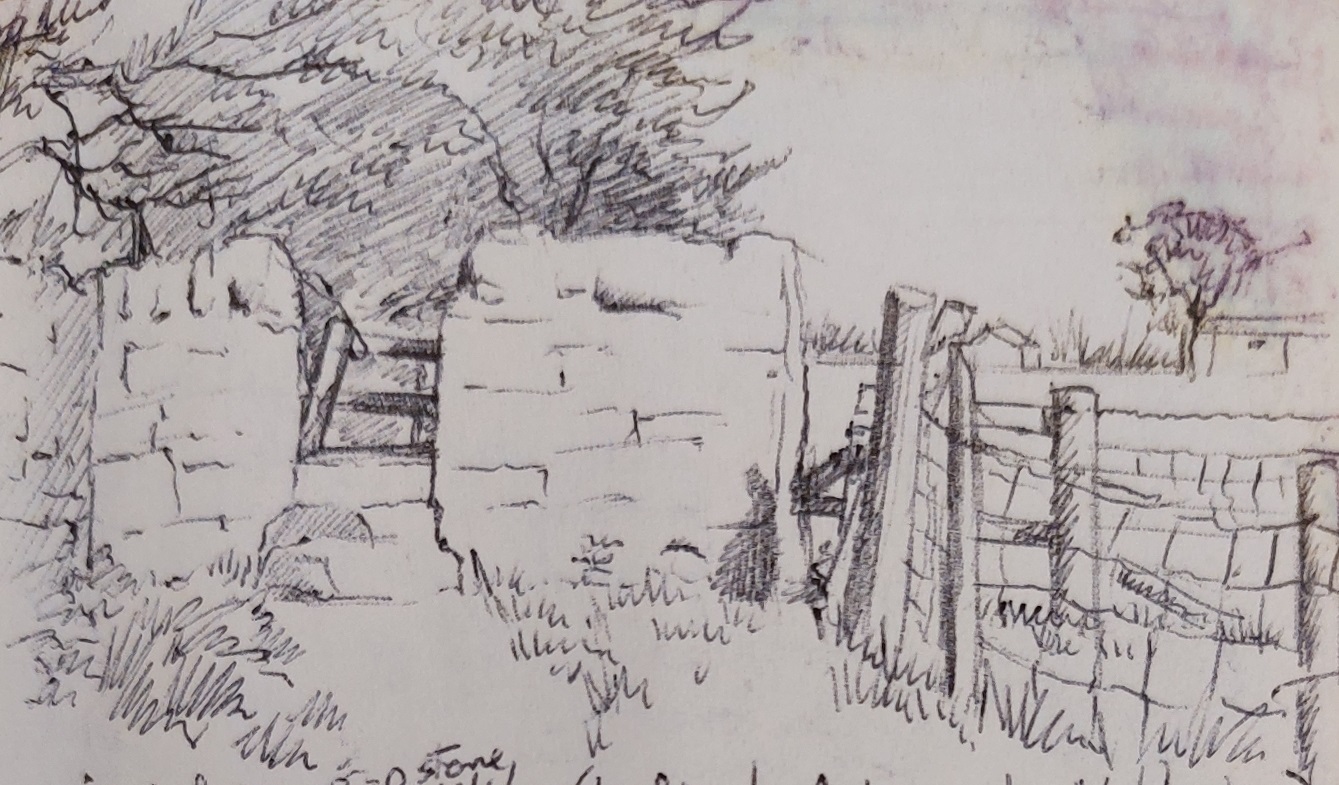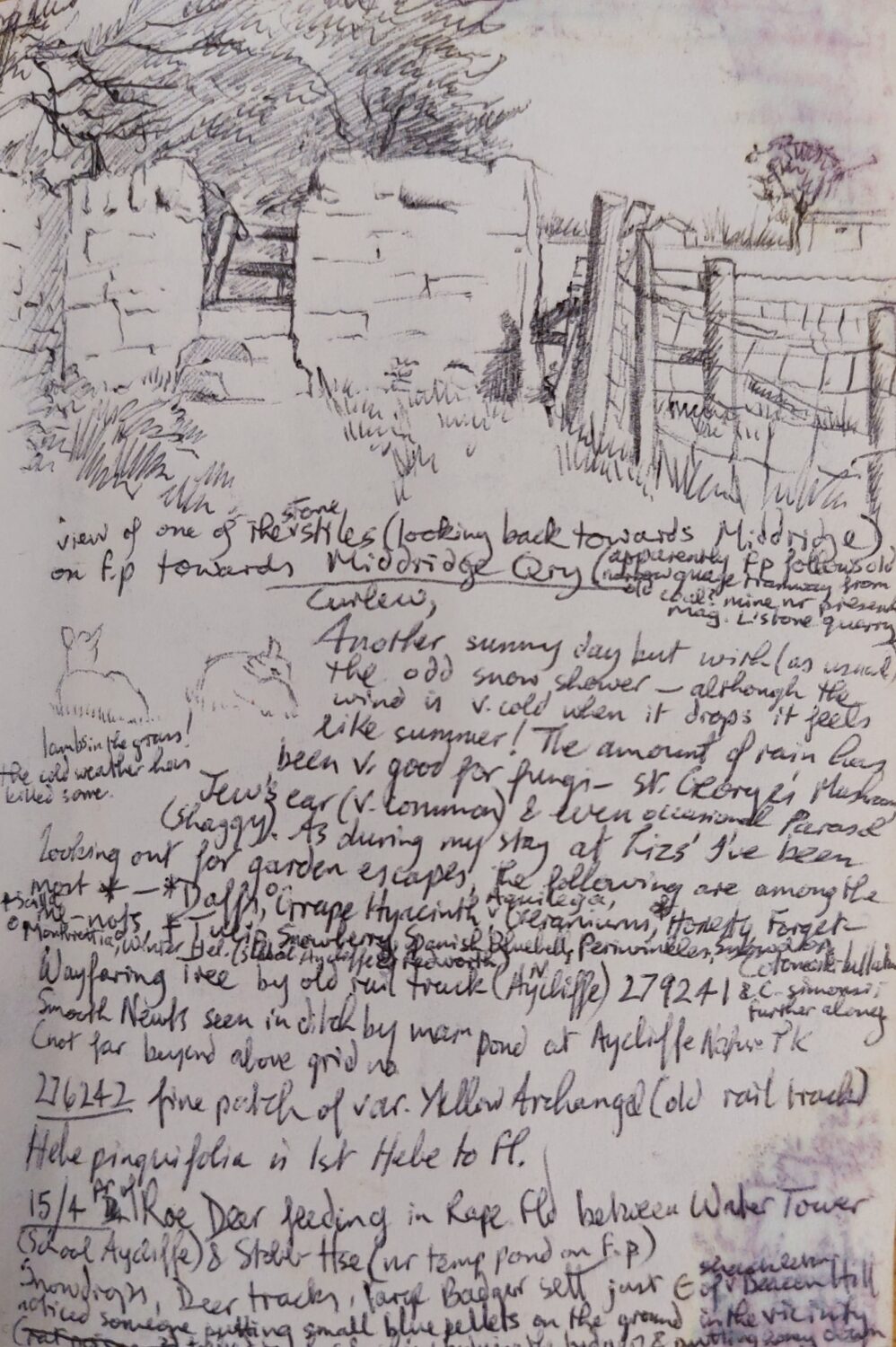 The sketch above was made by David Green on a cold, sunny day in April 1998, while out on a walk from Middridge, County Durham to nearby Aycliffe Nature Park. A native of neighbouring Darlington, David had a deep and intimate knowledge of the landscape in front of him. In between trips for work as a freelance illustrator and regular visits to India, he spent most of his time outdoors crossing the landscapes of the North East on foot and by bus.
As a young man, David's love of animals had taken him to Whipsnade Zoo where he worked as a keeper. Later returning to the North East, he forged a career as a freelance illustrator, working for organisations including the Natural History Society of Northumbria and the Hancock Museum. One of his most high-profile jobs was to illustrate naturalist and presenter David Bellamy's book, Backyard Safari (1981). With a wide ranging and rich knowledge of all things natural, David developed a particular expertise in reptiles and amphibians, especially the Great Crested Newt.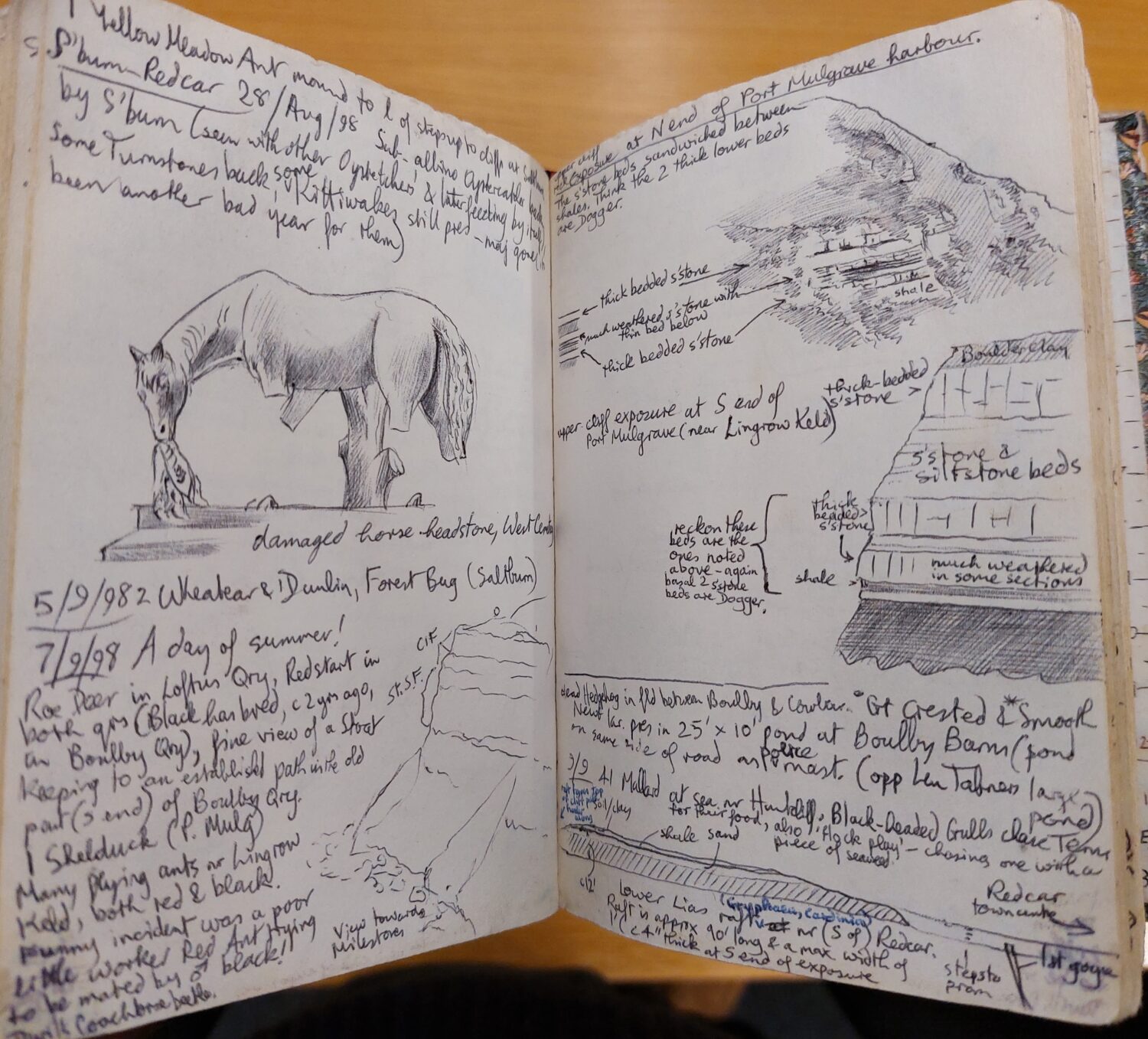 David's notebooks offer a window into the life and fascinations of someone with an insatiable thirst for nature and for being outdoors. The pages of closely packed notes and sketches suggest a desire to consume and capture every detail of the landscapes and environments of the North East, from the beautiful and inspiring to the everyday. Intricate botanical drawings and detailed geological diagrams sit alongside hurried sketches of an unearthed deer skull, a broken toy doll found on a footpath, or a a patch of Danish Scurvy Grass spotted outside a McDonald's.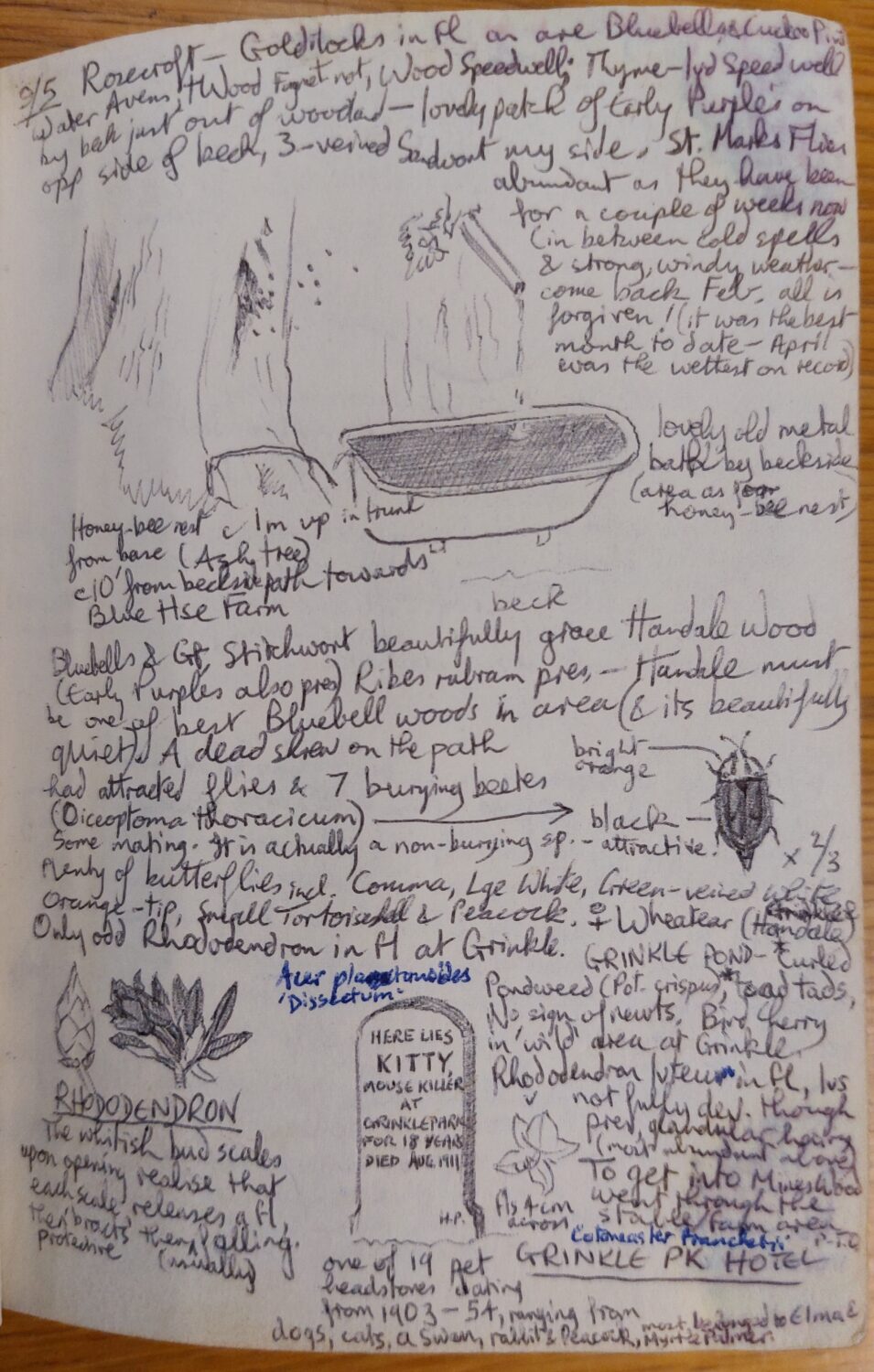 David Green's notebooks are part of NHSN's North East Nature Archive – a rich and unique collection of papers, images and artwork that document the natural environment of the North East of England, and people's connections to it, over the last 200 years. Held at Great North Museum: Hancock, the North East Nature Archive is testament to the joy, meaning and reflection that people have found in the natural environment of the region.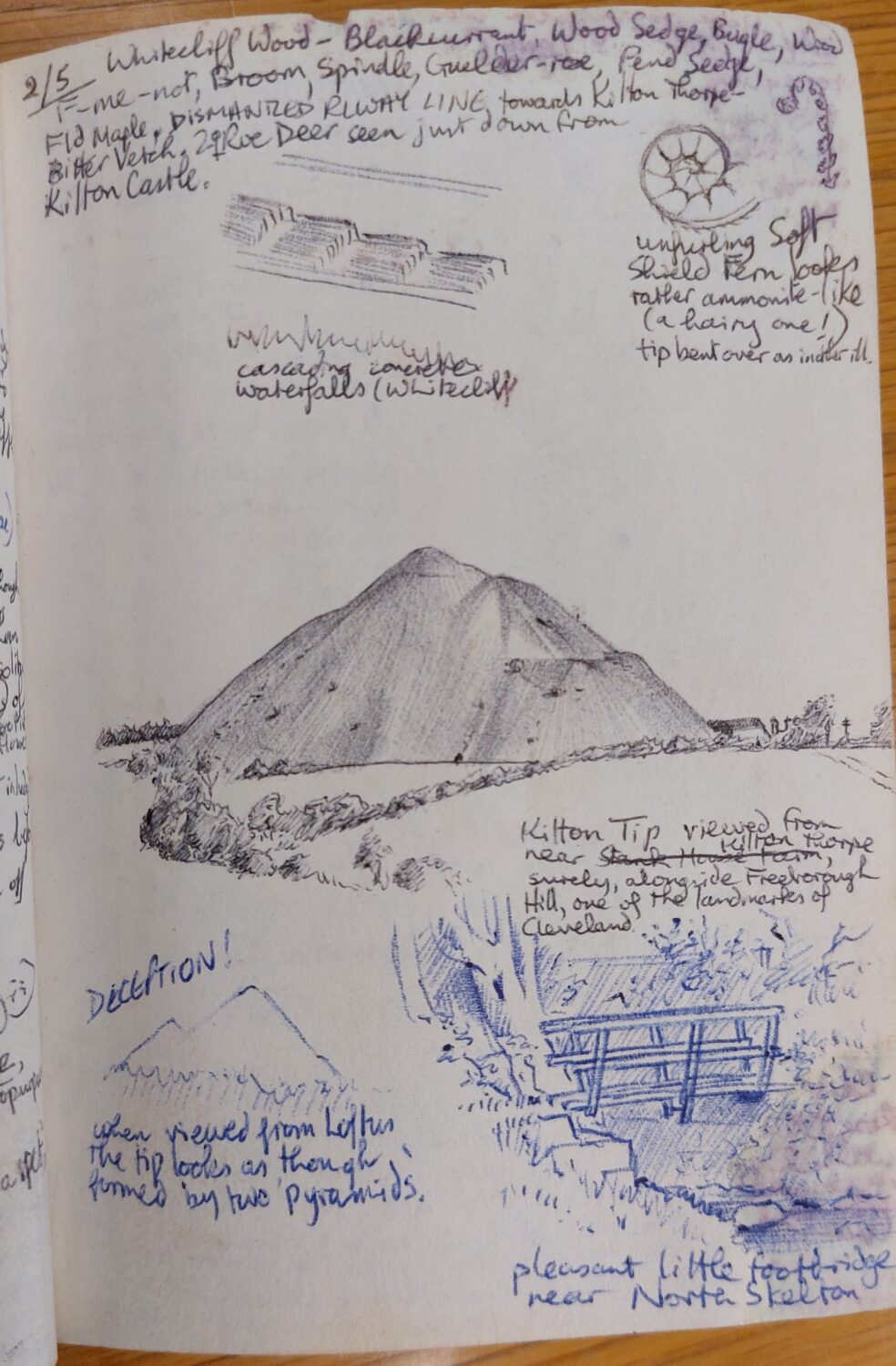 Nature's Cure in Times of Need aims to grow this incredible archive by collecting and preserving the connections that people and communities across the North East have with nature today. We're working to build a new collection of stories, pictures and recordings, that can help us explore the meaning, memory and feeling we attach to the natural world around us.
Whatever your story of your connection with nature and however you want to tell it, share it with us at nhsn.org.uk/share-your-story. Your story will be preserved for future generations and could inspire others to connect with and help protect nature in the North East.