Reminiscent of historic events with children in Hancock Museum, last week, NHSN held a celebration for 150 young North East naturalists
Children from local together at the end of project celebration
Last week the Great North Museum: Hancock was bustling with children from participating schools as they celebrated our 'How to be a Young North East Naturalist' project. The day was filled with excitement and emotion, and an obvious passion for local nature.
It was a fabulous opportunity for children, teachers, volunteers and staff to hear about the positive impact the project has had on the children. They revealed the excellent work they have produced and enthusiastically shared their experiences with the many people present.
The enthusiasm exuded by the children was heart-warming and gave a real sense of love and appreciation of nature, leaving everyone with a feeling of hope for the future.
NHSN Chair, Gordon Port, presented the children with certificates celebrating them being Young North East Naturalists and encouraging them to share their love of nature with others. Cheers were heard throughout the building as schools had their photo taken whilst proudly displaying their certificates.
Videos made with local filmmaker, Cain Scrimgeour, were also premiered, with the children having the first official viewing. They loved seeing themselves on the big screen.
Videos included:
'How to bird watch' and 'How to minibeast hunt' with Drae and Ebony from St Wilfrid's Primary.
'How to write a nature journal' with Kaesey-Mae and Ella from Eastlea Primary
'5 tips on how to be a Young North East Naturalist' by children also from St Wilfrid's
'I love nature' where children from each of the schools shared what they love most about their natural world.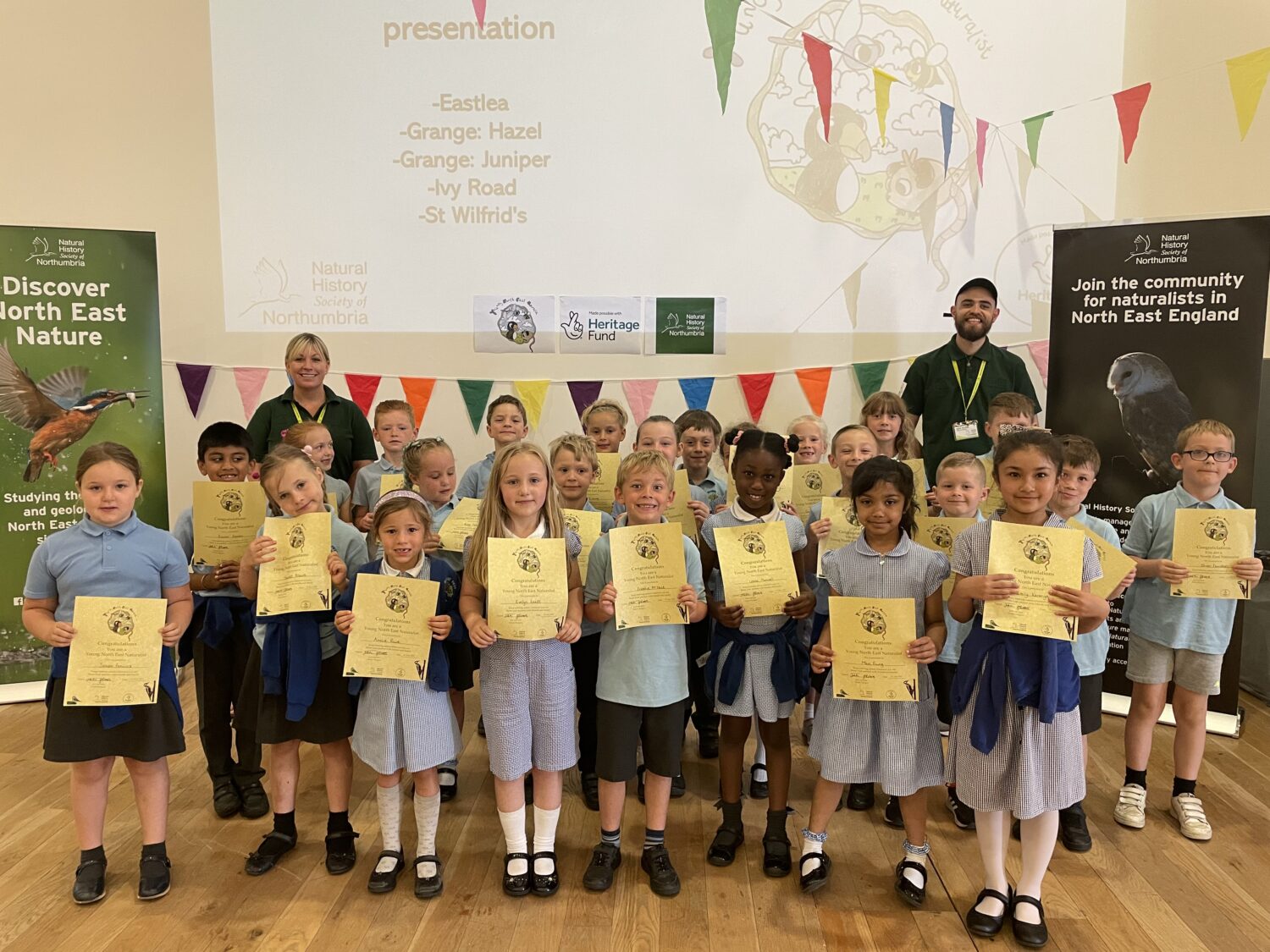 After a final thank you from NHSN Director Clare Freeman, the celebration concluded with children having an iconic photograph taken on the central staircase in the museum. This historic photograph celebrates 150 new young North East naturalists and will hopefully inspire other young naturalists to develop their love of nature.
The children enjoyed nature activities, some of which were produced by the children themselves. They made nature journal entries, produced a 'tree of thoughts', and enjoyed nature origami and a sensory corner. They also visited the wider museum and develop their understanding of natural history.
One teacher wrote about what the project and the celebration event have meant to her and the children:
Once again a massive thank you to all involved in the project, especially NHSN members and The National Lottery Heritage Fund. You have made this amazing project possible and changed the lives of many North East children, developing their love of nature.