The sunny end of an early September school day gave my son and I a chance to explore Walbottle Brickworks Local Nature Reserve on the western edge of Newcastle city. We have knowingly cycled, walked and driven past this reserve dozens of times, always on the way somewhere more enticing. Today was the day to scratch the "could it be wonderful?" itch.
The reserve entrance reverberated with the sound of the adjacent household waste recycling site but immediately on passing through the rusty gateway, we are transported to a different world. Dense scrubby hazel, hawthorn and ash create a visual and auditory shield, blocking the hot sun and muffling industrial clanks. The temperature dropped and the air felt damp.
The steep, well-maintained path winds up through the woodland slowly reclaiming this post-industrial site, with bricks and building remains littering lower slopes. A crab apple dripping with rosy fruit gave us both the chance to pause without admitting we are out of puff. My son dramatically ejected the tart fruit in a spray of juice, laughing in disgust.  Up ahead, the path is bathed in sun again, spurring us up and out of the wood into a recently mown open grassland and scrub area. High overhead a kestrel circles in the breeze, perhaps buoyed aloft by recent success in the shorn grass. Patches of scrub dot the grassland, garlanded with a myriad of ripening fruit – hawthorn, elder and bramble glisten in a powerful sun. Our feet, in wellies worn too soon in the season, begin to overheat and more fruit is eaten in a patch of shade.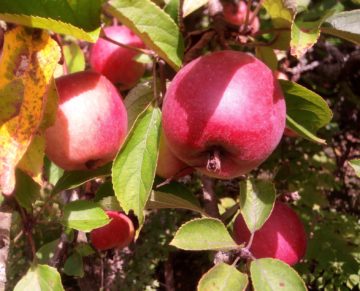 Crab Apples
After 10 minutes of gentle climbing we reach the top of the reserve, offering a pause-worthy vantage over the Tyne valley, with southerly views across to Ryton and Crawcrook connecting us again with the familiar surrounding landscape. From the highpoint, we descended again, circling back towards our start point through a series of damp, fetid copses. A shaded ash, laden with bunches of keys, seemed almost tropical. The lad disappeared down a tunnel of thorns, trying to catch the chattering magpie clan. Smaller fluttering wings stopped us again – a speckled wood dancing across a dog rose.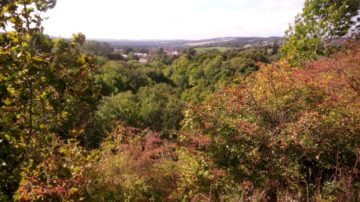 Far too quickly (for me), we stumbled back in to urban Newcastle, emerging on to the pavement in a sensory stupor, having seen no other human for half an hour. Readjustment was rapid. "Thanks Dad, that was quick and really nice. I'd like to come back here with Mum but can we go home now so I can watch TV?".
We no doubt missed some of the most special nature of this Local Nature Reserve but it did provide a therapeutic oasis of calm, forcing a temporary abandonment of abstract worries with the power of its sensory contrasts and intimate topography.
We will be back in winter. Hope you might be also!
Walbottle Brickworks is located on Walbottle Road, between Walbottle and Newburn. It can also be reached from Hospital Lane near Lemington. The site is only a short walk from the number 22 bus route on Newburn Road and a minor diversion from Hadrians Cycleway (National Route 72) running along the north bank of the Tyne.
By Nick Mason