I wonder what King Solomon would have done in times of lockdown? No travel, no lush Palace Parties, and worst of all: under strict instructions to keep at least six foot away from both Bathsheba and the Queen of Sheba, would he indeed have followed his own words and found himself a quiet spot to observe the Industrious Ant? We'll never know…
In the midst of our lockdown, I spared the king a thought whilst cycling to my study field in the Tyne Valley. I hope he would forgive me for not going to the ants, but to the bees – more in particular, the bumblebees. Years ago we noticed that red-tailed bumblebees (Bombus lapidarius) were particularly fond of Knapweed (Centaurea nigra): they flocked to this plant in large numbers. There was something strange though. It was not only the black-and-red females but also quite a lot of the yellow-banded males that frequented the flowers. Why? Female workers are out all day to collect nectar and pollen for the nest, but males only have to fend for themselves and hence can afford to be more lazy. But are they?
The best way to find out is spending the day with them. And so it was I set up camp at six o'clock in the morning, accompanied by a folding chair, a flask of tea, a butterfly net, a paint set and last but not least a pocket edition of "Pride and Prejudice". As this is lockdown and the University is closed we do not have access to our equipment. So the word was "improvising". An old yoghurt pot was transformed in a would-be pan trap, which was positioned above the vegetation by a home-made framework of willow sticks bound together with square and diagonal lashings. It goes to show: four decades in Higher Education, but the skills that really matter you learn in Scouts!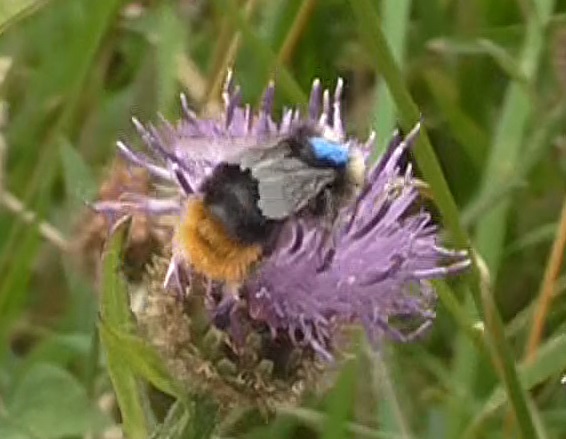 The set up was simple: every half-hour make a round along the flowers, and count both male and female bumblebees on Knapweed. A pattern started to emerge pretty quickly: male bumblebees love a good lie-in. They started foraging later than their sisters. Once awake, they seem to be equally active though; both males and females visit roughly six flowerheads per minute. But where else do they go? This is where the paint comes in. I marked several males and females with a small dot of paint on their thorax. (Reading that last sentence makes it look quite good and scientific. What really happened is that I managed to get paint all over me, the net and (don't ask me how) inside my tea flask. Oh, and a bit on the bumblebees as well). The results: even a week later we still see the vast majority of bees – both male and female – back less than 30 feet from where they were released.
Are bees that homely? Or are they heeding the Government's advice and stay close to home? I'm certain the King himself would have given his seal to that. A Solomon's seal, that is.
By Rinke Vinkenoog, Northumberland

About the author
Rinke Vinkenoog is a Biology lecturer at Northumbria University who lives in Prudhoe. From there his walks regularly take him to the chalk hills of the Spetchells.