Boasting balmy temperatures, fantastic wildlife and record attendance, this year's annual Gosforth Park Nature Reserve open day was perhaps our best yet.
With an estimated 400 people attending throughout the day, last weekends open day was our busiest yet: as families flocked to the reserve to enjoy a suite of natural history based activities. Among these: pond dipping in GPNR's expansive reedbed, birdwatching in the Ridley Hide, moth trapping, trail cameras and an all-new bug Bioblitz with entomologist, Dr Gordon Port. All of which attributed towards countless beaming smiles as visitors from across the North East enjoyed a closer look at some of our regions best wildlife. All of which behaved impeccably, delighting guests and staff alike throughout the day.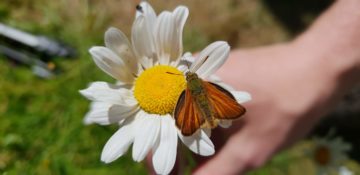 Truthfully, the real stars of the show throughout the day were the animals themselves, and naturalists of all ages were able to enjoy unprecedented views of Kingfishers, Water Rails, Common Terns and even Otters. On our 'insect bioblitz' intrepid young explorers were able to get to grips with myriad species ranging from radiant Small Skipper butterflies to fearsome looking sawflies, all while enjoying an up close and personal look at more familiar minibeasts such as woodlice, millipedes and bumblebees. From our pond-dipping platform, visitors were also able to come face-to-face with a number of seldom-seen aquatic creatures, with some prize finds including Great Diving Beetle larvae, Three-spined Sticklebacks and even a ferocious-looking Water Scorpion. The latter, sporting its impressive namesake pinchers, a firm favourite among all present.
The prize for the days most unexpected wildlife encounter must certainly go to the White-letter Hairstreak – a scarce butterfly here in the North East – which delighted a handful of visitors in the carpark, opting for an odd choice of perch as it landed on the high-vis jacket of one of our lucky volunteers!
---
Throughout the day, it was wonderful to see so many younger naturalists enjoying the delights of the reserve. Many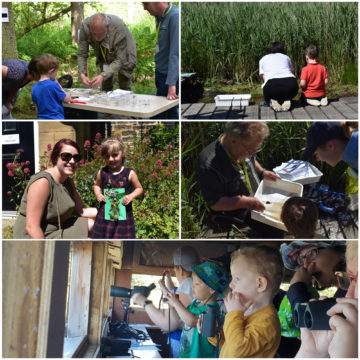 of these, having taken part in our scavenger hunt, also producing some beautiful artworks made up of finds from within the woodland. Though for these, the excitement did not end there and many also chose to take part in our tree trail – learning to identify many of the common trees that make up the woodland at Gosforth – while others tested their skills as would-be ornithologists, attempting to find and identify ten of the reserves most iconic avian residents. It seems many were successful, and I, for one, left feeling particularly inspired having after having the ins and outs of coot/moorhen separation explained to me by one very enthusiastic 8-year-old avian expert! Indeed, such enthusiasm for the natural world could be seen all over the reserve, and it is great to see that nature still has the power to excite the next generation.
NHSN would like to thank each and every person who attended the reserve on Saturday, and we hope that many of you may wish to visit again in the future. Thanks must also be extended to our fantastic, knowledgeable volunteers who took the time out of their incredibly busy schedules to run activities, manage parking, talk to guests, guide and make the reserve as welcoming as possible. You did an incredible job, as ever, and we could not have done it without you.
Gosforth Park Nature Reserve has free access to NHSN members and, for those looking to visit less frequently, day passes are available for £3.50 at the reserve entrance. More information about the site can be found here for those interested.
– James Common, Communications Officer