Take a minute; think back to the first moments that ignited your intrigue for Nature. Perhaps I'm mistaken, but I could guarantee it was a 'wow' moment; something that surprised you and made you wonder how on earth you got so lucky to spend your life alongside Nature – and everything it encompasses.  
Whether this came to you as a child, a teen, or an adult – you're likely to still get that little buzz of excitement when you think back to that moment of what I like to call, "wild intrigue". It is those moments that we are passionate in introducing people to; whether they're new to the natural world, or need a long-awaited catch up with it.  
For so many people, the true wonders of wildlife are hidden in plain sight – just waiting to be discovered. 
Though partly responsible for people's reduced interaction with the wilds, technology is an incredible tool to achieve that spark of fascination for Nature, particularly in discovering the elusive, secretive and hidden wildlife of Northumberland. In holding even the most basic bat detector, one can eavesdrop on those flitting shapes in the sky, discovering a hidden language; "I didn't realise that they could speak to each other!" so often being the reaction. The first time one slowly lifts egg cartons out of a moth trap, the magic of Christmas morning rushes back in discovering that moths aren't only "not as boring as I thought!" They're iridescent, diverse, breathtakingly beautiful, and most certainly never to be swatted at again. Through installing camera traps, and ever-so-patiently waiting a week for footage, finally opening each file – eye's wide with anticipation – the excitement of even a Wood Mouse passing is enough to thrill – never mind a Roe Deer, a Red Fox, or (fingers crossed) a Badger. 
With an intrigue and excitement sparked for Nature there stems a curiosity to discover more, we are so very grateful that we have the opportunity to inspire this within people.  
We hope you can join us for our event "A Wild Intrigue for Northumberland" for an evening of film, photography and discussion to discover how we are re-embracing families and individuals with their wild sides through the intrigue of nature.  
You can book your place on this event using Eventbrite, here: https://www.eventbrite.co.uk/e/a-wild-intrigue-for-northumberland-tickets-49511665725
Heather Devey & Cain Scrimgeour, Wild Intrigue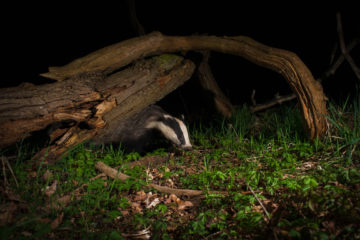 Badger © Cain Scrimgeour