Sacriston, where I live, is a former mining village halfway between Durham City and Chester-le-Street. Lying between Sacriston and Chester-le-Street are Waldridge Fell and Daisy Hill Local Nature Reserve. Waldridge Fell is a 115-hectare area of lowland heath characterised by bilberry, heather and moorland grasses, as a habitat it is globally rare so its management is vitally important. The Fell's history is as interesting and varied as the fauna and flora that live there. The Prince Bishops who ruled County Durham for many centuries used it as part of their hunting chase, during the Napoleonic Wars it was used for training the military and for around 150 years from the early days of the 19th century it was mined for coal. The mining ended in 1963 and it is now owned and managed by Durham County Council. As well as the lowland heath the site also includes Wanister Bog which is the only known valley mire in lowland County Durham and as a result the Fell is a designated SSSI.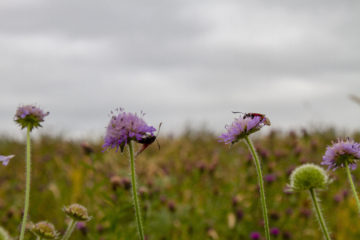 Five-spot Burnet on Scabious
Daisy Hill LNR lies next to the Fell and is a wonderful example of what can be achieved through conservation. It is a 52.6-hectare site and as recently as 1992 the area was an open cast coal mine, but parts are now being incorporated into the heath through the gradual planting of heather, juniper and bilberry. The grassland on the site is grazed through the winter by Exmoor ponies and Highland cattle and in the spring and summer provides perfect conditions for ground-nesting birds such as skylark, meadow pipit and linnet. Next to the grassland area is a wildflower meadow and two ponds that was created by Durham County Council from sheep pasture in 2011 and has become a highlight of summer walks with butterflies, bees, moths, damselflies, dragonflies – and a few weeks ago a barn owl – putting in an appearance.
The whole area is surrounded by farmland and woodland so as you would expect from an area with such a variety of habitats there is always something of interest and I am looking forward to sharing the changing seasons with you.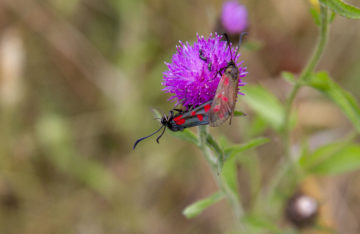 Five-spot Burnets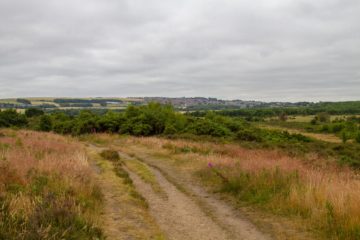 View to the South of Waldridge Fell
By Vivien Kent
---
NHSN are currently seeking nature writers and naturalists to highlight the beauty and diversity of life in our region by means of a new 'Nature Notebooks' series sharing tales from specific sites across the region. From Druridge Bay to Haydon Bridge, Berwick to Durham, we hope to introduce you to the 'local patches' of NHSN members and, through regular seasonal updates, help you track the rhyme of nature as the year progresses. If you would like to contribute a column, contact James Common, Communications Officer, at james.common@newcastle.ac.uk.