As part of National Tree Planting Week, this past weekend saw NHSN supporters descending upon Gosforth Park Nature Reserve to plant over 300 trees kindly donated to NHSN by the Woodland Trust. Throughout the day, vast quantities of Hazel were placed in order to diversify the age and structure of the woodland at the reserve, and to create locally scarce coppice habitat – favoured by many bird and invertebrate species, from Garden Warblers and Blackcaps to scarce moths.
While ensuring regeneration and increasing the longevity of the woodland – so that it may be enjoyed by future generations for many years to come – these saplings will also help form the basis of a thriving shrub-layer – vitally important when it comes to maximising the value of the site for biodiversity. We are incredibly grateful to all of the volunteers who helped out at the reserve throughout the day and hope that you will visit again as we attempt to further improve our woodland for wildlife, and the many people who visit to enjoy it.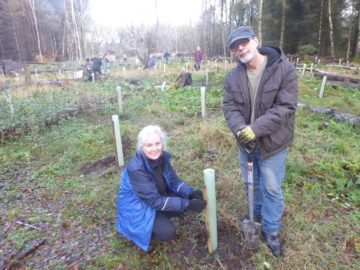 With many more saplings still to be planted, we would be delighted if you would join us at future tree planting events due to be held throughout the winter. Our regular volunteer sessions, due to run every Wednesday throughout the season, provide the perfect opportunity to get involved. Alternatively, why not join in on one of our Saturday dates. These are 26 January, 23 February and 30 March. With large quantities many more native trees, including oak, rowan and aspen, still to be planted; there is ample opportunity to get involved and leave your mark on one of Newcastle's most treasured green spaces.
No prior experience of tree planting or volunteering is required to take part in these sessions and full training will be given on site by NHSN Reserves Warden, Paul Drummond. We are also delighted to be able to supply a range of dedicated tools and equipment courtesy of our sponsors, The Community Foundation serving Northumberland and Tyne and Wear.
Cathy and Ian McMaster, who attended the reserve for the first time this weekend and planted their first ever tree write:
"We wanted to get involved and do our bit for wildlife locally. Our first volunteering experience has been absolutely brilliant.  We have learnt how to plant trees and it's been inspiring to meet lots of other like-minded people here today, plus the weather has helped, it was almost mild!"