With support from the NHSN Lantern Fund and the generous donations of our members and supporters, we have been able to continue our work with Children North East (CNE) to enthuse young people about the natural world.
The short trip-reports below come courtesy of CNE Project Worker, Alana Dunton, and go to show what an outstanding time young attendees had on two of our most recent trips.
You can support our work with CNE and young naturalists across the North East by supporting our Lantern Fund here.
Monday 29th October 2018: Fountains Abbey and Studley Royal Deer Park
During October Half Term we took a group of 13 young people, aged 12-21, to Fountains Abbey and Studley Royal Deer Park to observe the deer during rutting season. We had a great day, the autumn sunshine was kind to us and the park looked beautiful. We were given a tour of the park by some National Trust rangers who took us on a ramble around the grounds to observe the deer and give us some information about them. We saw two types of deer; fallow and red deer. The rangers taught us how to identify them by the shape of the antler and the colour/ markings on their coats. The group were amazed to see such large numbers of deer and to find out facts about them, such as how dangerous and full of angst they can be during mating season, what they eat and their nehavious. Whilst on the walk we also took in beautiful views and marvelled at the changing colours of the trees and their leaves.
After lunch we explored the ruins, spent time and wandered around the water gardens, talking about the different trees and birds we saw on the way around. We observed swans, ducks, pheasants, moorhens, coots, robins, blackbirds, various species of tit and a wren. On the way home we were lucky to see a Starling murmuration out of the minibus window, none of the group had seen this happen before and a couple really loved the experience. They had a fantastic day and really felt the benefits of being out in the fresh air exploring and finding out about the creatures who inhabit the spaces around them.
Young attendees on what they learnt over the course of the day:

"I saw a Starling MMurmuration for the first time"
"At this time of year deer can be dangerous"
"We found some claws, they belonged to pheasants. I didn't know pheasants had claws"
"The bottom of trees are bare and flat because deer eat them"
"Male deer go around with huddles of females around them"
"Deer like to scrap during rutting"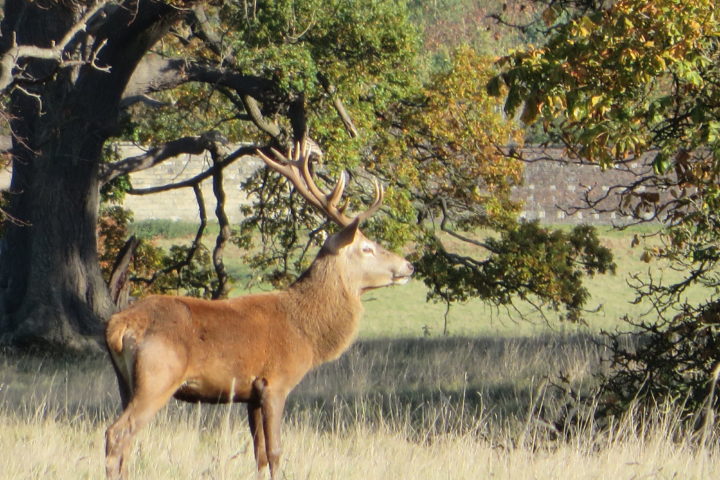 January 3rd and 4th:Forest School Days Scotswood Garden
We held two forest school days at Scotswood Garden with 12 young people aged 13-17. During the sessions we identified different types of tree, explored the patterns in our hands/ bodies that can also be found in the patterns in nature i.e branches, leaves etc. Took time out to sit and listen to nature and listen to birds, trying to identify the kinds of calls they make such as alarm calls, chattering together etc. We also learned how to build and keep our own fires going, cooked some food, whittled wood and played games.