Thank you again to everyone who has taken part in the North East Bee Hunt. Your records are bringing to light new information about the North East's bees and have now taken us to over 600 records!
Beginner or expert, everyone can take part in the North East Bee Hunt. If you're unsure about how to submit your records, a guide to using iRecord can be found here. If you are unsure which bee you have seen, please get in touch with us on social media or by email at nhsn@ncl.ac.uk – we'll try our best to help.
Below, Charlotte Rankin highlights your records and observations over the past fortnight below.
---
Across the region, North East Bee Hunt participants are putting bees on the region's map and helping to improve our knowledge of bees in the region. Over 600 records have been submitted to The North East Bee Hunt so far, with over 20 species of solitary bees and bumblebees sighted. Included in these species are those that are much less recorded than others; the more we record bees, the greater understanding we can build of where they are in the region and how they are faring.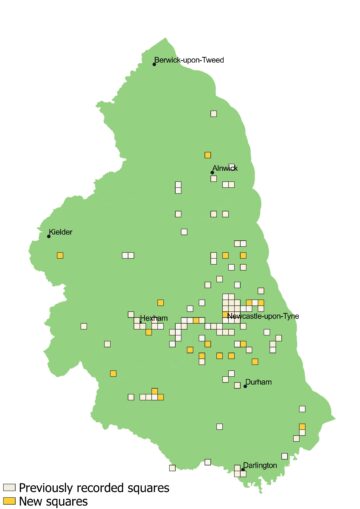 May is a very busy month for early-flying bees. Many bumblebee nests are growing with more and more workers being seen on the wing. Many spring-flying solitary bees have now sealed off their nest burrows and set to work on another. For those who have bee hotels, you may now have several of your tubes plugged with mud from Red Mason Bee females. In fact, some bees are soon coming towards the end of their flight period; for instance, the males of the Early bumblebee are now on the wing, marking the end of the first Early Bumblebee nests.
A particularly exciting find this fortnight has been the Bilberry Mining Bee sighted by Chris Barlow. Knowing that there is potential habitat for this bee in the region, Chris set himself a mission to look out for it in South Northumberland. While he saw no other bee during his five-hour search, it was certainly worth it when he finally saw the bee he was looking for! As its name suggests, this is a solitary bee species mainly associated with Bilberry and peaks with its flowering period. This beautiful bee is largely confined to habitats where its main pollen sources, Bilberry and Cowberry, are plentiful. The Bilberry Mining Bee has very few records in the region and Chris' sighting has added to this species' distribution, being quite possibly the first record for it in South Northumberland!
While the Bee Hunt has five focus species to look out for, the submission of all bee species is encouraged. You may have spotted the classic bumblebee with a white-tail; there are in fact several white-tailed species to choose from and we have created a quick guide to their identification. A fantastic crib sheet of the most common bumblebees by The Bumblebee Conservation Trust can also be found online.
The map shows the distribution of records that have been submitted to The North East Bee Hunt. There have been a number of records submitted from new areas, highlighted by the orange squares. A huge thank you to all Bee Hunt participants who are sharing and submitting their bee sightings. Collectively, we can build a greater understanding of where our region's bees are and how they are doing.
Please do continue to send in your bee sightings to the North East Bee Hunt's iRecord form and all the information on how can be found on The North East Bee Hunt webpage. If you have spotted bees and are unsure of their identification, you can follow the Facebook thread and share your bee images for help from the friendly Bee Team.
Happy bee-hunting!
By Charlotte Rankin, local naturalist