A former NHSN Chair and life member, Derek Shannon's family reflect on his great contribution to natural history in the North East
Derek Shannon (right) with Margaret Swan and Professor George Swan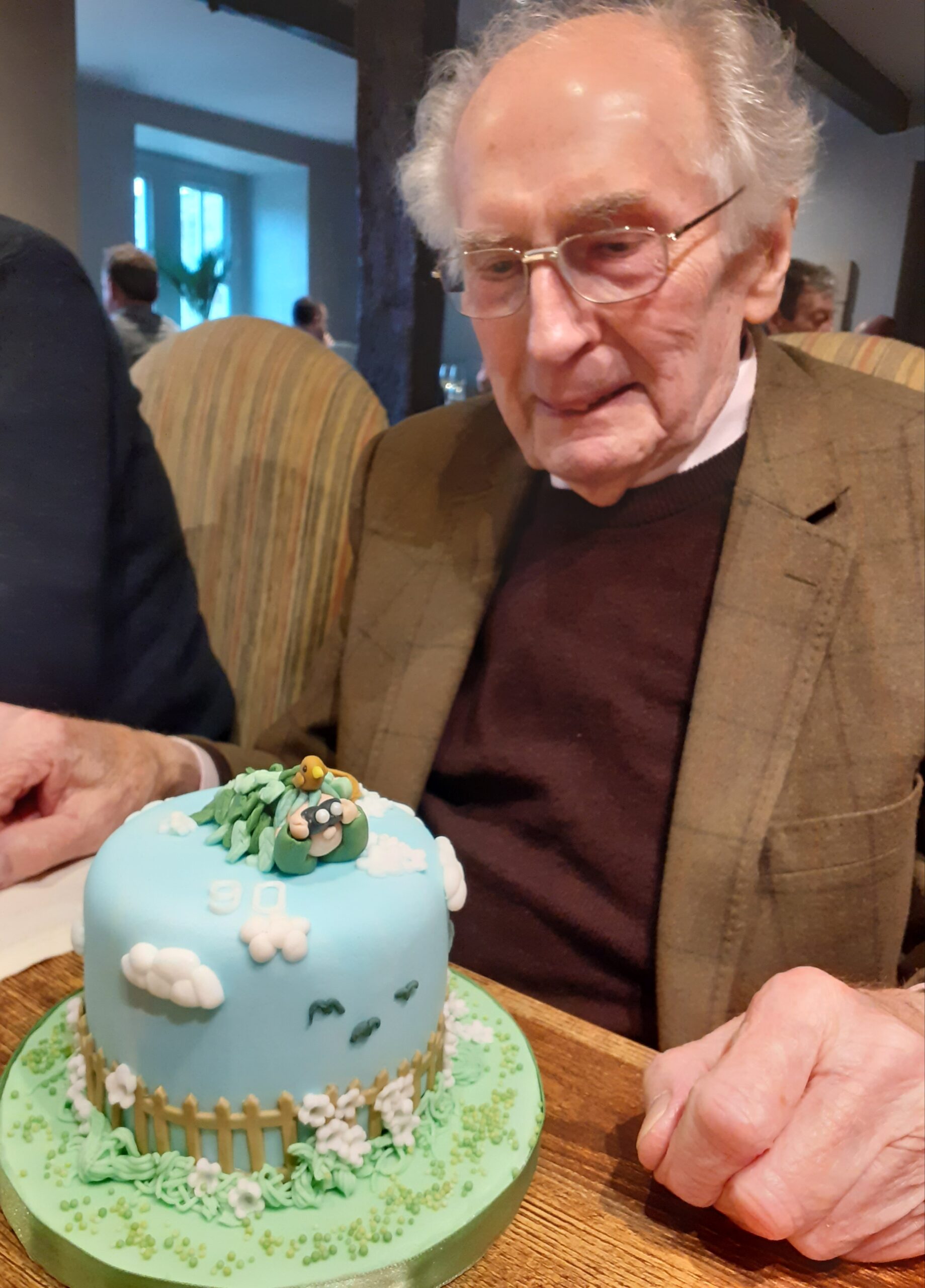 Derek Shannon, Chair of the NHSN from 1986 to 1995, was an adopted Northumbrian. He regarded the area as one of the most beautiful in the country, and certainly one of the best for the natural world.
Born in London in February 1930, he was evacuated to Gloucestershire and in his 5 years there as a teenager he was introduced to country life and developed his deep interest in birds. His first telescope was purchased for him by the lady who took him in as an evacuee.
Once his family moved up to Whitley Bay in 1946 his interest developed into a passion that never left him for the rest of his life When he saw his first rare bird on St Mary's Island he had the idea to report it to a place he had noticed in central Newcastle when doing his architectural apprenticeship… the NHSN. Derek was of course just 17 years old so there was some scepticism that he had seen a Black Redstart! A letter quickly followed from G.W Temperley, then Honorary Secretary, (dated 31st December 1947) telling Derek that others had now seen such a bird, so, as he now had credibility, he was asked to check other people's sightings and do census work between his college and apprenticeship and to join NHSN which he did on 9th February 1948. His lifetime membership card shows him to be membership number L9.
When Grace Hickling took over as Honorary Secretary in December 1948 Derek began a long working association with her. He would drive her to the Farne Islands for her NT committee meetings so he could piggyback with her on the boat to the Islands and she backed his election to the NT Farne Island Committee in 1985. She even put on hold his need to pay subscriptions to the NHSN for two years whilst he did his National Service as it was proving unaffordable on army wage. When Grace Hickling died in 1986 Derek wrote her obituary for NHSN and also presented a lecture on her life in 2003.
In November 1977 Derek was elected to the Council and remained on the Council till November 2003. In 1979 Derek was elected Vice President and re-elected each year and remained VP for 24 years. In January 1986 Derek was elected Chairman to replace Sir James Steel and became very much a "hands-on" Chairman. He realised a quick briefing was not enough before a meeting as there was just too much going on in those days and the death of Grace Hickling 11 months later meant Derek very much had to pick up the reins with the assistance and support of Margaret Patterson. In November 1986 Derek was elected a Trustee.
In 1992 Derek's time was consumed with heading the NHSN's discussions with Newcastle University to prevent the closure of the Hancock Museum, the outcome of which was the tripartite agreement for Tyne and Wear Museum Services to run the museum.
Derek became synonymous with the development and success of the Gosforth Nature Reserve from the 1970s onwards, a wonderful oasis of wildlife on the edge of an urban area to the north of Newcastle. The reserve was very close to his heart and he spent many hours there helping to preserve it and using his architectural knowledge to work particularly hard on the upkeep of the warden's lodge. The rest of the time he would simply spend walking and observing, and regarded the reserve as the jewel in the NHSN's crown. He even appeared on Tyne Tees TV news in 1984 as the NHSN's representative when the Royal Engineers were called in to set off a few explosions to create ponds that would hopefully alleviate the flooding problem that bedevilled the reserve for many years.
In 1995 Derek resigned his post as Chair of NHSN. He had just retired from working as an Architect at the University and his hearing was suffering. He secured the election of his chosen replacement in Dr David Gardner-Medwin (1996 to 2002). Later, for personal reasons, Derek sadly resigned his Trusteeship and Vice Presidency in 2003 but was then elected an Honorary Member of the NHSN in December 2004.
Derek loved all the natural world but was best known for his bird knowledge, keeping notes from 1946. His family holds bound volumes of notes and sketches right up to the present day.
He moved to Harrogate in 2010 after his wife Joan died in 2007. Joan had worked in the Hancock Museum office for many years too.
This move allowed him to continue his love of bird watching locally in North Yorkshire and elsewhere in the UK and in the last month of his life, although still driving but mainly confined to his apartment, he noted the birds from his living room window. Those records include the birds he saw and noted down in the two hours of the morning of the 6 January this year, right up to an expected morning telephone call from his consultant, which resulted in him being advised to get himself into hospital that same day for tests.
Derek sadly remained in hospital and died only 15 days later on 22 January 2021 in St Michaels Hospice, Harrogate. He loved the North East coast and has asked that his ashes be scattered on Holy Island.