The brightest of the yellow ladybirds, the 22-spot Ladybird is a small ladybird typically with 22 black spots
Fast facts
Common name(s)

22-spot Ladybird

Scientific name

Psyllobora vigintiduopunctata

When to see it

Year round

Diet

Mildew
Description
The brightest of the yellow ladybirds, the 22-spot Ladybird is a small ladybird with typically 22 black spots. It generally favours low vegetation in grassland habitats and is often recorded from roadside verges.
Identification
Adults
This species is a very small ladybird at just 3 to 4mm in length. Adults have bright lemon-yellow elytra (wing cases) with 20 – 22 rounded black spots on the body. These spots are rarely fused. The pronotum (behind the head) also has a further five black spots, one of which is triangular at the base of the pronotum. The pronotum is usually yellow but can be white. The legs are brown.
Larvae
Late-stage larvae are yellow with black tubercles that resemble spots. The larvae have a dark head unlike the larvae of Orange Ladybirds.
Pupae
The pupae are largely yellow with black spots.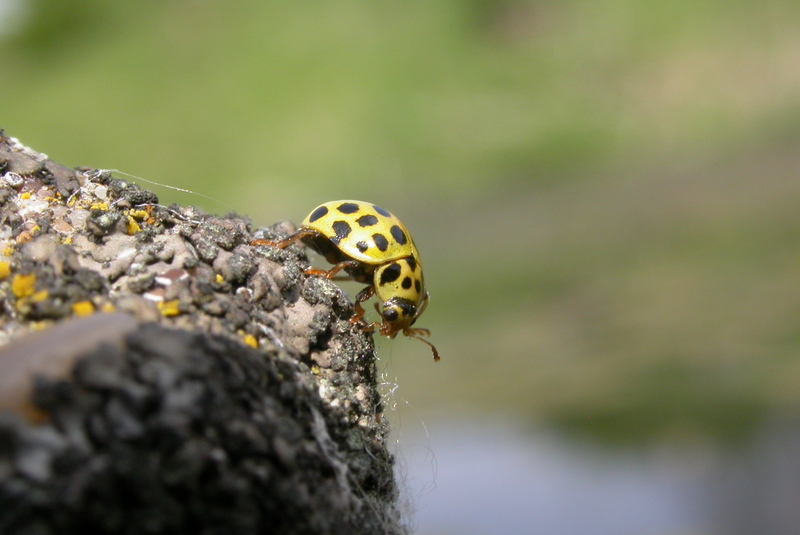 Similar species
The 14-spot Ladybird is another yellow ladybird species. However, it is generally less bright yellow, its spots are more rectangular in shape and the spots are often fused together. The 14-spot Ladybird is a target species of the North East Ladybird Spot and its species profile can be found here.
Ecology
This species feeds on mildew that develops on umbellifers such as Hogweed. Later in the season, it will feed on the mildew of other herbaceous plants and young trees. The 22-spot Ladybird favours low vegetation in grassland habitats and is occasionally found in woodland.
This species commonly overwinters low down in herbage and sometimes in Ivy.
Regional Distribution
The 22-spot Ladybird has an easterly distribution in the region and is recorded from Northumberland and County Durham. There are records along the coast and further inland but an absence of records from upland areas. Nationally, this species is very widespread.