Gosforth Nature Reserve is open again for you to enjoy. Here, NHSN Senior Naturalist, James Common shares ten things to look for on your next visit.
Roe Deer © Chris Castling
Gosforth Nature Reserve bursts into life during spring as wildflowers begin to bloom, migrant birds return and life begins anew for the reserve's countless invertebrates. Whatever your interests, there is always something new to see, hear or experience. Whilst walking in the woodlands and wetlands of the reserve this spring, keep a lookout for these ten species – sure to brighten your day the next time you visit.
Ten species to spot this spring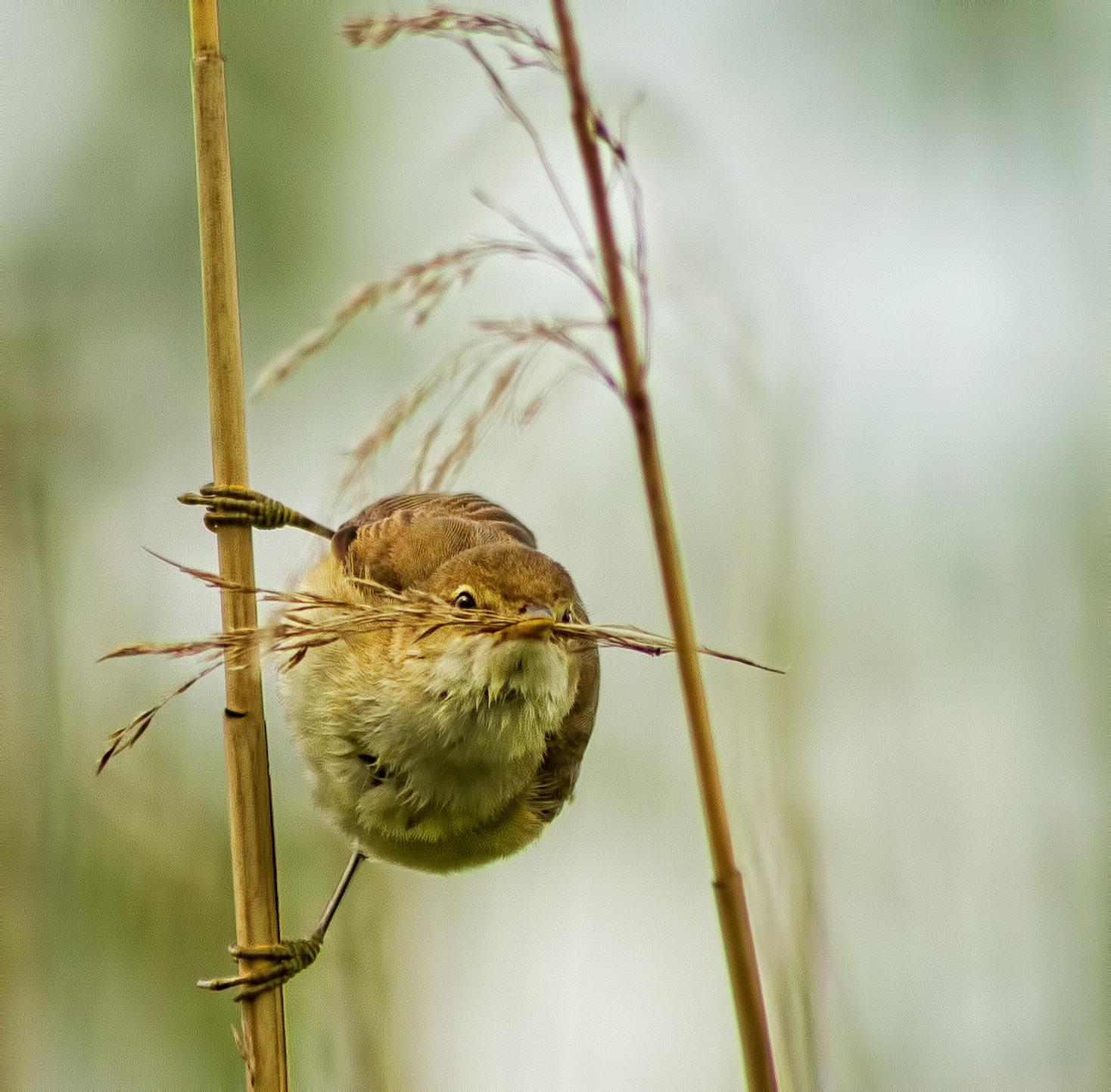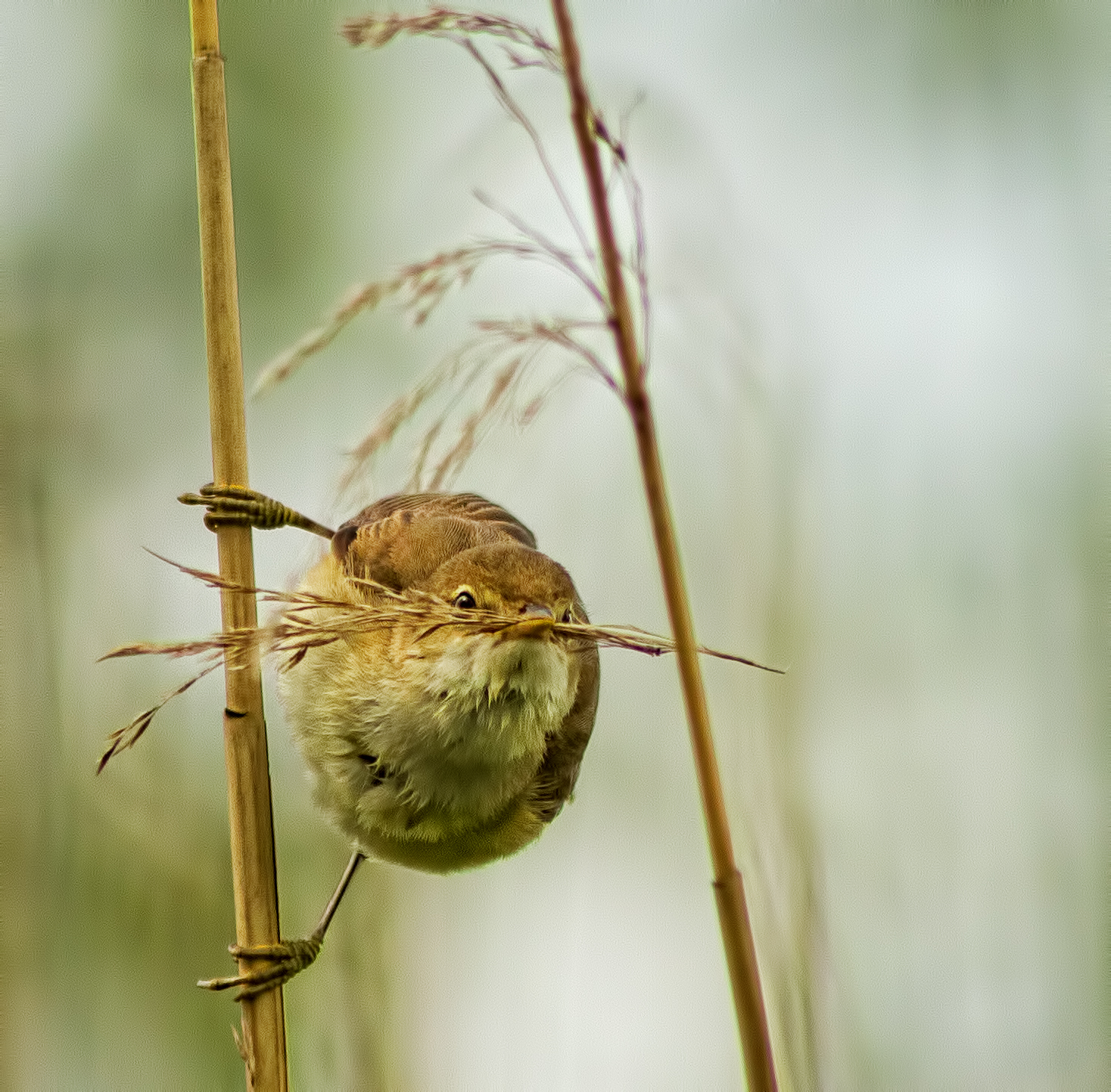 Reed Warbler

Returning from Africa in mid-Spring, the churring song of the Reed Warbler is a sound synonymous with wetlands across the UK. A small, brown bird with a very loud voice, they are more often heard than seen but lucky visitors may catch sight of the species perched atop reeds from April to October.
Gosforth Nature Reserve is home to a thriving population of Reed Warblers which have been subject to many years of study by dedicated volunteers. At the reserve, this species can be found at a greater density than almost anywhere else in the UK.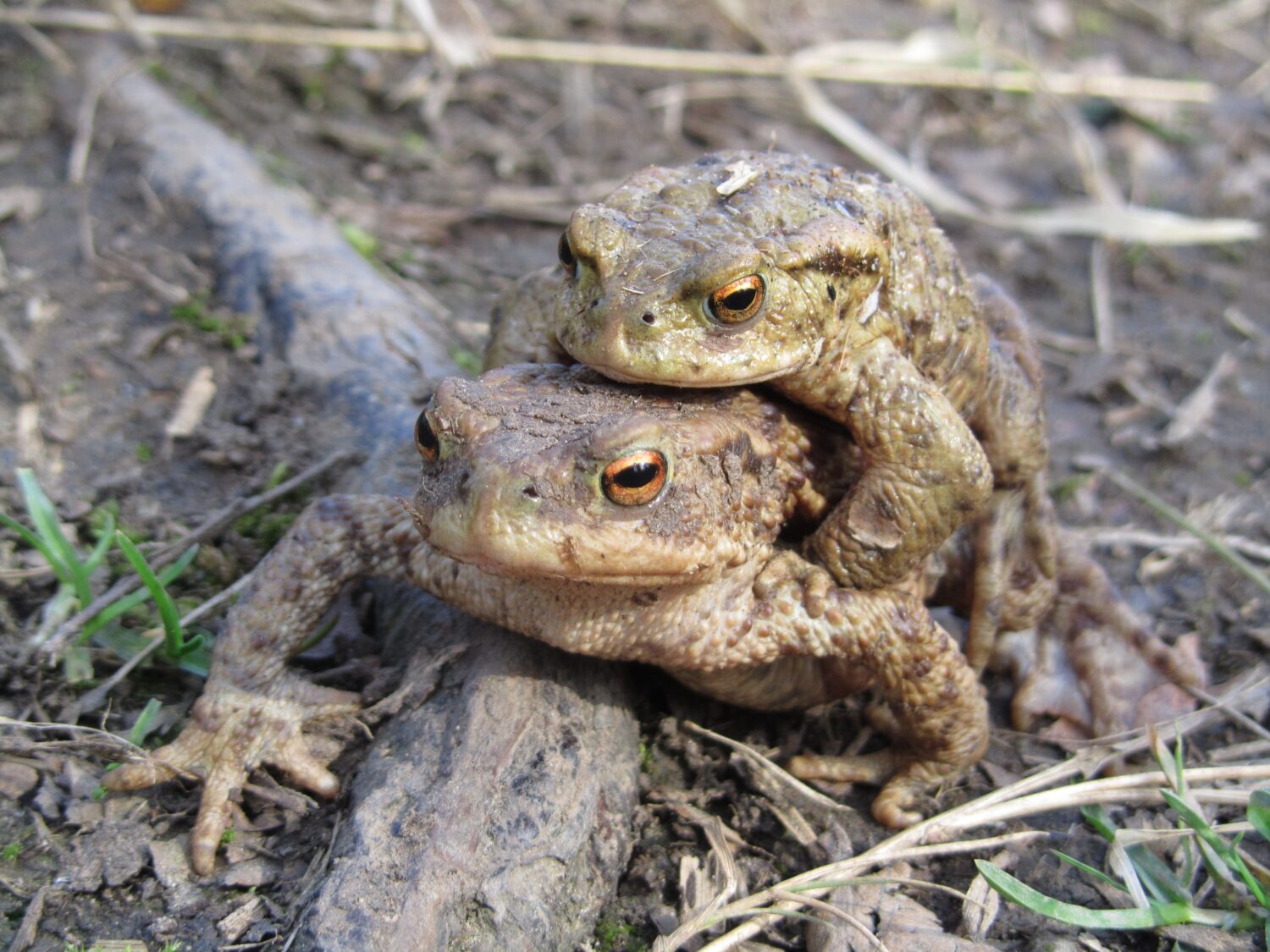 Common Toad
Emerging in large numbers each spring, Common Toads breed in large numbers across the many ponds and pools at Gosforth Nature Reserve. Look out for delicate strings of spawn deposited around pond margins and, later in the spring, riving shoals of tadpoles among aquatic vegatation.
Adult toads can be encountered in shady areas right across the reserve.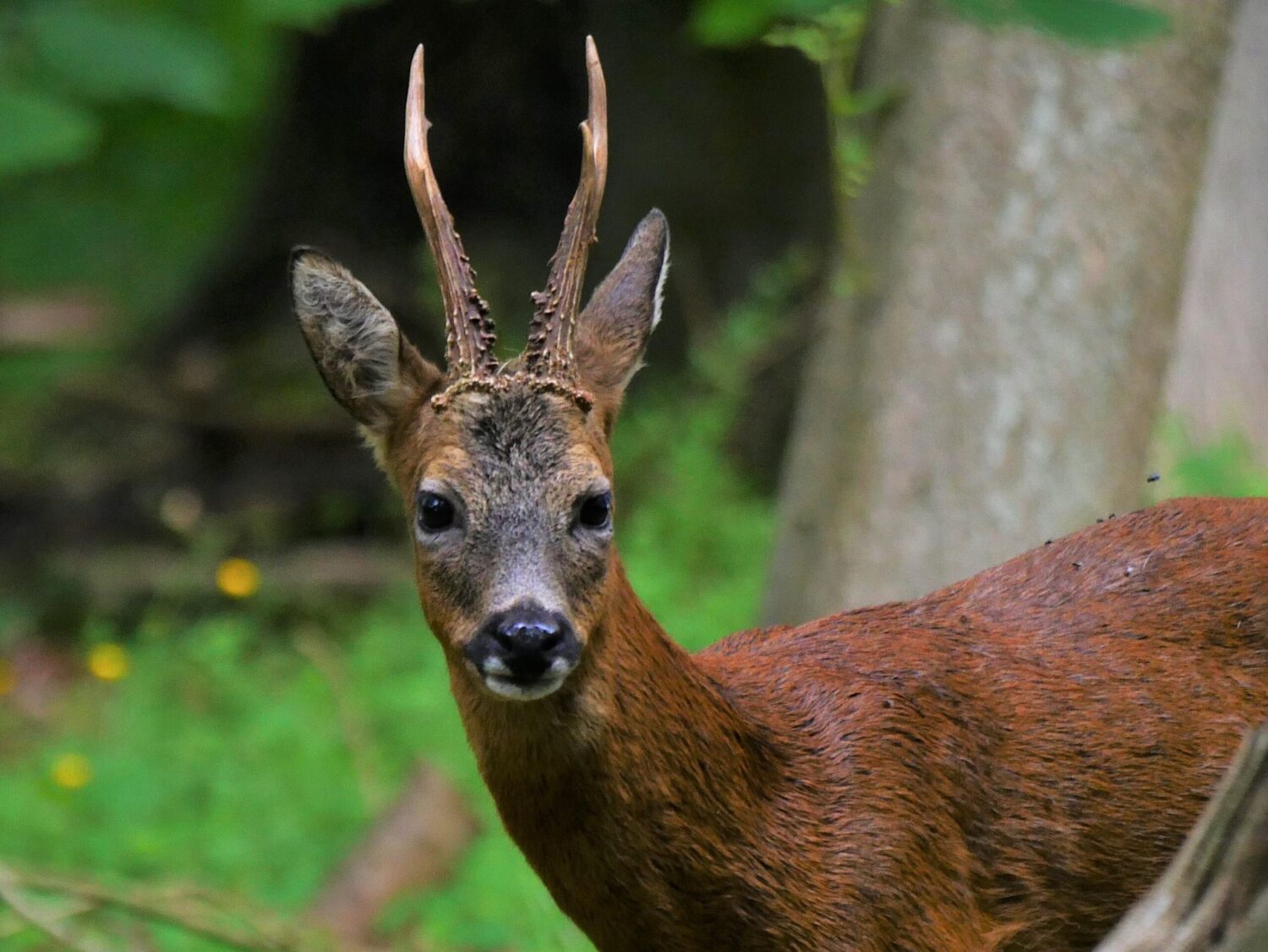 Roe Deer
Gosforth Nature Reserve is home to a thriving population of Roe Deer that can be observed and enjoyed year-round. During the morning, groups of deer can often be seen feeding in the fields that surround the reserve and in the afternoon, can often be spotted in the woodland.
Roe deer are timid creatures and sightings are never guaranteed but tread carefully and you may be lucky enough to spot the reserve's largest wild inhabitant. Tread loudly and you may just observe prominent white bottom moving quietly into the distance.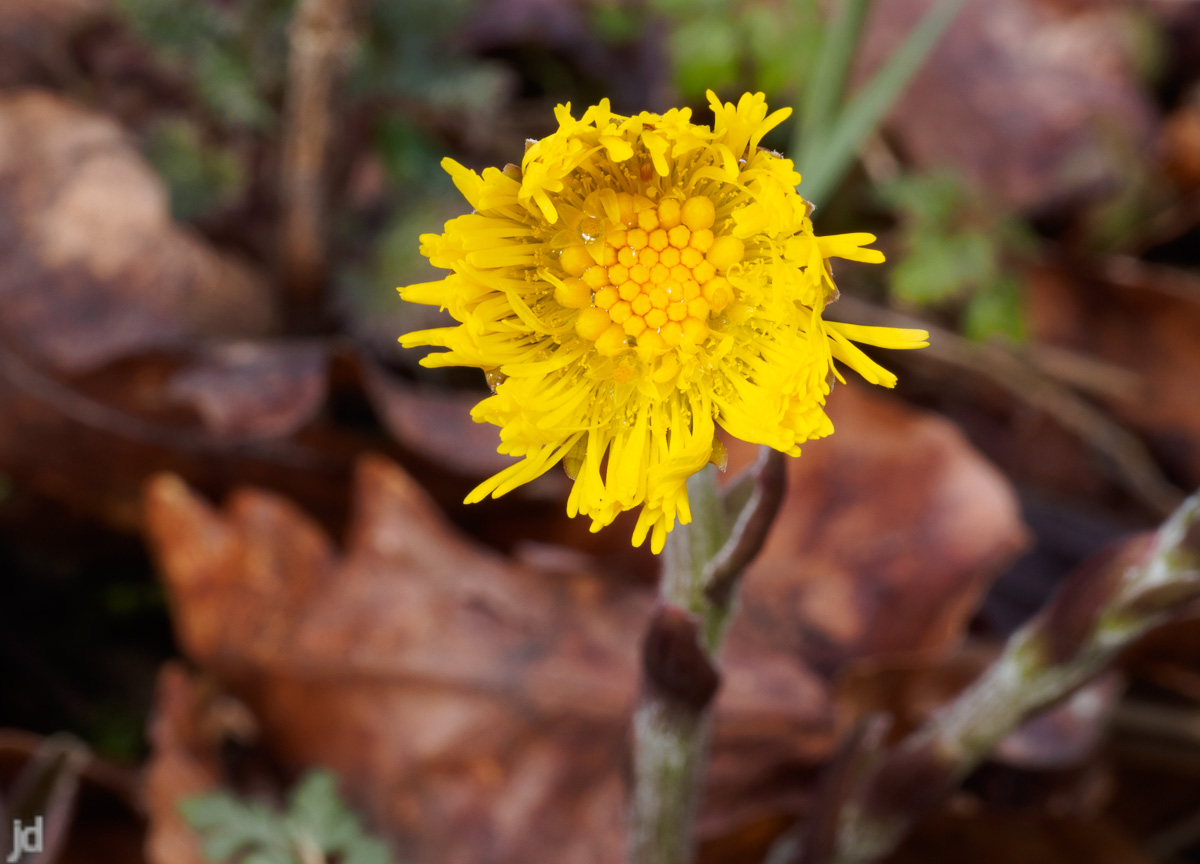 Colt's-foot
The sunny yellow flowers of Colt's-foot are some of the first blooms to appear each spring. Looking a lot like a small, rounder dandelion, the flowers of this vibrant plant brighten up areas of damp, disturbed or bare ground from February through to April.
The leaves of Colt's-foot appear later than the flowers and, unlike dandelions with their longer, toothed leaves, are hoof-shaped. Hence the species' common name.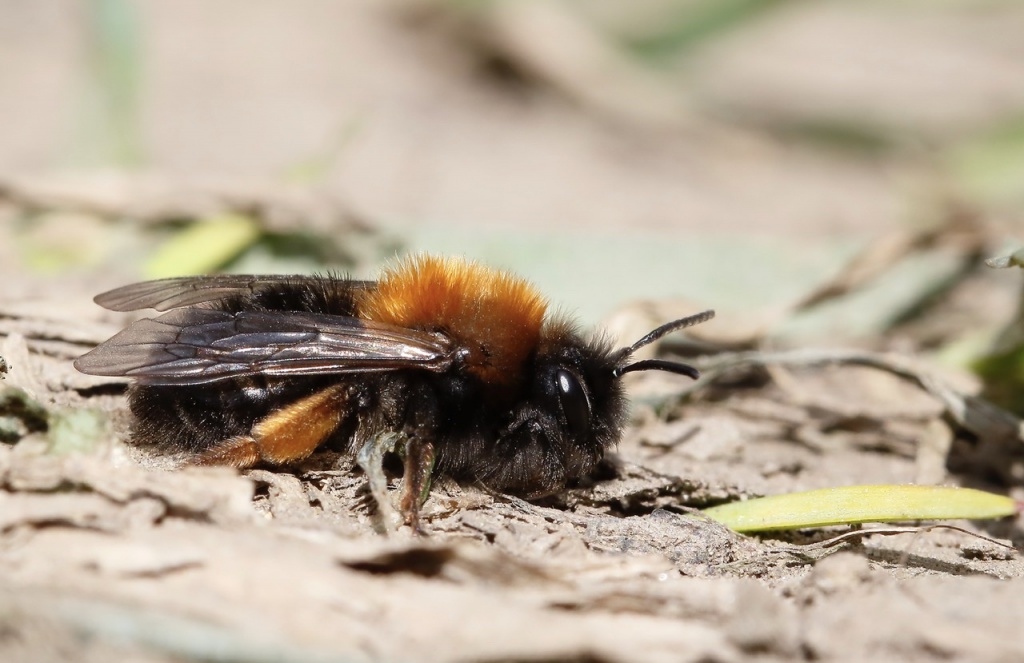 Clarke's Mining Bee
On the wing early in spring, the females of this attractive little bee collect pollen exclusively from the catkins of Willow. The reserve's wet woodland, where Willow is found, is therefore vital in supporting this specialist species.
Other early-flowering plants, such as Colt's-foot and Dandelion, are also visited and it is worth keeping an eye out for this species from February to May.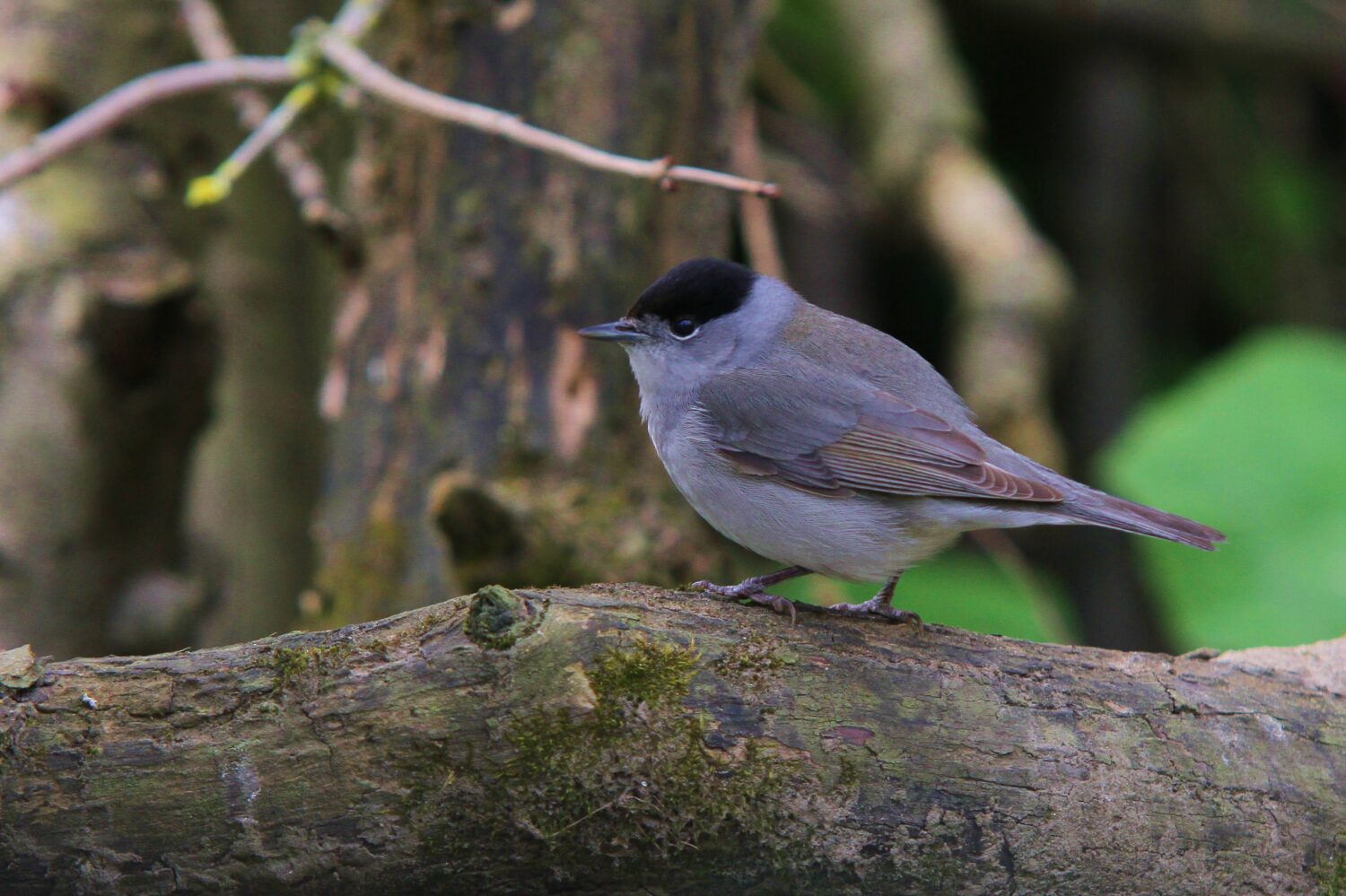 Blackcap
A distinctive, greyish warbler, as its name suggests, the male Blackcap has a striking black cap while the female sports a chestnut one.
In spring, the delightful song of this woodland bird can be heard throughout wooded areas of Gosforth Nature Reserve, growing in volume as more and more birds arrive back from their wintering grounds.
Look and listen for this charming bird as you walk the woodland trails this spring.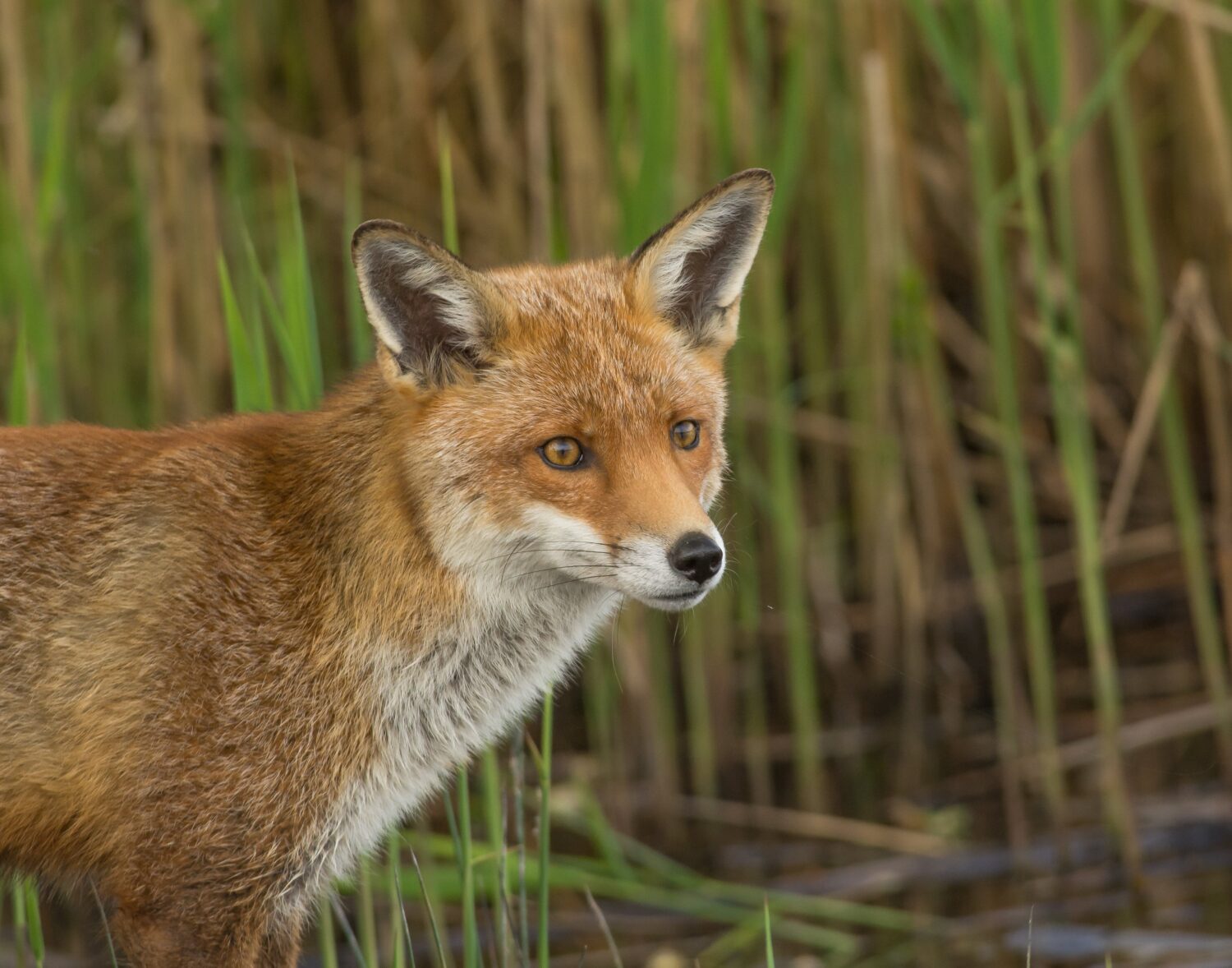 Red Fox
A medium-sized canine, the red fox is orangey-red above, white below, and sports black tips to the ears.
One of the reserve's most inconspicuous inhabitants, foxes are present on site throughout the year, though spotting one can be difficult. Lucky visitors are most likely to catch sight of a bushy, auburn tail moving quickly through the undergrowth.
Occasionally, foxes are seen out and about in the open. Eyes peeled!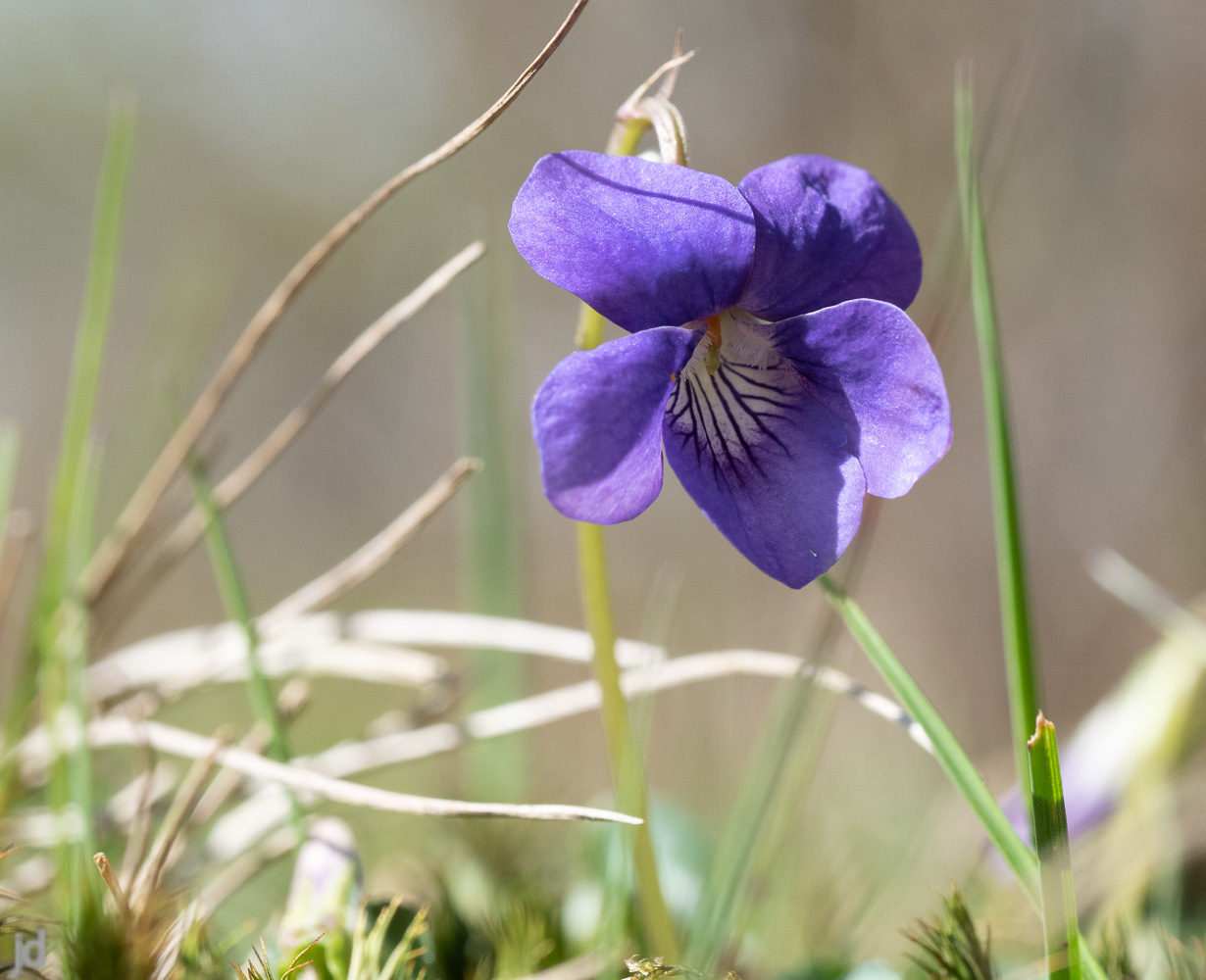 Common Dog Violet
Common in UK woodlands, this charming little wildflower brightens up the woodland floor come spring. Look out for five striking purple petals leading inwards to a streaked, white centre.
This delicate little plant flowers from April to June, but despite its alluring appearance, its small flowers are not scented. Something which sets it apart from its close relative, the Sweet Violet, which was once used as a perfume in Ancient Greece.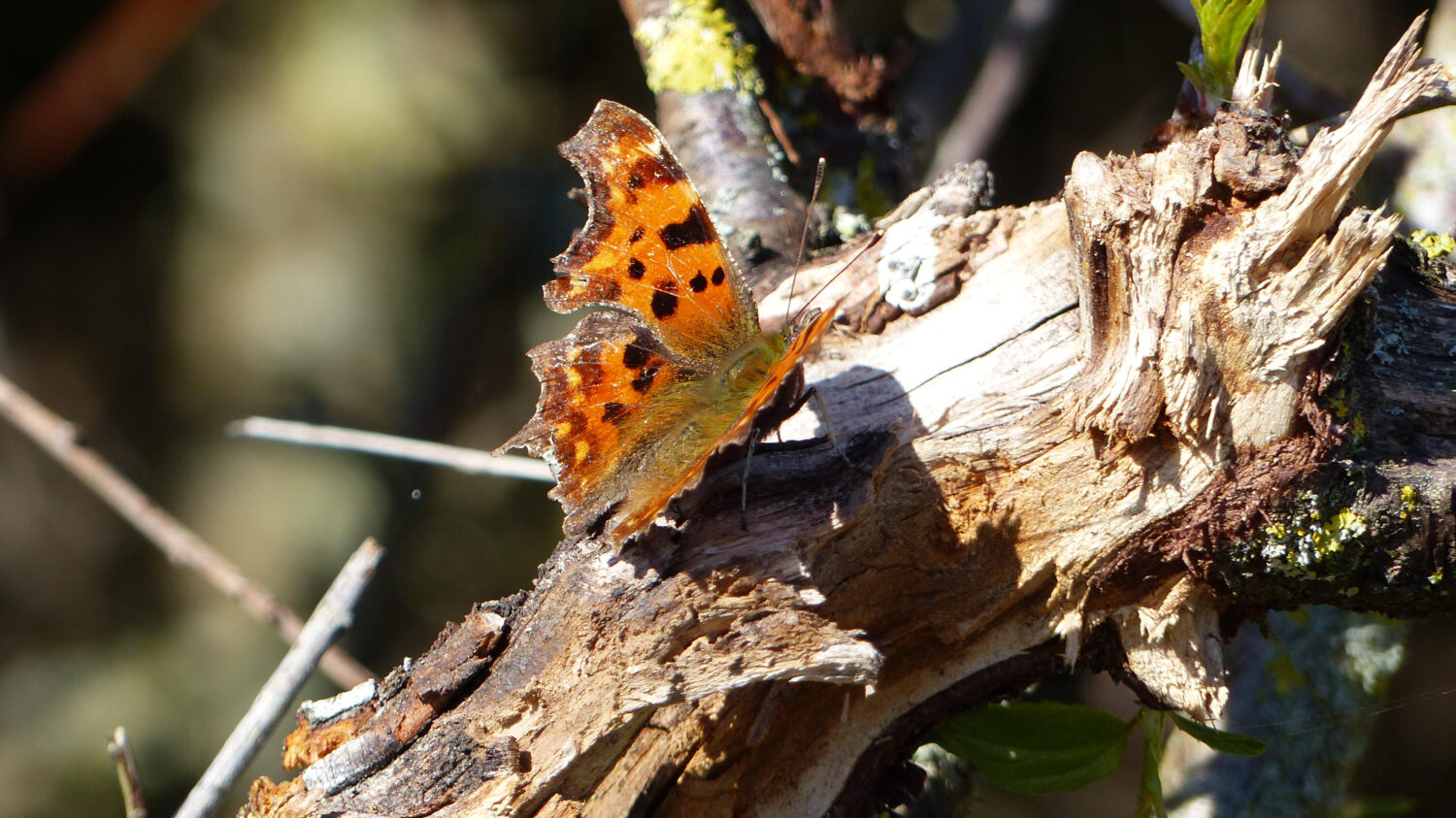 Comma
One of the first butterflies to emerge each year, the Comma sports a unique scalloped edge to the wing, thought to help conceal hibernating adults among dead leaves during the winter months.
The caterpillars of this delightful butterfly feed on Common Nettle and the adults can be found in a range of habitats, favouring woodland edge and areas of open woodland.
This butterfly gets its name from a white marking on its underside, which resembles a comma.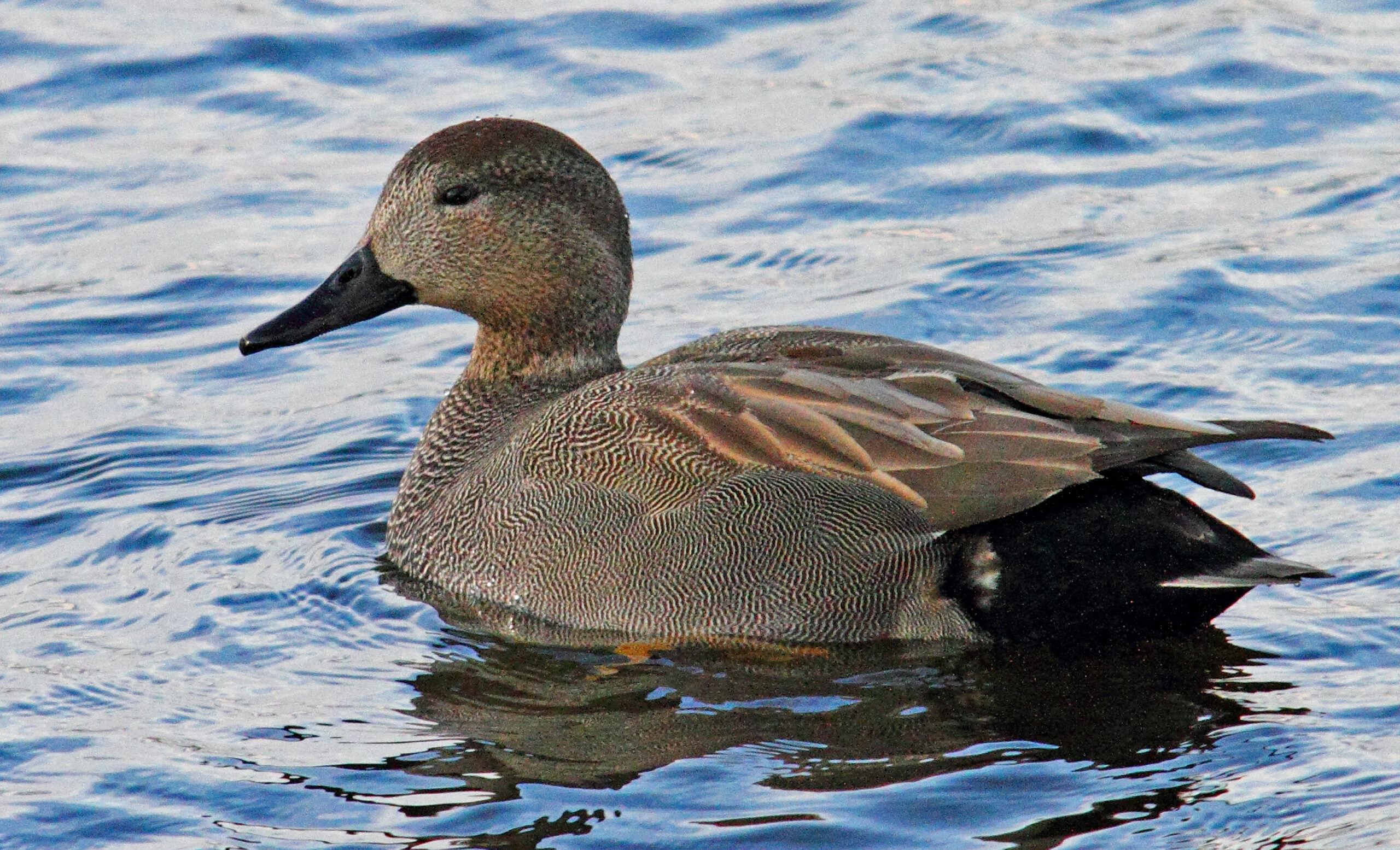 Gadwall
Easily one of Britain's most underrated ducks, look closely at a male Gadwall and you will notice an exquisite pattern consisting of many fine bars and speckles. Like most ducks, females are brown and somewhat drab in comparison.
A relatively new breeding bird at Gosforth Nature Reserve, Gadwall have now reared young on-site for three years. Look out for adult ducks around the lake in spring and, in summer, keep your eyes peeled for unrully gangs of ducklings traversing the wetland with mother in toe. If you spot any, we'd love to know.
Share your wildlife sightings
We love hearing about your encounters and experiences at Gosforth Nature Reserve. To share your sightings and images, please email nhsn@ncl.ac.uk.
Your wildlife observations make a world of difference by helping us learn about and protect wildlife at the reserve.
From butterflies to badgers, you can help expand our knowledge of the reserve by sharing your observations in a new iRecord group below.