Breeding season has arrived for one of the North East's most iconic mammals, the seal. On beaches across the region you may encounter pups, but what can you do if you find one in distress?
Northumberland's Seals
Did you know that there's more African Elephants in the world than Grey Seals? The global grey seal population is only around 320,000, 120,000 of which can be found in Britain. So, although seemingly plentiful in our region, they are among the rarest pinniped species and protected in Britain under the Wildlife and Countryside Act.
The Northumberland coast is one of the most important areas in Europe for Grey Seals and the Farne Islands are home to one of the largest Atlantic grey seal breeding colonies in the UK. Approximately 2000 pups are born there at this time of year. Unfortunately, Grey Seal pups don't have an easy start in life. 30% of the pups die within a month and 50% within the first year.
Stormy weather and human disturbance are two major factors that can lead to a pup being orphaned. During Storm Arwen in 2021, pups were washed off islands into the freezing cold and rough sea. With many drowning, or washing up exhausted, alone and unable to feed themselves.
Mother seals will feed their pups for just 2-3 weeks, and then they must fend for themselves. New-born Grey Seal pups are white, then they shed this white fur and become grey by the time they are 3 weeks old. This white fur is not waterproof and baby seals don't have the fat reserves to survive in the bitterly cold North Sea. It's important that seal pups are not disturbed, and a mother seal will abandon pups with human scent.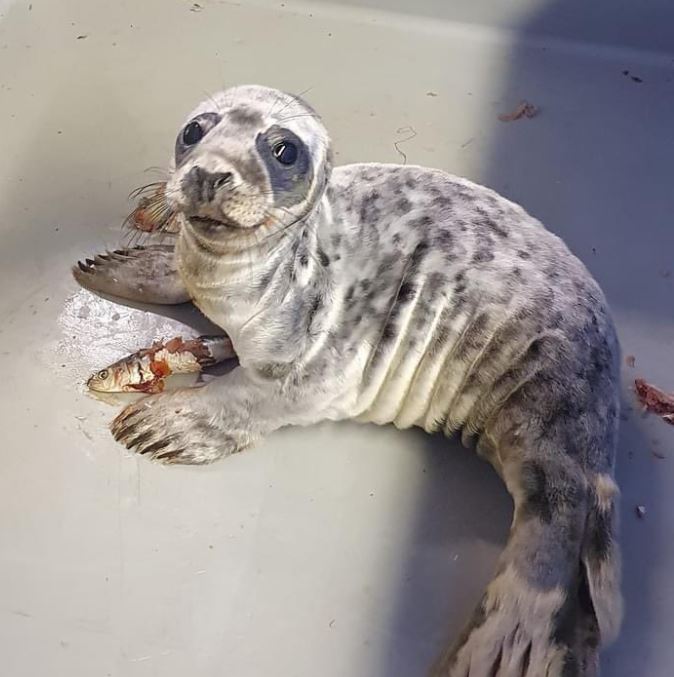 What do I do if I Find a Seal?
All seals haul out to land to sleep and digest food, these seals should be left alone, undisturbed. Sometimes, they are injured, sick or orphaned. In this case, they should also not be approached, disturbed or encouraged into the water. Loose dogs should be recalled and put on a lead, as they can harass seals or diseases may be exchanged.
If you are concerned that a seal is sick, injured or orphaned, a charity called British Divers Marine Life Rescue (BDMLR) who can help. They are available 24/7, 365 days a year. They have a pool of volunteer marine medics who have been trained to offer first aid to seals and cetaceans, such as whales, dolphins and porpoise.
BDMLR recommend storing their number and downloading What3Words if you are planning a winter walk or are a regular beach goer. What3Words helps to pinpoint the location of the injured seal.
Useful Numbers
Live seals 
British Divers Marine Life Rescue: 01825 765546
RSPCA: 0300 123 4999
Dead seals
Northumberland County Council: 0645 600 6400
Live stranded cetaceans 
BDMLR: 01825 765546
Cetacean Strandings Investigation Programme: 0800 652 0333
Natural History Museum: 0800 620 333
Humber Coastguard: 01262 672317
Dead cetaceans
BDMLR: 01825 765546
Cetacean Strandings Investigation Programme: 0800 652 0333
Natural History Museum: 0800 620 333
Humber Coastguard: 01262 672317
Northumberland County Council: 0645 600 6400