Discover Winter Sounds by North East poet and naturalist, Terry Astley, a poem that reminds us of our connection to nature through sights and sounds in winter.
The Walk. 
Down through the woods
And along the paths,
Underfoot, at every step,
The muffled crunch of frozen snow.
The creaking and the tinkling clink of breaking ice,
When walkers step on frozen pools.
The whistle and moan when north winds blow.
A cough, a sneeze,
A shivering chatter of the teeth,
The cry of pain as too cold fingers start to warm.
The slithering whoosh of snow from roofs
That lands below with heavy thumps
And then the scrape of shovels cleaning paths.
These are the sounds of the winter's freeze.
The Hill.
Excited children on a sledge,
Over the edge and down the hill,
Sliding, racing where it will.
Then, whoops! A bump, then flying,
Upside-downing through the air.
Little snowboys and snowgirls
Laughing, crying, screaming,
Whooping with the joy of it,
Rolling about in the snow.
Then, up they get and climb the hill
To have another go.
These are the winter sounds that we all know.
The Bird. 
A robin sings its warbling song, Perched in a snow-capped bush.
It sits with feathers all fluffed up
Against the cold and sings again.
Accompanied by the drip, drip, drip
Of melting ice that turns a trickling burn
Into a muddy, water-rushing race
To feed a rising river's roar.
These are the sounds of winter days.
The Cold.
Now the biting cold returns
To turn one's breath into minute, misty shards of ice.
Green growth is hidden,
Lost from sight,
Transformed by the hoary frost
Adorning all things
With a glittering coat of spiky white.
Shining icicles hang from cliff and branch.T
hen, as daylight fades,
Large snowflakes thickly fall
Through still, chilled air,
Covering the footprints on the paths.
And soon there are no winter sounds
To break the soft, white silence Of the night.
Terry Astley, 2018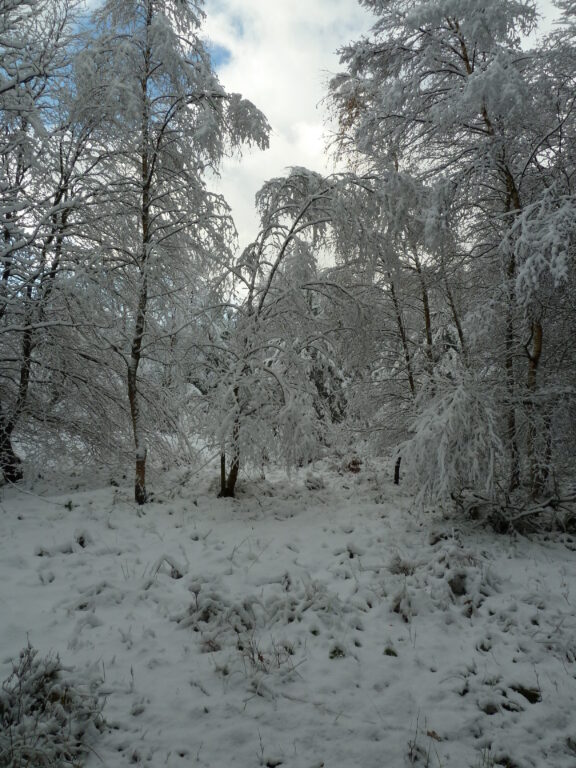 About the author
Terry lives in North Fenham with his wife Brenda. He is interested in all aspects of natural history, but his main interest is geology. He is getting more interested in botany as he regularly attends the Midweek Botany Group outings.
Terry started writing poetry after he had retired, when on holiday in Skye, and the wonderful scenery inspired him to put pen to paper. He has continued to write poems about the natural world ever since and often reads one to the botany group when they are having lunch during their outings. He was very pleased earlier this year, when one of his poems was included in the recently published book: A Journey in Landscape Restoration Carrifran and Beyond.