Ahead of the New Year Plant Hunt 2021, naturalist, James Common shares some of the non-native species encountered on a Newcastle street.
Oxford Ragwort © James Common
BSBI's New Year Plant Hunt has become a bit of a habit in our household. Each year for the past few years, we have set out on New Year's Day to record the 'wildflowers' blooming around our small terraced flat in Heaton, Newcastle. With good results. Here in the city, the usual suspects of Shepherd's Purse, Daisy, and Dandelion are easily encountered.
As an amateur but also urban botanist, it is often the non-natives and adventives that capture my attention. Thanks to the urban gardeners' penchant for cramming gardens chock-full of foreign flowers, there is inevitably always something new to discover. Another fence-hopper to admire as it begins its slow march up the street towards freedom.
Our 2020 plant hunt demonstrated perfectly the diverse nature of urban botany. The mainstays, of course, were out in force: Red Valerian, poking up through pavement slabs around the local bus stop; Oxford Ragwort occupying path sides; Trailing Bellflower, marching confidently along by neighbours' wall, and Opium Poppy growing from unsightly refuse heaps around the local allotment. A slightly more unusual find was Pale-pink Sorrel, a South African species which appears to be spreading wildly from garden to garden, nook to cranny.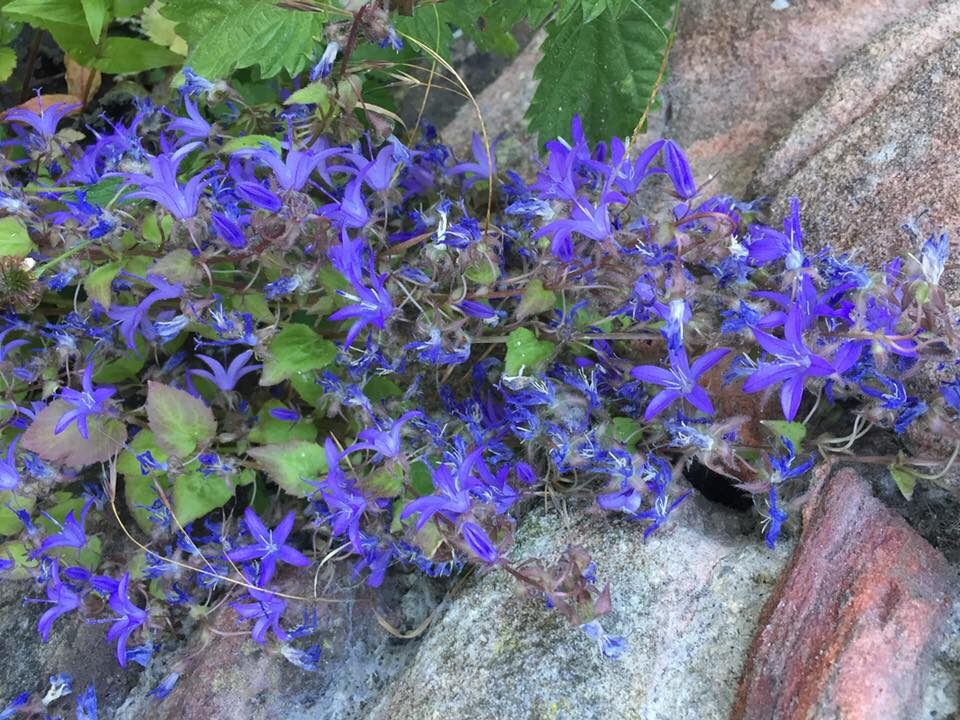 Of course, given the nature of city plant life, there was more to see. Japanese Anemone, a slightly more unusual find, pushing up from a paving crack; Mexican Fleabane, running amok down a side-street and purple spires of Purple Toadflax standing tall on the outskirts of the aforementioned allotment. Species which together and interspersed with the flowerheads of Canadian Fleabane and vibrant tufts of Yellow Corydalis, paint a picture of a world far removed from that which can be described as quintessentially British.
No two years are the same when botanising on 'the street'. In 2020, we observed a renegade Snapdragon for the first time, while 2019 saw Green Alkanet in bloom. Both have since vanished – probably due to the constant spraying which goes on to keep the place neat and tidy.
This year, the ramifications of lockdown meant much more time spent scrutinising wildlife close to the home. A direct result of this being the discovery of yet more non-natives lurking in the dark recesses of the street. Two of which, Rosemary and Caucasian Crosswort were most unexpected. Add to these a new-found stand of Black Nightshade (still daring to bloom as I write this) and a large swath of Greater Quaking Grass, and I will be keeping a watchful eye this winter.
Taking part in the New Year Plant Hunt is a fantastic way to contribute meaningful data to science whilst learning more about the ecology of your local area. For me, it also served to ignite a growing fascination for the various waifs and 'weeds' with whom I share my street.
Love them or hate them, non-native plants do mean that no two days are the same, and in the grey of the city, help keep aspiring botanists on their toes…
Take part in the New Year Plant Hunt
You can help by recording the wildflowers you find in bloom between 1-4 January.
Now in its tenth year, taking part in the New Year Plant Hunt is simple. Simply record the native and naturalised plants you find in bloom over a three hour period.
Find out all you need to know and share your observations below.