In Spring and Summer, many ladybirds become much easier to spot across the North East. Can you find and record these grassland ladybirds as part of the North East Ladybird Spot?
As we head into spring and summer, ladybirds become much easier to find across the North East. Not least a variety of striking species that inhabit our region's grasslands which now, as the days grow warmer, begin to move around on wildflowers and foliage providing the perfect opportunity for a chance encounter.
Road verges, meadows, fields and dunes; grassland habitats can be a fantastic place to find and record a number of ladybirds seldom seen elsewhere. Whether you choose to look with the help of a sweep net or simply with your eyes, searching for these species can be a rewarding way to spend a summer's afternoon.
Below, you'll find six species that you could encounter right now in grassland habitats across the North East. If you spot any, please do share your sightings as part of the North East Ladybird Spot and help put these colourful insects on the map this year.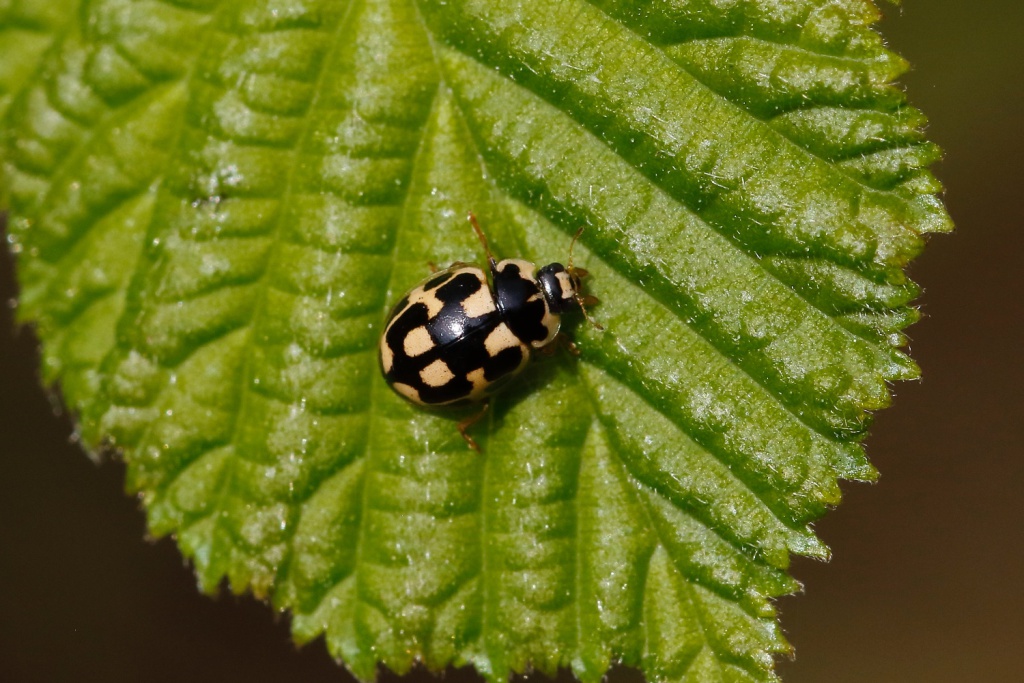 14-Spot Ladybird
One of just three yellow ladybirds found in the UK, this medium-sized species can be particularly common in grassland habitats, including fields, gardens, verges and along the edges of woodland.
With fourteen rectangular spots, often fused and forming a chequerboard pattern, the 14-Spot Ladybird is an easy species to identify. While yellow, it is not half as bright as the abundant 22-Spot Ladybird you might also encounter in such places.
To date, 64 sightings of 14-Spot Ladybird have been shared during the North East Ladybird Spot making it one of our most frequently encountered grassland species.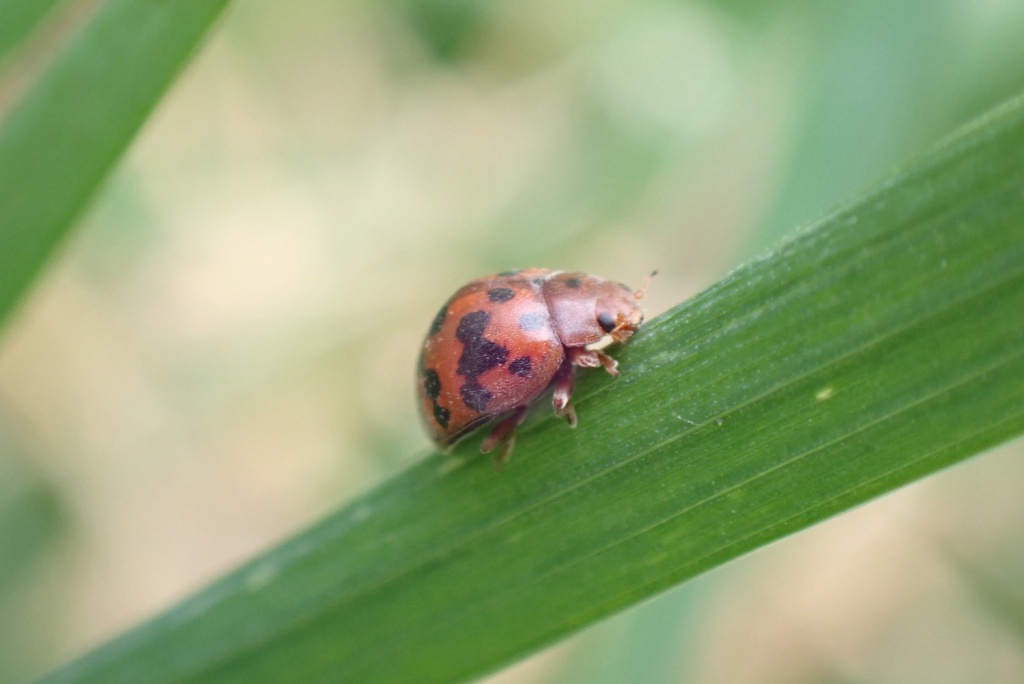 24-Spot Ladybird
A grassland specialist and still quite a rare ladybird in the North East, this species is a lover of 'rough grass' and can be found in habitats such as verges, field margins and on brownfield sites.
A particularly small ladybird with russet-coloured wing cases and 0-24 black spots, sometimes fused, this is one of a handful of ladybirds to feed on plant matter as opposed to insects. It is commonly observed chomping on the leaves of Red Campion.
To date, only 12 sightings of this species have been shared during the Ladybird Spot; though these have been fairly widespread. If you spot one, we'd love to know!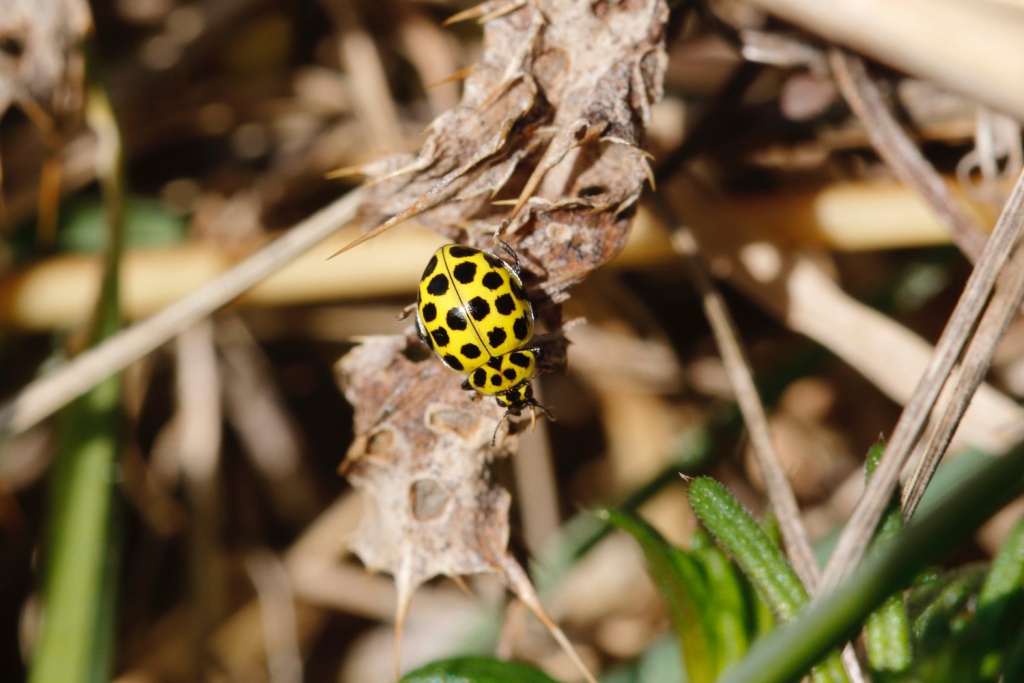 22-Spot Ladybird
A particularly striking ladybird with vibrant yellow wing cases and many black spots, this species can be abundant in grassland habitats where it feeds on mildew.
The 22-Spot Ladybird is best distinguished from the 14-Spot Ladybird by its brighter colour and round spots which rarely fuse together.
To date, this has been the most frequently recorded yellow ladybird as part of the North East Ladybird Spot with 120 sightings across the region. If you spot Hogweed, Creeping Thistle or Ragwort growing near you, it is worth taking a moment to search for this delightful little species.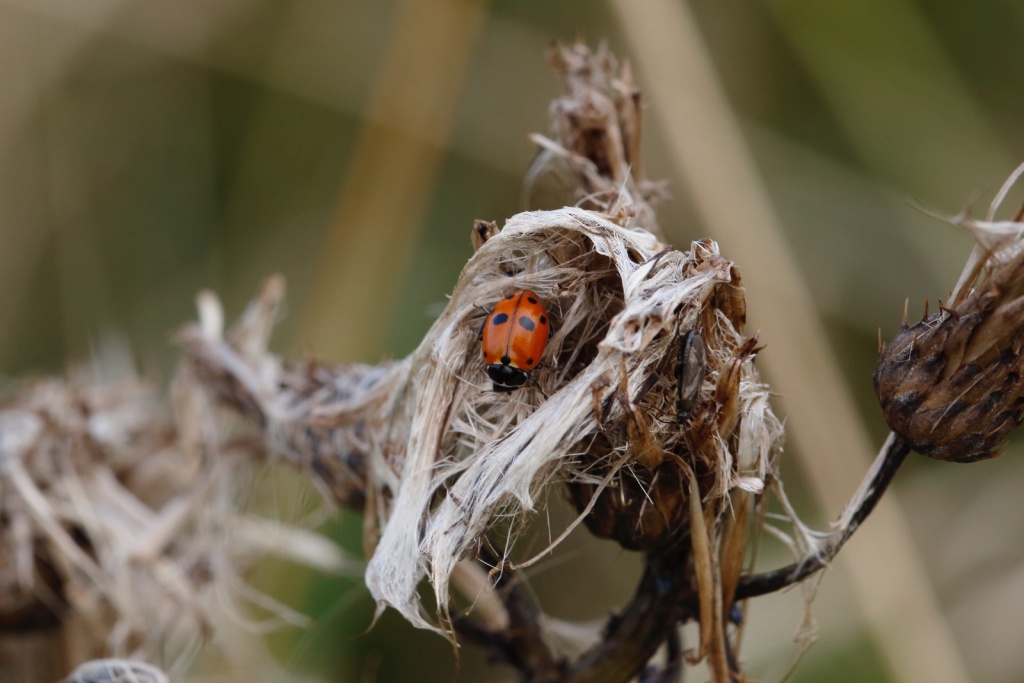 Adonis' Ladybird
A locally scarce ladybird associated with grassland on sandy, open soils, this is a predominately Southerly species that has recently been spreading North. In the North East, it has been observed in coastal dunes, on heathland and across brownfield sites.
While similarly red, the Adonis' Ladybird has a more elongated body shape than the much more familiar 7-Spot Ladybird and its spots are concentrated towards its rear. It is also much smaller.
With only 18 records so far, this is one of our region's scarcer species but there must be more sites out there to be discovered. If you see one, be sure to let us know.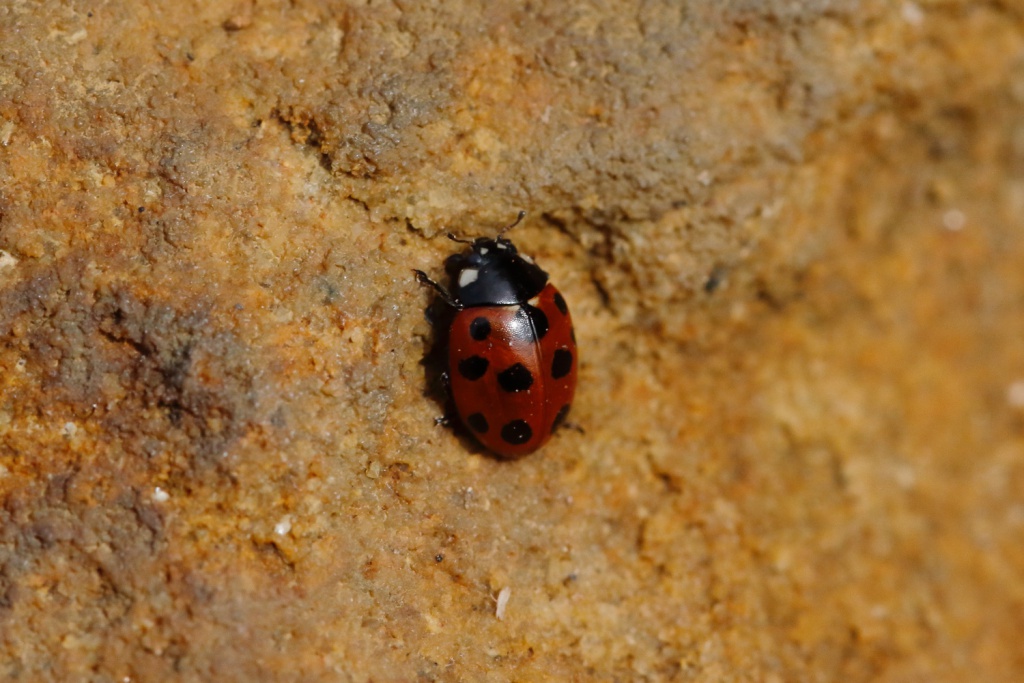 11-Spot Ladybird
A predominately coastal species most often associated with dunes, this ladybird can be recorded on a wide range of plants growing in close proximity to the sea.
The size and shape of the 11-Spot Ladybird are similar to that of the Adonis' Ladybird though this species has a much different pattern on the pronotum, behind the head, lacking the elaborate white markings of the former species.
With only 8 sightings shared so far, it would seem that this ladybird is rather hard to come by but with miles of coastline to be explored, it could surely be encountered at new sites this year.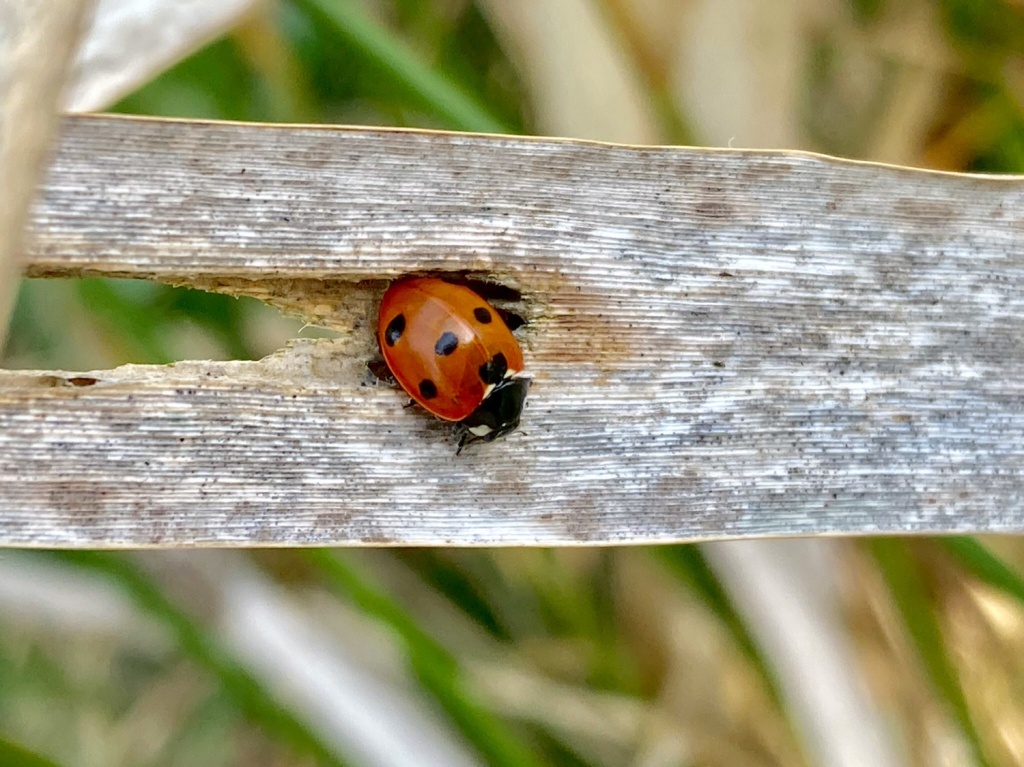 7-Spot Ladybird
Large, red and sporting seven black spots, this ladybird needs little introduction. A habitat generalist, while not restricted to such places it remains one of our commonest grassland ladybirds.
Often spotted resting of the leaves, flowers and stems of a broad range of herbaceous plants, this is perhaps the ladybird you're most likely to see when exploring grassland this summer. Indeed, already we have received over 700 sightings of this much-loved species.
While common, it is still important to record the 7-Spot Ladybird. By doing so, your sightings will help monitor how this species is doing in the wider countryside.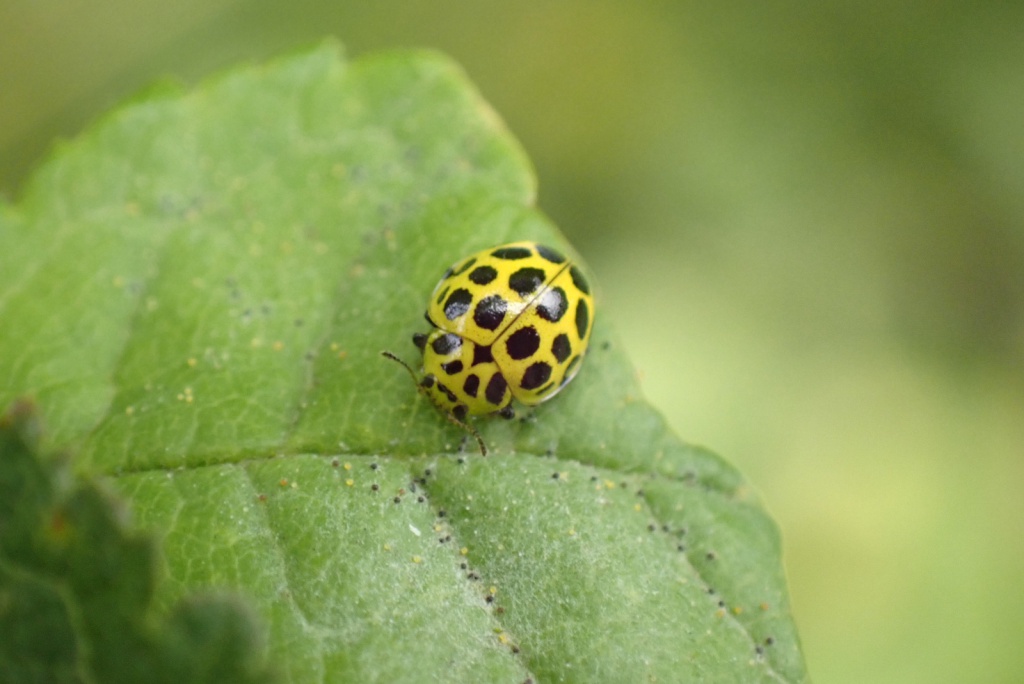 Join the North East Ladybird Spot today
From the Tees to the Tweed, we need your help to record the North East's ladybird.
Taking part is easy and everyone can help: simply spot a ladybird, take a photo and share your sighting on iRecord or direct to NHSN.