Last week, NHSN members headed for Lindisfarne in search of the elusive Moss Carder bee. Take a look back at what they discovered.
Last weekend, NHSN members took to Lindisfarne in search of the elusive Moss Carder bee, a rare species predominately associated with upland and dune habitats. Aiming to record the species in as many squares as possible as part of the North East Bee Hunt, attendees were delighted to encounter their first carder soon after setting out. The bee in question found feeding on a large expanse of Marsh Woundwort growing beside the path towards the Straight Lonnen. Identified by local entomologist, Louise Hislop, this provided a nice opportunity to compare this species with the countless Common Carder bees spotted nearby.
Throughout the duration of the trip, a number of other Moss Carders were observed, predominately on woundwort, thistle or knapweed. Others bees observed included Buff-tailed Bumblebee, Red-tailed Bumblebee, Garden Bumblebee and Early Bumblebee. A queen White-tailed Bumblebee was later identified in the dunes and, while stopping for lunch, a male Red-tailed Cuckoo Bee was recorded as it nectared on Carline Thistle.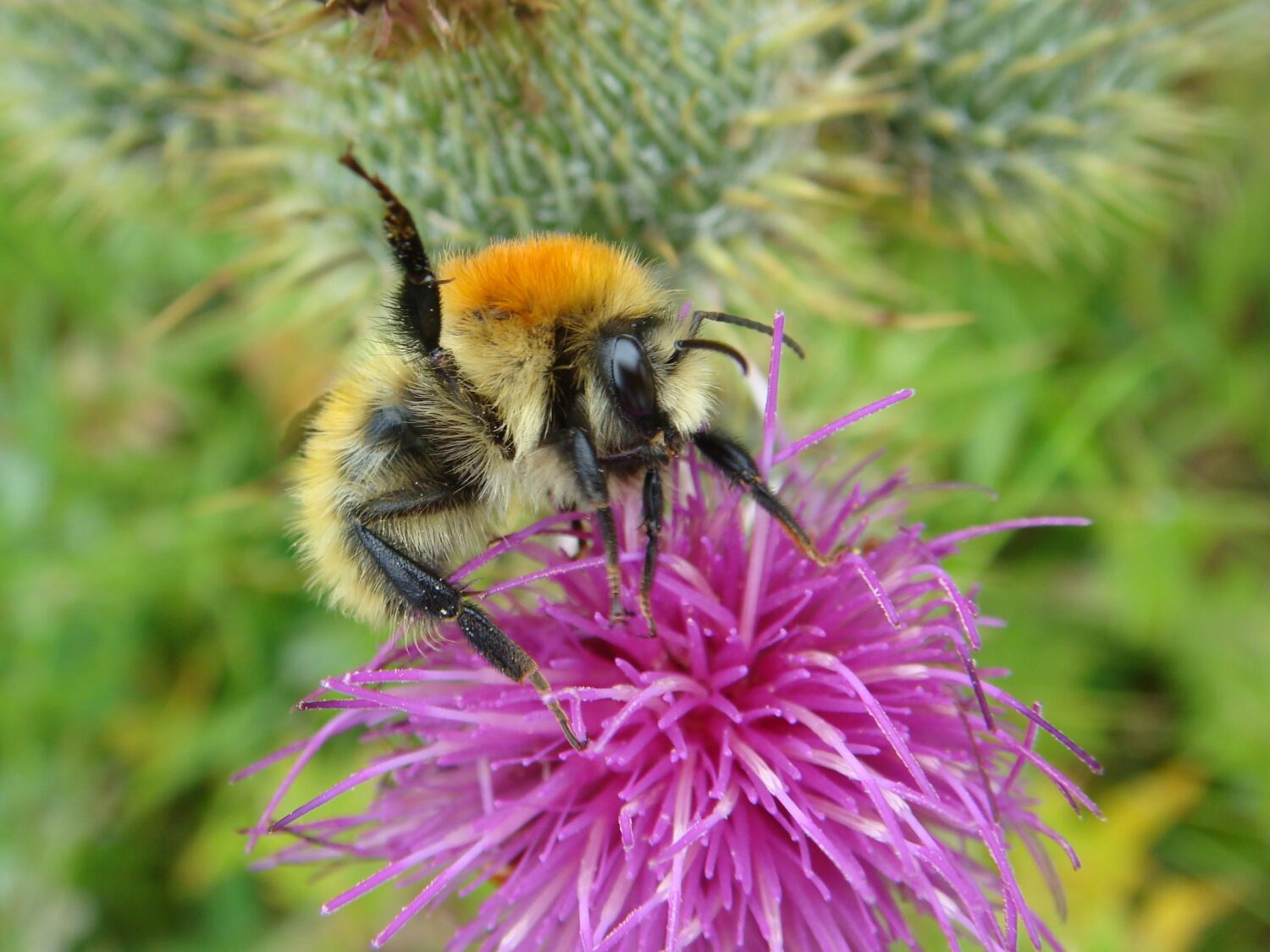 Arriving in the dune slacks on the Eastern side of the island, it was clear that the remarkable displays of orchids that adorn the site in early summer were now a thing of the past. However, attendees did stumble across a small patch of Marsh Helleborine still in full bloom. Nearby, a single Pyramidal Orchid was conspicuous and drier areas held Common Twayblade and what was likely a Frog Orchid, now setting seed. A damper area close to a small bog also held a number of Common Spotted Orchid.
While the orchids had long since passed, there were still plenty of interesting plants to admire during the trip. The carnivorous Butterwort was a highlight for many and it was exciting to observe the striking Grass-of-Parnassus just coming into flower. Autumn Gentian was another good spot, as was Hound's-tongue, while elsewhere, a range of plants from Creeping Willow and Harebell to Wild Thyme and an expansive patch of coastal Heather proved interesting.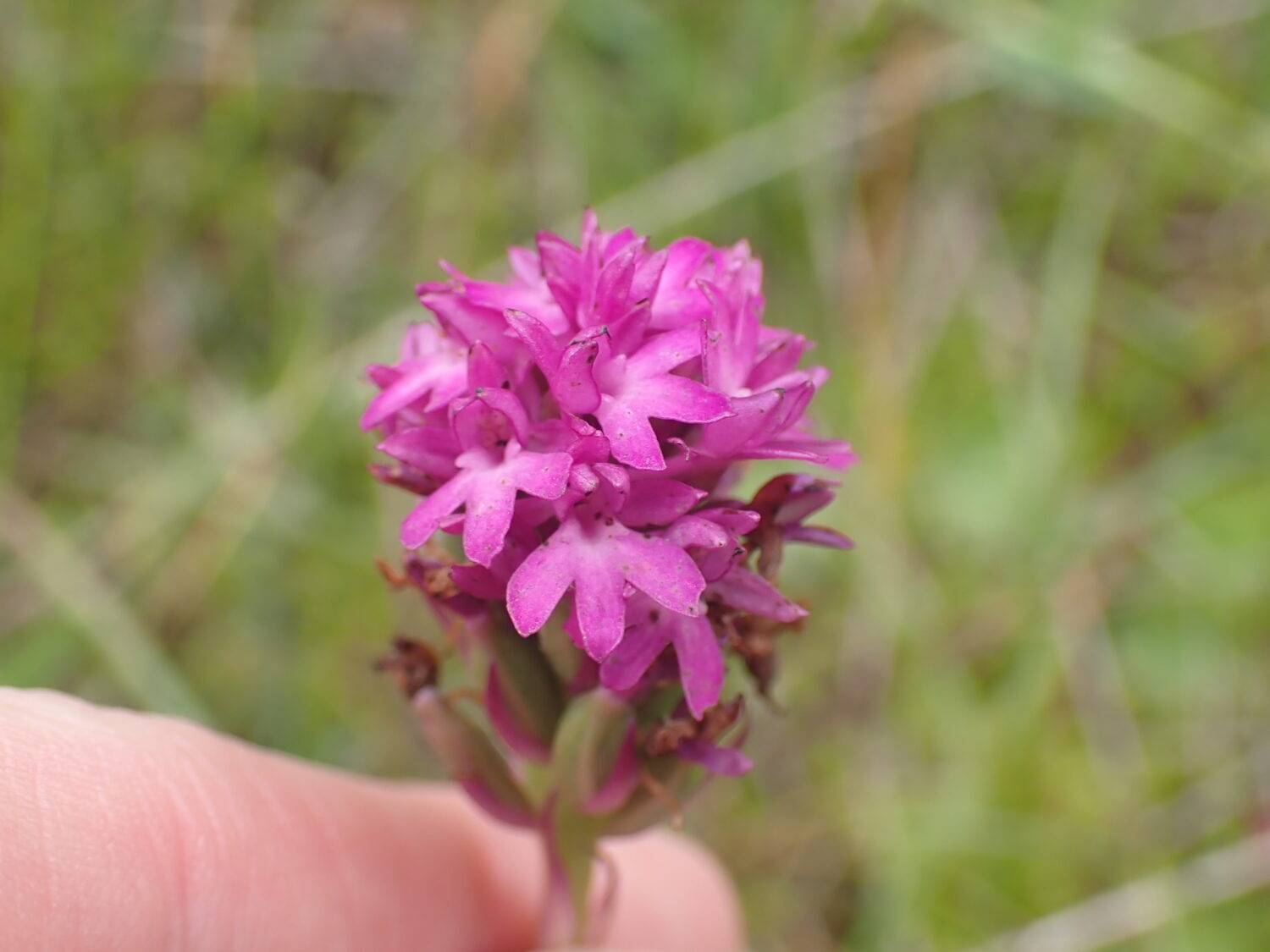 Later in the trip, attendees dodged the invasive Piri-Piri-Bur to explore a disused quarry on the Eastern fringe of the island. Here, a grizzly discovery came in the form of a recently deceased Kestrel, seemingly predated by a larger bird of prey. More exciting was the presence of Brookweed, quite a scarce plant in this part of the world, lots of Carline Thistle and another attractive Moss Carder bee.
On our return journey, it was interesting to note both Six-spot and Narrow-bordered Five-spot Burnet moths. Surprisingly given the somewhat gloomy weather, a pair of Dark Green Fritillaries were observed as they fed on a small expanse of Marsh Thistle. Other butterflies noticed during the trip included Meadow Brown, Ringlet, Green-veined White and a rather quick Common Blue.