In a new blog, Kearti Mondair summarises a recent botanical field trip carried out as part of NHSN's '200 Plants' course.
It is often said that a weed is simply a flower in the wrong place. Typically, these 'weeds' bed themselves in overnight in multitudes, much to the gardener's dismay. Upon waking the next morning to find their diligently dug borders awash with the opportunistic cotyledons of our native flora, all efforts are then deployed in weeding operations. On brownfield sites, the discerning eye of the gardener is nowhere to be seen; and so, weeds reassert themselves as wildflowers.
For the site developer in Britain, a brownfield site is much less desirable than its greenfield counterpart. Brownfield sites are areas of land that have previously been built upon. Often, they are contaminated with spoils from industry: heavy metals, oils and tars, chemical substances, asbestos, and, in some cases, radioactive substances. They also become a convenient fly-tipping location for all sorts, from domestic black bin bags to garden waste, yellowing white goods to soiled mattresses with protruding springs. This land is expensive to clear and reinstate a blank canvas for new developments, but for plants this forgotten eyesore is a prime location for colonisation. Royal Quays is one such haven.
James Common, NHSN's Senior Naturalist, can by now be trusted to lead a group of curious naturalists to some of the North East's grottiest corners in search of botanical treasures. A sweltering Friday morning in late June proved to be as fruitful as promised. Orchids were aplenty including Northern Marsh, Pyramidal, Common Spotted, and a rather slender Bee Orchid. Lesser known plants reliant on disturbed ground also take their place here – Ribbed Melilot and Bristly Oxtongue – alongside plants that would be more characteristic of limestone grassland. Fairy Flax is a delicate little flower, juxtaposed amongst scraps of wrought metal in this post-industrial site.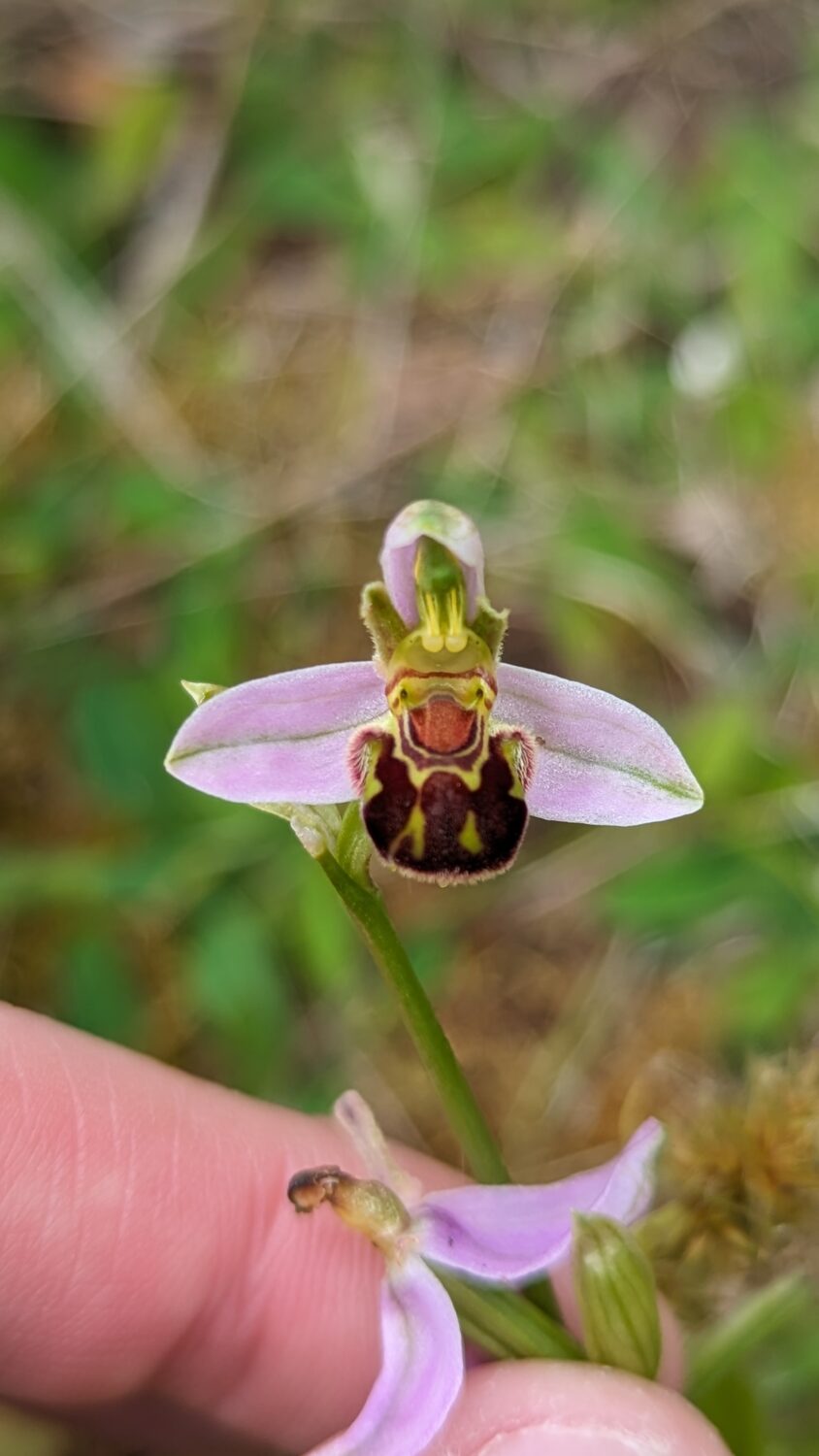 In these unwanted spaces the 'weeds' are left to their own devices, and the brownfield site is also a fine place to observe natural processes. The bare substrate provides a clean slate for ecological succession with early colonisers such as mosses being the first to plant their flags. Here there is a lack of nutrients and so grasses are few and far between. Elsewhere in the country, land managers are introducing droves of Yellow Rattle – a hemiparasitic wildflower that reduces the vigor of grass – in earnest to recreate the lost meadows of the 20th century. Who would have thought that our native wildflowers are weathering out the storm of Britain's monoculture countryside on the concrete on the other side of the Heras fencing?  
Those not ready to brave the slightly hazardous terrain of a brownfield site will be pleased to know the weeds-turned-wildflowers make an appearance in car parks too. Once the group had assembled at the Royal Quays Premier Inn to begin the outing, James Common steered the company to a beer-strewn corner of the car park. The little fleshy jelly beans of White Stonecrop were amass, alongside inconspicuous pepperings of tiny Eyebrights. Kidney Vetch, a plant of calcareous grasslands and coastal habitats alike, was also in abundance with its distinctive cluster of yellow woolly flowers. In previous years, this site has also been known to harbour the Bee Orchid, termed so for its floral mimicry of a female bee, which tricks the male into aiding its pollination.  
If you have even a slight interest in the native (and non-native) flora of Britain, the good news is that you don't have to travel far to see some truly magnificent spectacles. Start from outside your front door and look beneath your feet to see some of the most tenacious little plants taking advantage of the cracks in the pavement.