With the launch of a new course on North East ladybirds, NHSN members recently set off to explore those found in urban cemeteries
Last week, NHSN launched a brand-new course exploring the fascinating ladybirds of North East England. Led by NHSN Senior Naturalist, James Common, and aiming to find and identify as many species as possible over four weeks, the first session saw members visit Jesmond Old Cemetery to look closer at the species likely to be found in urban habitats. With the sun eventually emerging and plenty of ladybirds to be found, a great time was had as attendees explored nooks and crannies in gravestones, recording and sharing tips as they went.
The morning started off well with a chance to observe large wintering gatherings of Harlequin Ladybirds – a non-native species currently spreading in the North East. Together, we touched upon the incredibly diverse colour forms likely to be encountered in the city and discussed the impact this tenacious invader is having on our native 2-Spot Ladybird – several of which were also spotted during the trip. Next, we choose to spend time exploring the surroundings of a particularly impressive Black Pine to see if we could spot any specialist ladybirds. Thankfully, we were in luck with an 18-Spot Ladybird discovered on a nearby gravestone. A scarce species associated with conifers, this was a real treat for those present.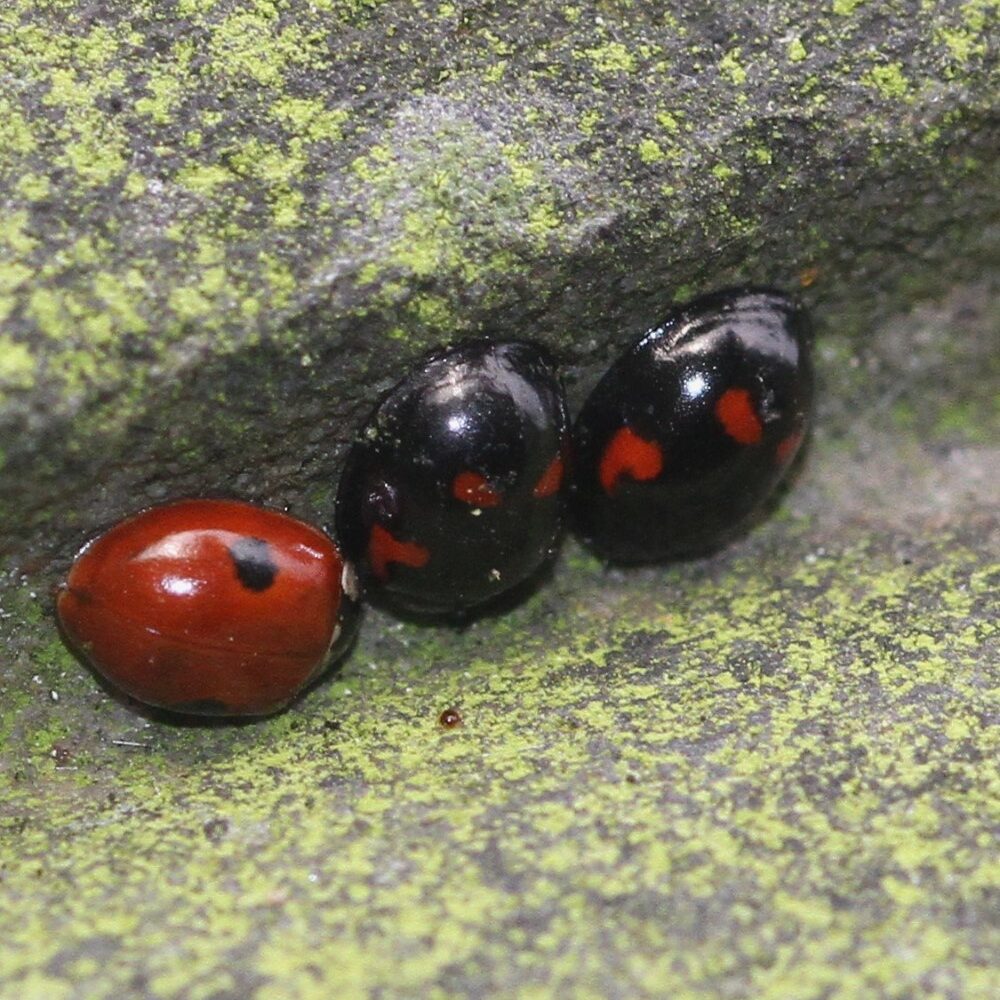 After admiring the 18-Spot, a range of other lovely ladybirds were found in quick succession. Together, we spotted Pine Ladybird with its distinctive black wing cases and red, comma-shaped markings. Next came 10-Spot Ladybirds, in a multitude of colour forms, and later, a chance to compare and admire Cream-spot and Orange Ladybirds. A pair that can sometimes look confusing, especially in poor light. Add to these a single 7-Spot Ladybird, found by Chris Wren, and all in all, attendees were able to encounter most of the species commonly found in urban settings. Larch and Cream-streaked Ladybirds eluded us on this occasion but they might turn up in future weeks.
With planned trips to Havannah Nature Reserve, Prudhoe, and Rothbury, it is likely that course attendees will have the opportunity to find, photograph, and enjoy many more ladybird species before trips conclude. Perhaps more importantly, however, these sessions provide a great opportunity to share experiences, meet like-minded naturalists, and enjoy nature as a group. After all, what could be better than ladybirds AND great company?
If you're feeling inspired to search for ladybirds in cemeteries or simply take a look at the species present in your area, you can share your sightings with the North East Ladybird Spot here. Records of all ladybirds are welcome and everyone can help!