While most bees wind down for the winter months, one bee is only just waking up. Find out more about the Ivy Bee with Charlotte Rankin.
Aptly named, the Ivy Bee will emerge just as Ivy starts to bloom as it depends on Ivy as its pollen source. Around the size of a honeybee, you can identify the Ivy Bees by their cream abdomen bands, ginger fur and a heart-shaped face.
A new bee on the block, the Ivy Bee only arrived in Britain from mainland Europe in 2001. It has since spread rapidly from southern England and reached Saltburn-by-the-Sea in 2016. In 2019, it was recorded at Whitburn in County Durham. A bee on the move, 2021 saw a big leap with coastal records from Warkworth and Bamburgh, and even an inland sighting from Stanhope in the North Pennines.
It belongs to a group of solitary bees known as 'plasterer bees', females secrete cellophane-like material to line and waterproof their nests. Females nest alone, digging their burrows in bare ground and short lawns, though can be found nesting close together in large numbers at suitable sites. Ivy is an essential food source, both for nectar and pollen, but other late season flowers such as ragwort may be used for nectar.
Do you have an Ivy patch close to you? Sharing your Ivy Bee sightings with the North East Bee Hunt can reveal more about its whereabouts in the region. From queen bumblebees to butterflies, over 70 different insect species have been recorded to feed on Ivy. It's an essential late season food source for many insects who are building up their reserves for the winter months. The resulting berries are also a feast for birds throughout the winter. It's definitely worth keeping your eyes peeled on Ivy this autumn!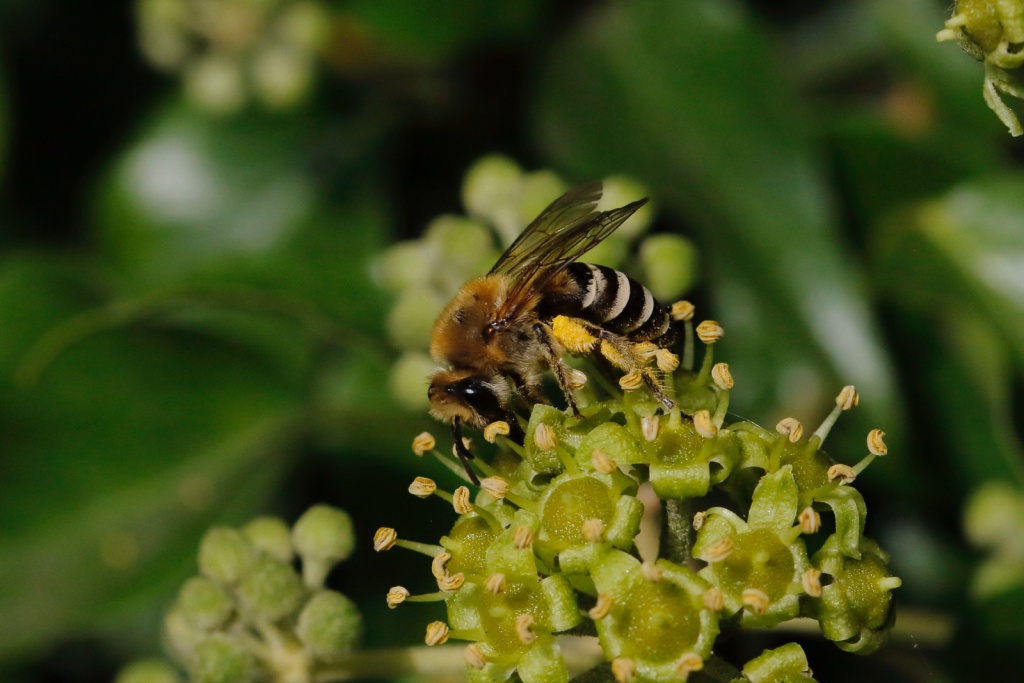 Join the North East Bee Hunt
Urban or rural, beginner or expert, we need your help to record wild bees across the North East s we move into Autumn.
Your records can add to our understanding of bees in the region and inform conservation and monitoring efforts.
Taking part is easy and every record counts, wherever you live in the region. Records of all bee species are encouraged.