The first confirmed sighting of a Water Vole in over a decade has been made at Gosforth Park Nature Reserve.
The individual, photographed by local wildlife photographer Chris Castling, marks the first documented sighting of the charismatic species across North Tyneside and Newcastle for five years following the observation of field signs at Seaton Burn in 2014.
Further evidence in the form of burrows, latrines and feeding signs have been found at the site.
It was thought that Water Voles disappeared from their previous stronghold at Gosforth Park Nature Reserve, alongside the nearby Ouseburn, around 10 years ago. The species fared slightly better at the nearby Rising Sun Country Park although it is noted that the last remnants of this population had disappeared by 2012.
Data provided by the Environmental Record Information Centre (ERIC) confirm the virtual extinction of the species North of Tyne, with only a handful of records in the past decade – largely based on field signs.
The continued presence of non-native Mink appears to have been the main factor behind local declines in Water Vole numbers, but in urban areas, the urban sprawl and associated high rat presence have had a major impact on fragile and isolated colonies. With cat predation posing yet another risk to vulnerable populations.
A healthy otter population and reactive control measures mean that mink sightings at Gosforth Park Nature Reserve are uncommon.
Unconfirmed sightings of voles at Gosforth Park have continued over the past decade, giving hope that a small, isolated population may have clung on in the sites expansive reed beds and waterways. This is, however, the first time definitive proof of their presence here has been provided.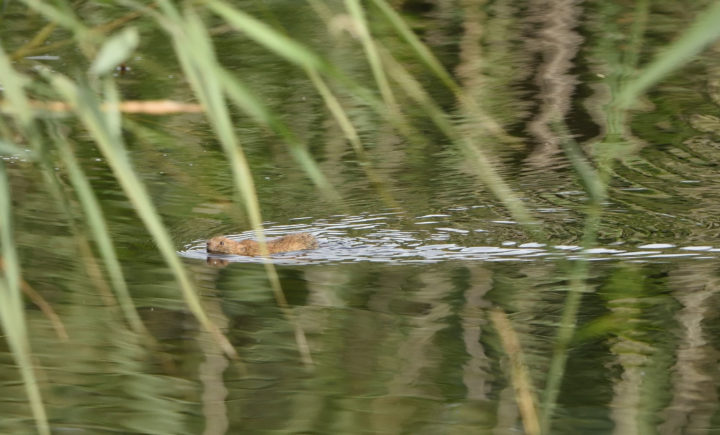 Water Voles were once a common sight on local waterways but have declined drastically. Their decline in North Tyneside mirroring national trends as the species was lost from an increasing number of sites. The collapse of vole populations has led to a number of successful reintroduction schemes, including at Kielder Water by Northumberland Wildlife Trust, although to date, no such reintroductions have taken place in the area of Gosforth Park Nature Reserve.
It is highly unlikely that this sighting is the result of reintroductions in the wider North East and instead, it seems plausible that it is either the result of the discovery of a remnant population at the reserve or dispersal from a nearby (and as yet unknown) colony.
The Natural History Society of Northumbria, who manage Gosforth Park Nature Reserve, have committed to establishing a better understanding of Water Voles at the reserve and will ensure that conservation measures designed to boost vole numbers are enacted as soon as possible. It is our hope that this iconic little mammal will once again become a regular feature of life at Gosforth Park Nature Reserve and that the site may yet provide a basis for the recovery of the species across Tyneside. We would urge anyone visiting Gosforth Park Nature Reserve to report any sightings.
Gosforth Park Nature Reserve is open to members of the Natural History Society of Northumbria and for visitors who can purchase a day pass.
Further information on the history of Water Voles in the North East: https://nhsn.org.uk/interests/mammals/mammals-north-east/water-vole/
NHSN Director, Clare Freeman writes: