For local naturalist & artist, Gary McWilliams, lockdown provided an opportunity to admire wildlife at the site which first sparked his interest in natural history.
Lockdown restrictions in Spring 2020 left me with only one real choice to spend my allotted hour outdoors. The place in mind was a favourite childhood haunt, the Nuns moor in Newcastle, the place that fired my interest in nature growing up in the 1960's, an oasis of wonder on the edge of two large housing estates. The jewel amongst the skylark filled, cow grazed rough meadowland, was the devils burn. Free flowing and clear in those days, lying at the burn's edge, my face would be a few inches from the glorious red of the stickleback's flank, the ponderous crawling water snails, and the jaunty zig zag slide of water boatmen, me and my brothers were in nature heaven. A sudden plop and a rippling wake in the stream of a disturbed Water vole would turn our heads. I have read that Thomas Berwick would visit from his Newcastle workshop – what footsteps to follow !
The burn today is a pale reflection of its past glory, with wholesale disappearance of creatures, often littered and now more of a ditch than a stream, having suffered from drainage work on the moor, inexplicably fenced off from the cattle which can no longer come down to drink and clear areas of now choked vegetation at the edge of the burn. The current ecological, pollution and climate crisis all seemed to be reflected in the burn's demise, with the pandemic adding an apocalyptic edge.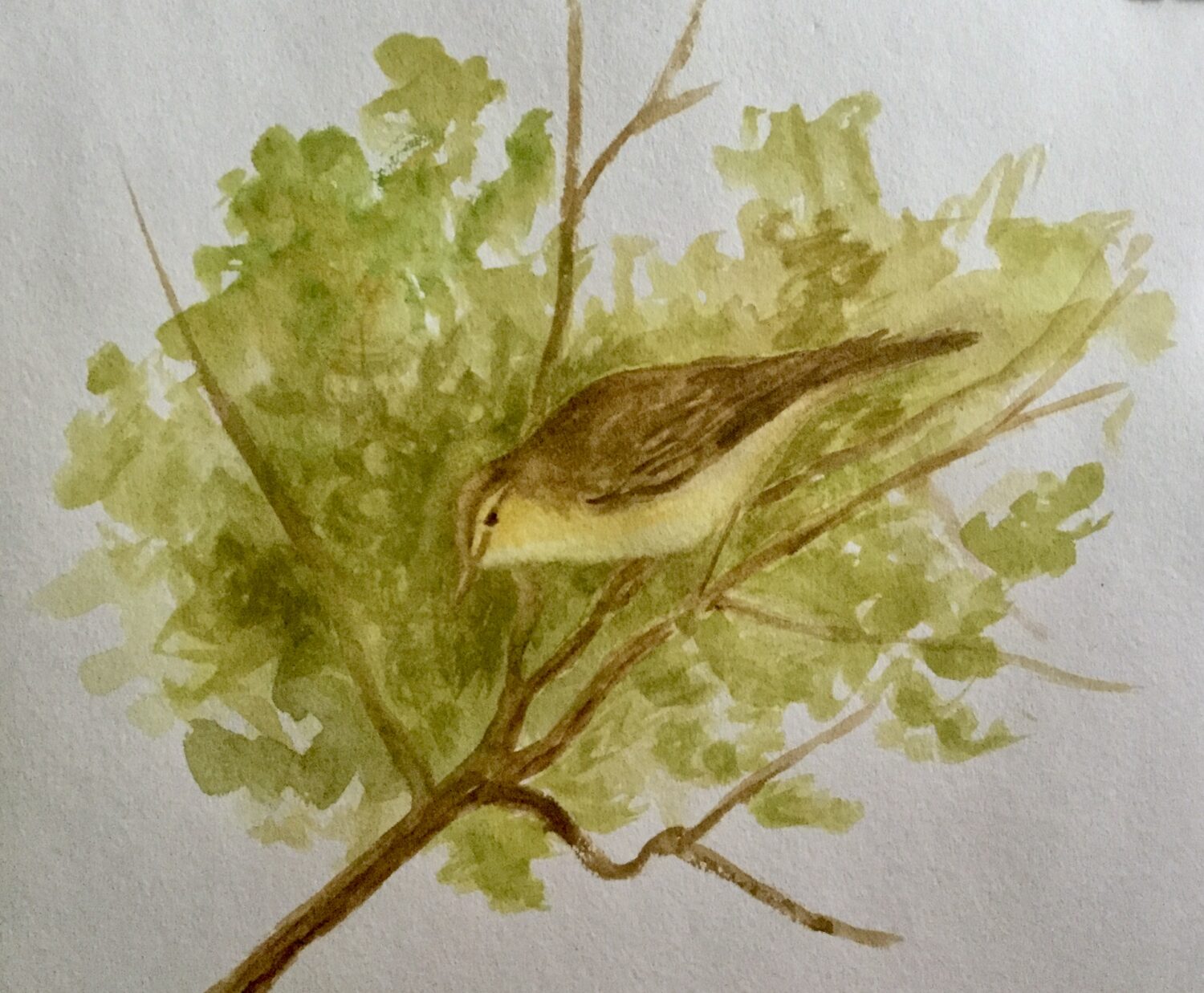 There was still anticipation though, as the daughter and I arrived at the burn in the beautiful spring weather, a Chiffchaff calling as we stooped under the wire fence into the steep-sided valley bottom of the burn, proof of its ancient existence and now an oasis of warm and sunny calm, an orange tip butterfly dancing in welcome. A wren bugled its presence and a Blackcap added its rich fluty song. The classic song of an English spring, the soothing lilt of the Willow warbler, which had been present in numbers in previous springs, was missing, and strangely remained absent that season. This lovely spot next to the burn was to be our saviour over the spring, and after flexing lockdown rules with a quick cup of tea, we headed home.
As footfall increased on the moor, I turned for solace to my garden, partially rewilded already, the pond a great success. Lockdown certainly made me focus on the minutiae as insects stopped to drink. Highlights were the leafcutter bee, slicing discs off its preferred leaf (Kerria), and a Bee fly soaking up warm rays on the log pile – we're they always around I asked myself but had confinement focused me to see them? I certainly consider myself fortunate to have these places, and an appreciation of nature, which has helped me through testing times.