For local naturalist, Keith Buchanan, the beautiful North Pennines offered relief and escapism during lockdown.
The world is experiencing not just a pandemic and a climate crisis, but a biodiversity crisis. This receives much less public attention but enforced lockdown has, perhaps, increased our awareness of the value of wildlife. Where is wildlife most abundant? – by definition, you might say, in wild places.
Hexham, where I live, is enormously fortunate in having such wild places on its doorstep. The UK, of course, like most of western Europe, has very little true wilderness but the existence of relatively wild land is still hugely valuable. So, in this strangest of summers, I explored some of this wildness on my doorstep.
Not far south from my house, the North Pennines offer exposed moorland and a strong sense of wilderness.  Here I found relief from the relentless barrage of Covid bad news and a strong sense of what nature does best – through every hardship – it endures. 
As I walked this evocative landscape in the spring a glance into an adjoining field revealed a Brown Hare. It crouched flat against the ground, its long ears pressed back against its back. Its bulbous eyes watched me unflinchingly; I could almost feel it straining to assess my threat. I passed on but a small movement caught my eye in the grass adjoining the heather – a grey partridge slunk away into thicker cover. These moorland fringes seem to be an important refuge for this diminishing species.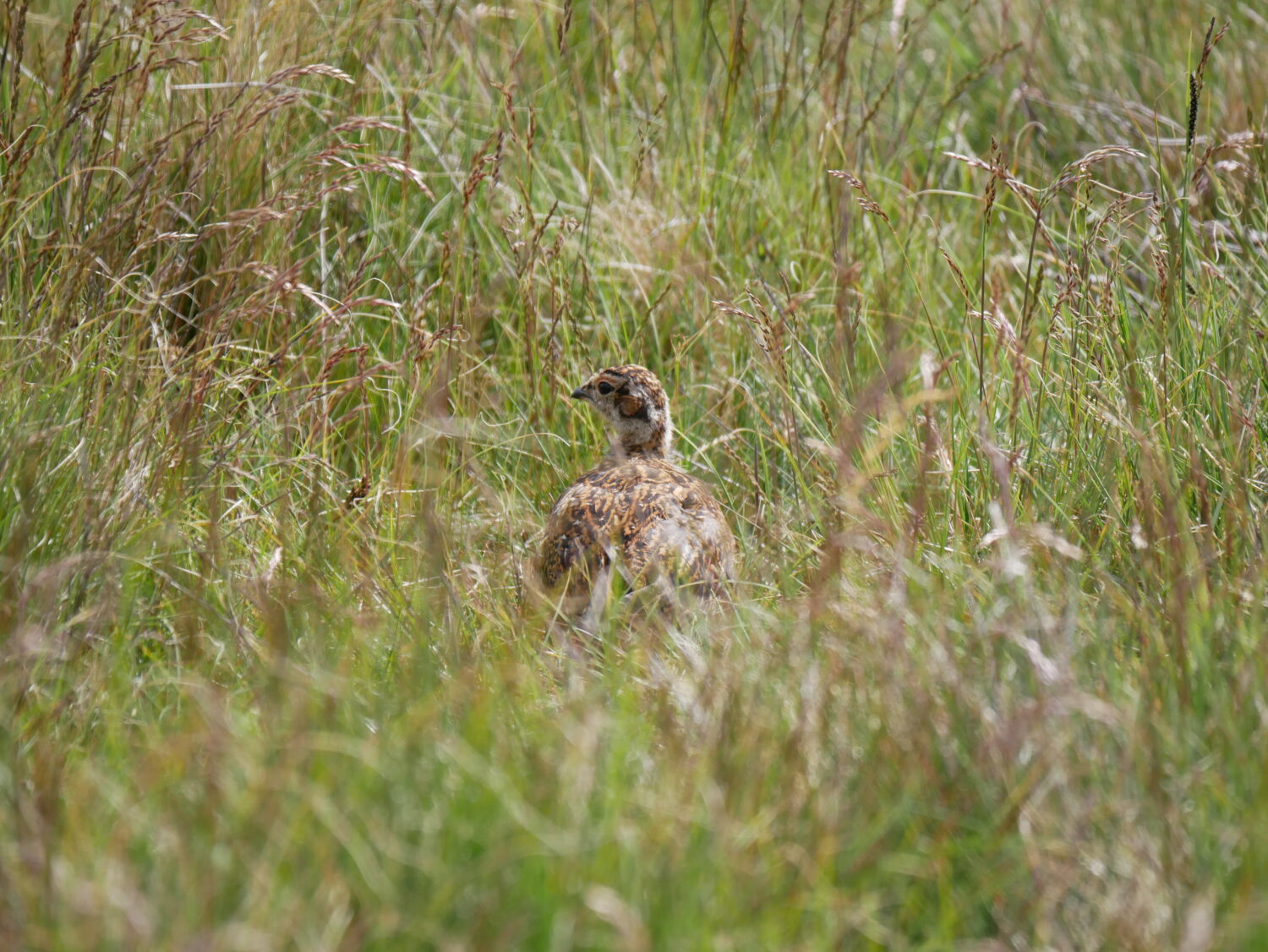 Out on the moorland proper, the air was filled with the songs of skylark, and the bubbling of curlew. Their improbably long bills are proportionately longer in females, perhaps avoiding competition for the same food sources. But further into the moorland proper I heard the sound I had been listening for – the melancholy piping note of the Golden Plover. From the back, their intricately patterned plumage makes them virtually invisible, but from the front, the jet black face and throat of the male can be picked out when he is exposed. They watch intently for any threatening move on my part, but relax as I pass by. Then suddenly, something I had not seen before, a female red grouse dashed out of a heather clump and ran along the ground in front of me so low that her belly was scraping along the ground, her neck stretched out and head low, also at ground level. This furtive behaviour was explained when two chicks scuttled out behind her!
In late autumn, on a cold but gloriously sunny day, I was treated to another glorious North Pennine sight – a south facing field where dozens of Black Grouse had gathered to feed. These denizens of the interface between moorland and woodland have suffered a sad decline, so how uplifting it was to see them in numbers. A wildlife spectacle indeed, whetting my appetite for the lekking that would occur in the following spring – should lockdowns permit…